The magazine 'Woman' rewards sustainability and talent in its 'Woman Planet' Awards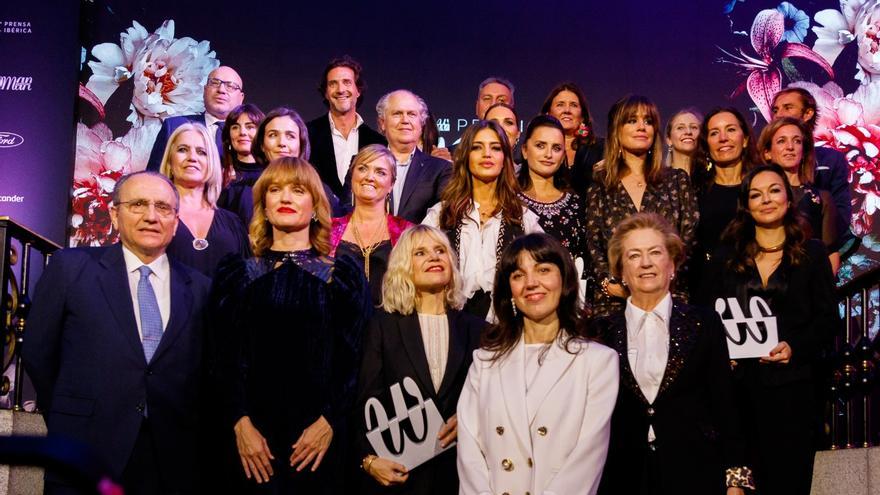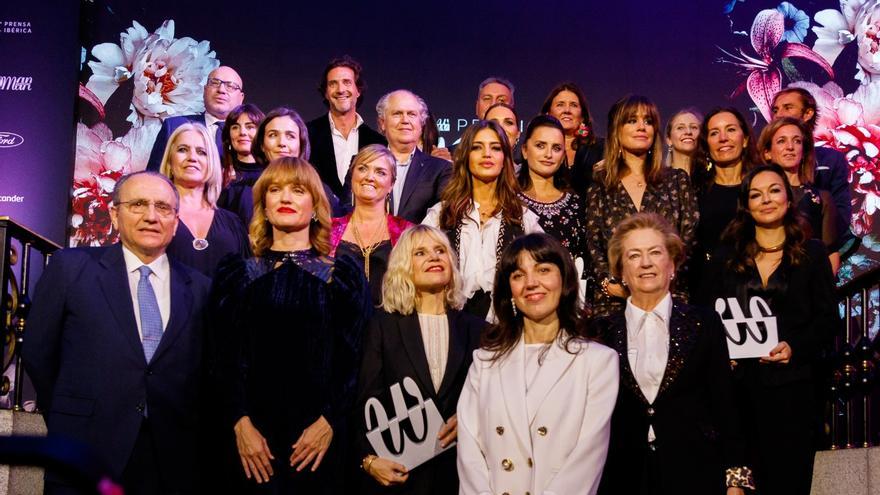 Magazine Woman Madame Figaro, de Prensa Ibérica, has held its traditional Awards at the Royal Academy of Fine Arts of San Fernando, Madrid. On this occasion, the awards Woman planet have highlighted the importance of environmental sustainability has for our lives through a gala that has distinguished the most innovative initiatives that have taken place in the world of fashion and beauty, and that are revolutionizing the sector with a new attentive, ethical and greener look.
The event, led by the journalist and presenter Silvia Tomás, was sponsored by Iberdrola, Ford, Santander and L'Oréal Paris. Among the attendees have highlighted Pilar Alegría, Minister of Education and Vocational Training; Mercedes González Fernández, government delegate in Madrid, and Eugenia Carballedo, president of the Madrid Assembly.
For more than a decade, the magazine Woman works with a very defined roadmap: inspire to achieve a world that respects nature. In the DNA of Woman, fashion and beauty are synonymous with sustainability, inclusion and solidarity, which has made this gala a symbol of the magazine's commitment to protecting the planet and meeting the Sustainable Development Goals.
Arantza Sarasola, Vice President of Prensa Ibérica, closed the event and recalled that Woman Madame Figaro It is not only a fashion and beauty magazine. "It is a vehicle to communicate essential values, as important as gender equality, inclusion, human rights, cultural diversity or the protection of the planet."
Sarasola stressed that "the fashion industry is increasingly aware of the problem and has been developing numerous plans, projects and actions that show a growing environmental sensitivity". "It is worth giving them public notoriety because they are an example of good practice and because their work can inspire many others," he added.
In his welcoming speech, Mayka sanchez, editor of the magazine Woman Madame Figaro, highlighted the objective of some awards that were born with the purpose of being a speaker of inspiring women and that this year, in addition, wants to be a chorus of voices for sustainability and recognize the work that the luxury industry is doing.
The National Brand Award recognized the work of Adolfo Dominguez for promoting the durability of garments as an essential part of sustainability and maintaining a pioneering discourse throughout its history. The award, presented by Juan Pedro Díaz Armendáriz, commercial general director of Prensa Ibérica and Jesús Alonso, CEO of Ford Spain, was collected Adriana Domínguez, Executive President of Adolfo Domínguez, who affirmed that sustainability is a complete challenge, but also the only way. And, furthermore, a challenge in which no one can look the other way: "We live in a moment in which civil society sets the pace. I believe a lot in the critical attitude of the consumer and when we decide to buy something, we make a decision" that has consequences, he said.
The award Woman Planet International award He was received in Milan by Rosita Missoni, founder of Missoni and creative director of Missoni Home. Fashion artisans for more than half a century, the Woman Planet Awards want to value brand initiatives such as 'upcicling' and its ethical commitment to social responsibility to promote work in disadvantaged regions of Ghana, Peru or Ethiopia. Also, her powerful feminist and equality discourse. This Monday Rosita thanked her for her award through a video full of color and love.
Sara Carbonero and Isabel Jiménez were distinguished with the Woman Planet Sustainable Collection Award with your brand Slow love (and dressed, they explained, in two of their collection preview models that had been made from recycled bottle plastic). The first described as "a dream" the fact of having managed to create her own sustainable brand, which is now 6 years old. Isabel Jiménez shared her enthusiasm, remembering, in turn, that it had not been an easy path for a company that started "being very small" and at a time when sustainability was not on all agendas. They were presented with the award by Eugenia Carballedo, president of the Madrid Assembly, and Andrea Arabia, director of the digital edition of Woman.
The Woman Planet Sustainable Initiative Award 'Because our planet is worth it' fell to L'Oréal Paris. The firm has been characterized by its pioneering spirit and responsible innovation. Under the slogan "Because our planet is worth it", L'Oréal has put green at the center of its strategy with measures that have already achieved, for example, that 11 of 26 of its factories are carbon neutral. It is expected that in 2025 they will be 100%. Deborah Armstrong, General Director of Mass Consumption L'Oreal Spain, recounted how sustainability has become a fundamental part of her company, a leading beauty brand and therefore one of the great responsible for change. "We are responsible for what our consumers consume," said the director, who listed some of the initiatives and ecological objectives of her brand, such as reducing the water used in processes and the application of new technologies.
The award was presented by Óscar Voltas, general director of the Iberian Press magazine area, and María Ruíz Moyano, director of Institutional Relations and Social Action at Banco Santander.
The Woman Planet Research and Development award went to Jeanologia, because since its inception it has been committed to creating an ethical and sustainable textile industry through research and development of eco-efficient technologies and production models for 'denim' based on ethical and moral principles. Its latest project, Mission Zero, is an innovative comprehensive solution that will allow it to eliminate 100% of the spillage from finishes and manufacturing of all jeans by 2025, from the fabric to the final garment, thus minimizing the use of water. and the chemicals to almost zero.
Enrique Silla, founder of Jeanologia and Carmen Chair, Jeanologia Marketing Director collected the award and left us a beautiful reflection: "In fashion, the way a product is manufactured is part of its DNA and its soul. A garment cannot be beautiful if it has been made by destroying forests and resources. the planet (…) The way to solve it is technology ", they pointed out before revealing that developments will be launched very soon that will allow clothing to be manufactured" close to where it is consumed ", which is a great advance for the sector. Pilar Alegría, Minister of Education and Vocational Training, and Susi Moll, from Prensa Ibérica presented the award.
The Woman Planet Pioneer Awards wanted to highlight the role of Javier Goyeneche of Ecolaf as a popularizer in Spain to raise awareness that sustainable fashion is possible and that the trend is not incompatible with caring for the planet. Under the manifesto 'There is no planet B', which has accompanied it since the firm was born in 2009, Ecoalf has aimed not to use the planet's natural resources indiscriminately and to create a new generation of recycled products with the same quality and design than the best non-recycled products. For this they use materials such as polyester, wool, tires, coffee grounds, etc.
Goyeneche, who received her award from Desiré Vila, a Paralympic athlete and Iberdrola ambassador, and Mercedes González, a government delegate in Madrid, celebrated her award with a warning.
"Information and transparency are very important, but from humility because there is still much to do. And you have to do it quickly and for that you have to collaborate a lot, and cooperate between companies. And you have to invest in education because we have a model of consumption that is not sustainable, "he urged. "It is always said which world we are going to leave our children; at Ecoalf we ask ourselves what children we are going to leave on the planet", Goyeneche concluded, with one of the most applauded phrases of the night.
The award Woman Planet Jewelry Collection it was for SAVE Eugenia by TOUS. The collection has been made with sustainable materials and inspired by nature. In addition, part of its profits go to WWF Among its jewels you can find pieces of ethical gold, recycled and certified by Tracemark. Its creator has collected the award, Eugenia Martínez de Irujo next to Rosa Tous, TOUS corporate vice president from Mayka Sánchez, Woman director together with Paula Echevarría.
"It was a very easy collection because my great passion is animals and nature, and I was very clear that I had to do my bit. Thanks to WWF I was able to do my part for animals in danger of extinction and nature", thanked the creator, while Rosa Tous pointed out that one of the great objectives of "the Tous family is sustainability within durability". "We want to build to last and this (for the SAVE Eugenia by Tous collection) is an example".
And the prize Woman Planet Social Action it was for the initiative 'Write her Future', from Lancôme. The award values ​​the character of this project that strives to empower the women of the future through functional literacy, so that they have the necessary tools to learn, decide, lead and prosper. The award was collected by the firm's ambassador Penelope Cruz, who explained what the initiative that she supports consists of and that it is based on "the empowerment of women and fosters their freedom to choose their own path."