The lost elegance of 'Friends' | TV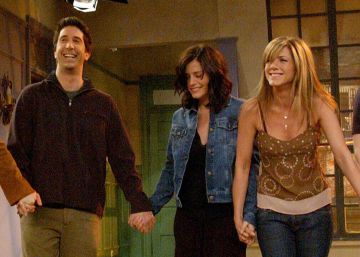 You open Netflix, and there it is. In HBO, the same. And in Amazon Prime, the algorithm asks you, every time you looked for something else: are you sure you don't want to see it? And one, who is very sensitive to the claims of gluttony, falls. What can happen if I see a chapter? Whoever comes out, if it's just for taking a bite, I don't want to eat it whole. And so, like the zampabollos that ends up eating the whole box of polvorones, they give me the many in the morning.
I have relapsed, and it has a lot of crime, because I will have seen Friends not less than five times. On the most terrible nights of my life, I put them in the background and they made me forget the desolation that surrounded me. That is why I will keep you eternal gratitude, for that form of elegance that I did not know how to define and whose key I discovered the other night.
I watched the first chapter of the eighth season, and in the end, a sober message in white letters on a black background, without music, was dedicated to the people of New York. Nothing else. It was the first episode after 9/11, issued on September 27, 2001. It had only been 16 days, and one of the series that made the city an icon limited its tribute to those seconds. It might have been an elegance of the style of Friends, but I think it has to do with the time. Today nobody would be content with so little pyrotechnics. The sentimental explosion would be very baroque, the tear would be sought, the characters would cross the scene with blows to the chest, there would be hugs and howls.
In these almost twenty years, the public sphere has become much more affected, much more exhibitionist and much more cheesy. Therefore, when sadness tingles my chest, I continue to resort to a comedy that retains an emotional austerity that I find today in almost nothing.