The loneliness of 'Julia' and the sculpture of Jaume Plensa | Doc & Roll Blog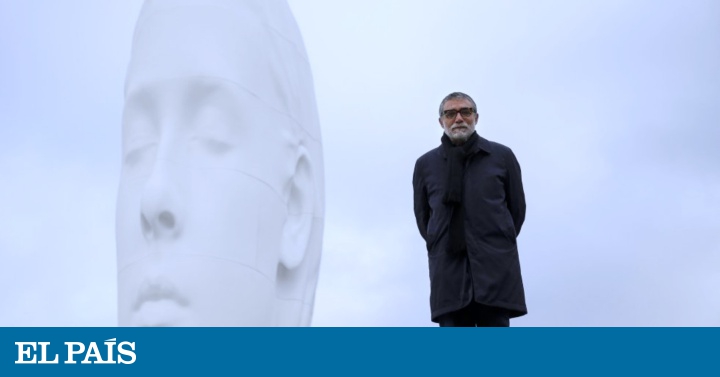 For months, Julia she has been practically alone in the Plaza de Colón in Madrid. The sculpture reached the city center in december 2018, conquering the pedestal that had left the statue of the discoverer of America. It was necessary to give that central space the "spark of ternuna" that was missing, said its creator then, Jaume Plensa.
Although the idea was for the gigantic female bust to accompany citizens for just one year, it will extend their stay until December 2020. But in the months when the coronavirus crisis He has practically evicted people from the streets, this and many other works by the Barcelona artist have been left unaccompanied. For Plensa that is not a problem. In fact, he envies the loneliness in which many of his pieces live. "Sculpture has great strength: that of creating a place to which you can always return, because everything changes except it," he says in the documentary. Can you hear me?, which can be seen until the night of Sunday May 25 in Filmin.
The film, directed by Pedro Ballesteros, is part of the official programming of DocsBarcelona 2020 the documentary film festival that this year, forced by circumstances, has been held only in format on-line. Almost premonitory, this encounter with Plensa's works and ideas reflects on public space and how it can affect our lives. It also analyzes the meaning of art.
"The effect that Julia or that any other work placed on the street has on the viewer is very free. Nowhere does it say that it is a work of art to be admired, as it happens in museums or in galleries. So the effect it generates on others depends only on it. It has a value in itself, even if nobody looks at it ", explains Ballesteros by phone. For the director "there is also some poetry in being able to see this documentary now that we have run out of public space."
This grateful half-planet trip, which returns us to the places we once occupied, stops in Spain, France, Sweden, the United States, Canada and Japan, a country with Plensa that feels a special connection. In addition to his massive creations on New York's Fifth Avenue or Plaza de Colón, this tour falls on Ogijima, a small island of just 200 inhabitants. There, the artist built a small building that serves as a welcome center for the place and that helps put the fishing community that lives there on the map.
"Plensa likes people. He is a humanist and one of the creators who best works in public space. And this is because he is always thinking about the community and transforming the place where he places his pieces into a positive way, so that people feel better when they reach them, "says Ballesteros. "That an artist is thinking about people more than collectors or their place in art history is in itself an element worth telling."
Plensa breaks the artist's own isolation to be accompanied for months by the director, who throughout his career has observed other Spanish artists of international scope (The true story of the false Dalí, Alphabet Tapies and When life runs away). In this case, the result is not a biography of the sculptor, but a portrait made from his own reflections.
Can you hear me? it rearranges the ocean of ideas that Plensa encloses through a structure in the form of chapters that revolves around concepts that define the work of Catalan: spheres, words, home, memory, silence and time. This audiovisual portrait is mainly built on the current affairs of its protagonist with some small concessions to its past, despite the fact that the artist himself admits not feeling comfortable looking back. Ballesteros explains that this absence of past data, which usually give context in a documentary, was not premeditated. "It was simply not necessary, except for two or three specific memories from his childhood that are essential to understand his work. This is not the time to do a retrospective on Plensa ", he defends.