The list of celebrities who have denounced that José Luis Moreno owes them money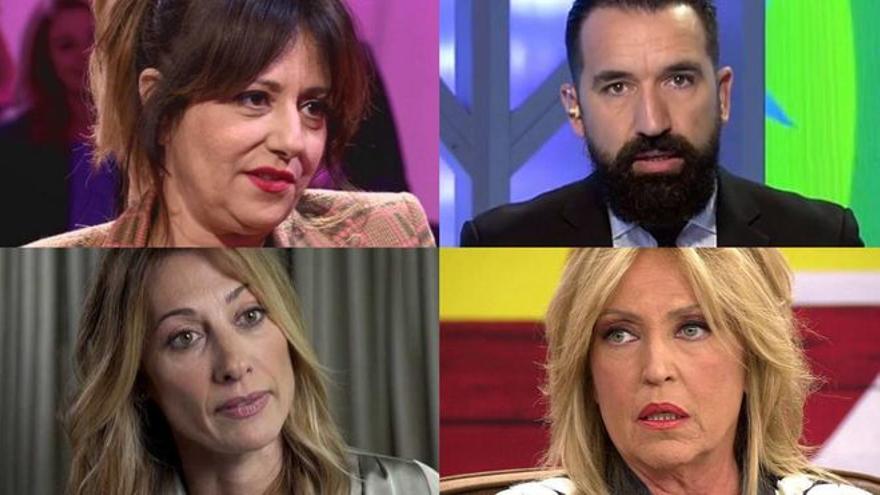 The arrest of José Luis Moreno He has opened the ban for well-known faces in music and television to talk about their work experiences with him. In fact, in the last few hours, Serafín Zubiri or Miguel Lago They have publicly denounced that they never charged the cache of their different collaborations in some of their collaborations. But there is more, Cuban actor Joel Angelino has accused him of sexual harassment and leading people to suicide, including himself. In the program 'Everything is true', by Risto Mejide, called on models and actors to speak. His demand was met and Galician actress Marta Bergantiño revealed the case of her boyfriend, the Gran Canaria model, actor and presenter Tino Dávila, also Moreno's partner for six years.
Here we review the celebrities who have denounced that José Luis Moreno owes them money.
Yolanda ramos
Yolanda ramos He was one of the first known faces that publicly revealed that he never got a stake in one of José Luis Moreno's productions. To be more exact, the actress spoke of an amount of 25,000 pesetas from the time when she worked in one of the galas of 'Party Night', something that caused the businessman to leave the set: "I do not accuse you directly, but I have lived it. She called and said, like an innocent woman, 'you haven't paid me.' And they said, 'What is he saying? Do you have something signed? ' The same thing you told me. "
Miguel Lake
The collaborator of 'Everything is a lie' told this past Tuesday how his experience was in 'Esposados', a production by Moreno in which he participated, but which he did not get paid either: "For a year and a half or two years they sent emails in a constant and none were answered. The company that was the production company disappears and another one appears that you cannot claim. And there comes a time, and it is the heart of the matter, in which my production company decides to protect me for two reasons: first, because an amount of 1,500-1,600 euros, the costs of reporting are much greater; and second, they did not want their represented -that if I am now the last monkey of NASA, then even more- was the problematic, the one who denounced, the conflictive".
Lydia lozano
This past Tuesday, Lydia Lozano also recalled in 'Save me' that she participated in one of Moreno's productions, but was never paid: "I do not get it. I claimed the money, because I had worked with him before and did not understand the situation. If people stopped paying, I would not have my retirement. "
Serafin Zubiri
Another of the well-known faces that have also denounced that they have not received their work for the productions of José Luis Moreno is Serafín Zubiri. In the last hours, the musician and representative of Spain in the Eurovision 1992 and 2000 editions has made public in 'Sálvame' and 'Todo es mentira' that he has not yet received the 1800 euros of the cache he negotiated to act in a program Castilla-laMancha Television 12 years ago: "It is not a large amount and that is why I did not take any legal action, because it was going to give me more problems than solutions. In my case, the Miramon company, which is the one that had hired me, disappeared and I was unable to make any kind of claim ".
Monica Pont
The case of Mónica Pont is quite different from the rest of the cases that have been reviewed at the moment. The actress did claim from José Luis Moreno the 968 euros that was owed to him after having collaborated in one of his audiovisual productions during 2013: "Less than 24 hours after presenting it, the producer quickly contacted me and told me that He was going to pay me, but not to go ahead with the lawsuit. Finally, I got paid, but after two years. "
Miguel Poveda
Miguel Poveda has also had better luck than other known faces in the same situation. In 2017, the singer made public that he was going to initiate legal actions against one of Moreno's production companies for the non-payment of the artist's performances in his programs. Just 24 hours later, his representative agency announced that the amounts claimed had already been paid.