The legend of the eternal Chicken of Good Place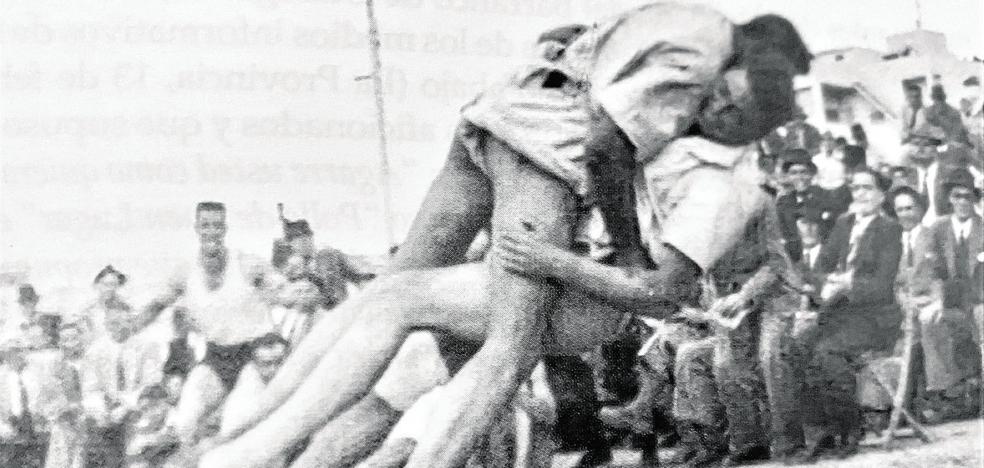 One of the best fighters in the history of the vernacular sport was Manuel Marrero, Pollo de Buen Lugar. The bregador had its best years in the thirties and forties of the last century. To know some anecdotes of his life, Manolín Báez, former prop, nephew, godson and who keeps some of his trophies and medals, is the voice of reference.
The first thing to ask is about the withdrawal of his uncle, who had some controversy as there were conflicting versions. «He retired due to age. He was close to 40 and the man was already tired of so much fighting and being able to reconcile it with his work. He told me that El Palmero threw him out at the end of his sporting life and that in no case did he leave the fight because of it. Palmero himself, in public statements, said that, for him, the most fearsome fighter was the Pollo de Buen Lugar.
The press in 1946 already said that the Palmero was a genius, and that only the Pollo de Buen Lugar knew how to knock it down, but the one who had a hard time shooting and had a great rivalry was with the Faro de Maspalomayes The others, if they threw him once, he knocked them down five or six times afterwards».
Báez adds in his explanations about the remembered figure: «I did not see him fighting because I was born in 54, when he did the last fight, several years after retiring,
the challenge with Manolín for UD Las Palmas, although later he did another exhibition with the Lighthouse. He told me many anecdotes, such as that at that time it was difficult to go to Tenerife by boat, it took many hours and sometimes they got seasick. That is why they left a couple of days before, both he and the Lighthouse. Since they were there in advance, in addition to going for a run, they grabbed on the roof of the pension and because of the noise that was heard, one night the owner came up because they were scared by the blows in the building.
About the classic challenges with the Lighthouse that always packed the terreros, he told me that he had bad luck there, although later in the fights with the teams, he won them and in fact he was provincial and regional champion with Los Guanches and Ajódar. He had more team titles than Faro. After the last two challenges he told me that, as a result of them, in competition, the Lighthouse no longer shot him».
Characteristic tricks

His uncle's way of fighting is told by others. «They tell me that he was very elegant fighting, that he made the difficult easy. In fact, in 1984 the press published a ranking of the Canarian fight and they describe it as 'the complete one'. He was 1.90 meters tall and weighed 110 kilos. He had a lot of power and at the same time he fought.
He was able to play inside or make a donkey. Also, his favorite fight was the air sack. Anyone who has fought knows that you have to have a lot of style and a lot of technique to do it. He was surprising fighting since they did not wait for where he could come out, because he went well up and down and that is not normal in a weight fighter. Another anecdote that he told me was that when they fought in the Campo Canario, afterwards there were greyhounds and that is how the people took advantage of the fight. The manager told him on one occasion that he had to lower what they gave him. He had no problems, he told them that he would take a break and fight with others. They had several fights and the public did not come, so he had to go up to Good Place to talk to my uncle so he would come back. Manuel Marrero replied that, if they wanted him to come back, now, they had to give him double what he was offering before and so he came back».
«He always told me that, if all the fighters of that time had been smart, they would be millionaires, only with what they collected from the public. They could have bought lots every two weeks that were offered constantly, but they paid no attention. If we had been entrepreneurs and invested, the situation would have been different, he even commented to me. In Good Place they also offered to invest in the upper part but he did not want to. He had a couple million in the bank at the time. They were very well known and famous people », he adds.
And he goes further in details: «Even in Ajódar they gave him money to buy a truck and be in the banana cooperative, but he didn't want to. He was a driver for the Betancores and he stayed there, because they also gave him all the facilities and the company was happy to have an important character as an employee ».
«
Another thing that was difficult for Manuel Marrero to understand was that, in the anthem of the Canarian fight of Los Sabadeños, he was left out, when according to him, there were fighters who did half of what he did or also that in the tournaments of the federation There wasn't one with his name either. Even the medal that they offered him in 1946, they had not given it to him either, and when that was going to happen, he died two weeks before," he laments.
The book 'Tarhas de la Lucha Canaria' by Santiago Henríquez, publishes the biography of the great fighter. «He was born in Firgas, in the neighborhood of Buen Lugar on April 18, 1913 and he began when he was 15 years old with Pepe Ojeda, who came from Gáldar, but who lived in Buen Lugar. From Pepe Ojeda, whom he greatly admired, he learned almost everything he knew about wrestling, later, his experience in the fight put the rest.
At the age of 16, he already began to fight on the North side and had also trained during those years of youth with the famous Mandarrias. His companions on the north side in those years were Domingo Mederos, Ignacio el Calero, Chano Padrón, Pollo de Guía, and Clemente Ríos, among others. His most direct rival was always his great friend, José Rodríguez, the Faro de Maspalomas. From 1936 to 1941, due to the Civil War, where he was called up, he stopped fighting. Later, the North and South sides were formed again and Manuel Marrero returned to his side, achieving great triumphs».
"Later,
He was part of Los Guanches de Arucas, of which he was the founder. Once this team was dissolved, it passed to the Ajódar de Guía. His best seasons were between 1941 and 1948, in which period he achieved his greatest triumphs. He was awarded the gold medal for the best fighter of the time, although it was never imposed on him ».
And that thematic work on his figure continues: «An indelible memory for Manuel Marrero was when
He threw nine men from the Adargoma including the Fortaleza del Sur, Faro de Maspalomas. Among his challenges, he highlights those that he beat Clemente Río, Lorenzo Andueza, Manuel Perera, Pollo de Tegueste, Camurria or Víctor Rodríguez, who was champion of the Archipelago.».
The challenge with Pollo de los Campitos, Francisco Suárez de Tenerife, is also remembered. Already retired from the Canarian wrestling, at 45 years of age he was invited by Eufemiano Fuentes, president of the UD, to take on a challenge with Manolín Suárez at the Insular Stadium (the edition of CANARIAS7 on February 21, 2021 remembered it that way) . The fight was an event and the first sports venue in Las Palmas was filled to the brim given the charitable nature of the fight and also because of the value of the participating figures.
Manuel Marrero, Pollo de Buen Lugar, thrilled thousands of fans who finally carried him on their shoulders, thus signing a long and brilliant sports career. For Manuel Marrero the first years of the forties were the best of his fullness, in which he climbed to the highest steps, despite his early retirement at 36 years of age.
Other events that are also remembered are:
-On September 1, 1944, in the Plaza de Toros de Santa Cruz de Tenerife, he shot eleven fighters from the Tenerife national team, remaining undefeated.
In 1946 he won the regional championship with Los Guanches and both the board and his teammates awarded him the cup he had won, in recognition of his sporting value and the feats accomplished during the season. In 1947 he passed with Araña al Ajódar and achieved the regional championship again with this guiense club.
-El Pollo de Buen Lugar is required to train his old group, Los Guanches in 1971, when José Araña left office. Manuel Marreo continues with good success due to the experience acquired in the terreros. There were five seasons that had his services.
-
He was part of the Buen Lugar wrestling club as founder and coach. There, in 1984 they dedicated a square to him. He was awarded the medal for Sports Merit by the Regional Federation presided over by Placido Mejías, but he does not have the opportunity to receive it in life since he died 14 days before the delivery, on May 30, 1988, on the occasion of the day of the Canary Islands. The medal was collected by his godson Manolín Báez.
-In June 1991, the Wrestlers Association awarded him a plaque at his home in Buen Lugar with the leadership of Los Guanches, presided over by Mundín. Previously, in 1984, a tribute was paid to him in Firgas, in the municipal field of Vega Guerra.
Pollo de Buen Lugar was one of the most complete champions that the Canary Islands had in the 1930s and 1940s, being a worthy rival to Pollo de San Andrés, Carampín, Camurria, Matoso, el Palmero or the Maspalomas Lighthouse itself..
On October 10, 1946, the Canarian Wrestling Federation, chaired by José Miranda Junco, unanimously approved awarding him the gold medal for Sports Merit.
Currently, the Buen Lugar wrestling arena bears his name.