The legal vacuum of living with persistent covid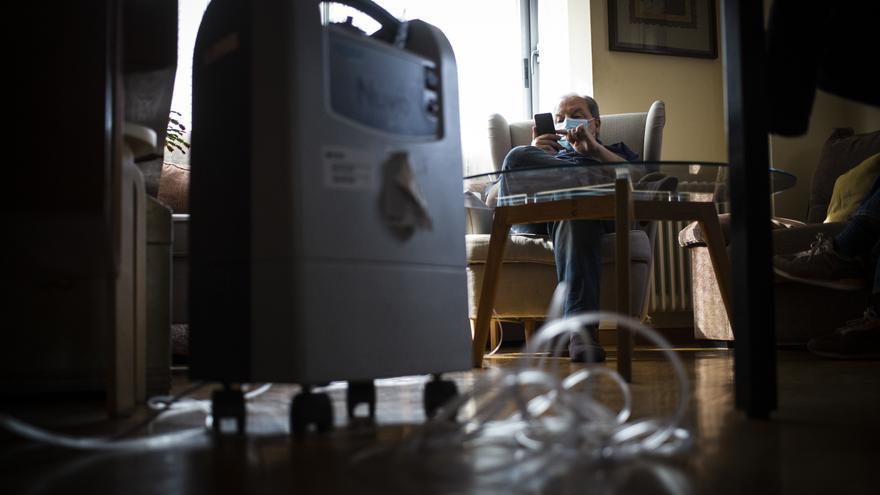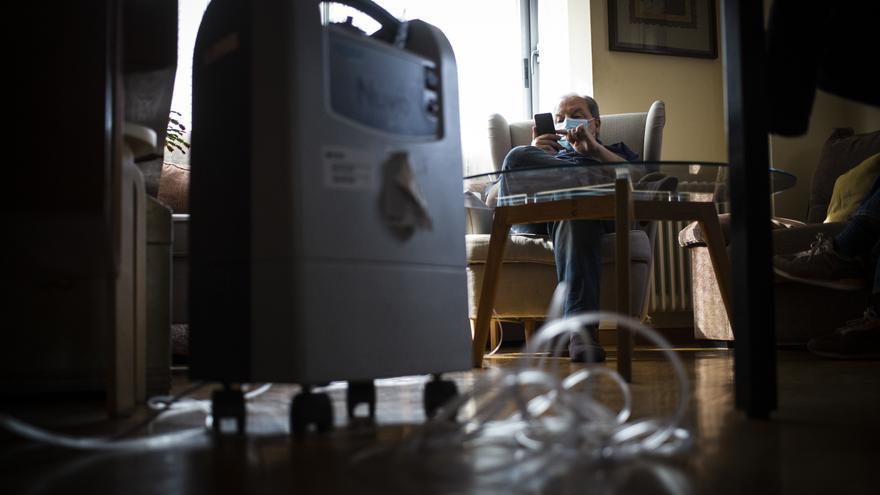 His wife, Ana, says so, leaning her knuckles on the living room table, between excited and proud, at times laughing, at times with tears about to burst – "the doctors painted it black every day" -, while Pedro recalls his particular return to Ithaca: it began on March 11, "with what I thought was a tremendous flu ", and ended months later, in the middle of the summer, with his friends, his wife and their two children applauding his arrival home by ambulance. Finally home. "It was very exciting," he sighs.
Pedro is 56 years old, and therefore, he still has "10 or 12 years to contribute". It's what he wants: "Permanent disability is a bitch for me. What I want is to work. I don't think there is anyone that we have covid persistent that we do not want to work. There are people who are 25, 35 years old, who need to work to lead a normal life. He wants to go back to his parties, traveling to the country house with friends, to have a beer, to call the boss a bastard … ".
"It is that they want normality", sentence Peter staring into my eyes, as if underlining that this is important. He's sitting on the couch, where he spends most of the day, hooked on the oxygen machine, except when she goes shopping or takes Cartucho, her dog, out on the street. His brothers gave it to him so that the animal would be the one to take him out for a walk. When he goes down to the streets of his neighborhood, Lucero, in MadridPedro always walks subject to the machine's hanger, as if it were just another organ of his body. And it is. You can't go more than 15 minutes without it.
The Bilateral pneumonia caused by covid and time in the ICU left him with severe respiratory failure -His left lung, which underwent surgery, is destroyed, and he was deaf in his left ear. He has, like many patients with persistent covid, mental fog, asthenia, memory loss, generalized inflammation, muscle stiffness, paresthesia in the hands, stomach problems and herpes in the retina that they leave "scars that cause you to lose vision".
Dozens of medicines
When his wife Ana spreads the medicine box on the table, it is like when a child empties the Lego box on the floor. There are dozens: "Analgesics, anti-inflammatories, for the bones …". "If they gave me the leave, what would it be? 75% of the salary? It doesn't solve anything for me. I have my children starting at university ", the Mint. "I am a commercial and before I used to do 200 or 300 kilometers a day, but now I do not see myself capable of driving again, I do not see myself with strength. I wish I could go back to work," he insists.
Pedro is one of the hundreds of people affected by persistent covid who have already completed the year of sick leave and the six-month extension -Of the first infected- and are waiting for a medical court to determine if it gives them permanent disability. They are in a kind of legal vacuum. The National Institute of Social Security You have exactly 135 days to reply. They have to be vigilant because, in one of those perverse puns of the State, the administrative silence is negative in this case. If it is not claimed, you are left without cancellation.
Until now, their casualties have not been due to persistent covid, but because of the thousand symptoms that they cause: fatigue, dyspnea, muscle pain, respiratory failure … It was not until recently that the 'long' covid was recognized by the WHO as a disease. It is estimated that it affects up to 10 and 15% of the infected population, to which the virus causes long-term effects of different kinds.
"I think they will give me a reviewable one, because what this disease has is that nothing is known about how it will evolve," explains Pedro while teaching the message that Social Security itself sent him on September 13: "It is proposed Beginning of the permanent disability file. You will receive a resolution ".
It was, like the rest of the cases, after an appointment in which he did not even have a medical evaluation. They only asked him questions about the reports and it will be a medical court that makes a decision. This is causing great indignation in the affected groups.
No physical examination
"It is that they are not doing face-to-face evaluations. The few reports they have are looked at, and if they are not uploaded, they are not taken into account. That is when they are not forcibly discharging, "denounces María Eugenia Díez, spokesperson for the persistent covid association of Madrid." You do not know if those who treat you are administrative or medical. They don't do a physical examination, "he complains.
From the Ministry they deny it. "Before the 18 months are over, a medical check-up and a new evaluation are carried out, which determines either discharge or the start of a permanent disability file.". In the latter case, you are declared with a degree of disability or, in the event of a possible return to work, you can decide to" delay qualification "for up to another 6 months."
Many of those affected who are discharged before the 18 months are up are requesting "a synthesis report of the disability assessment" that explains why they are not continuing to be discharged. This is just one of the many hurdles that those affected by persistent covid have to jump, who also criticize the fact that the disease is not recognized retroactively, which causes, among other things, that this period of inactivity is not recognized as sick leave. occupational disease or occupational disease.
The Ministry of Inclusion, Social Security and Migration admits that doctors have been using "the B94.8 coding, sequelae of other infectious and parasitic diseases" for the processing of sick leave since February and it will not be until January 1, 2022 when it is replaced by 'Post-Covid-19 disease'. That is, when it begins to be recognized as a disease of its own. In the groups they do not understand that thousands of patients are left out in between. "It is to forget about the patients with covid of the last two years. What we fight for, we do not say, it says it itself. who", says Diez. Currently, there are more than 6,000 people in the associations of those affected by persistent covid.