The law of the street submits trans women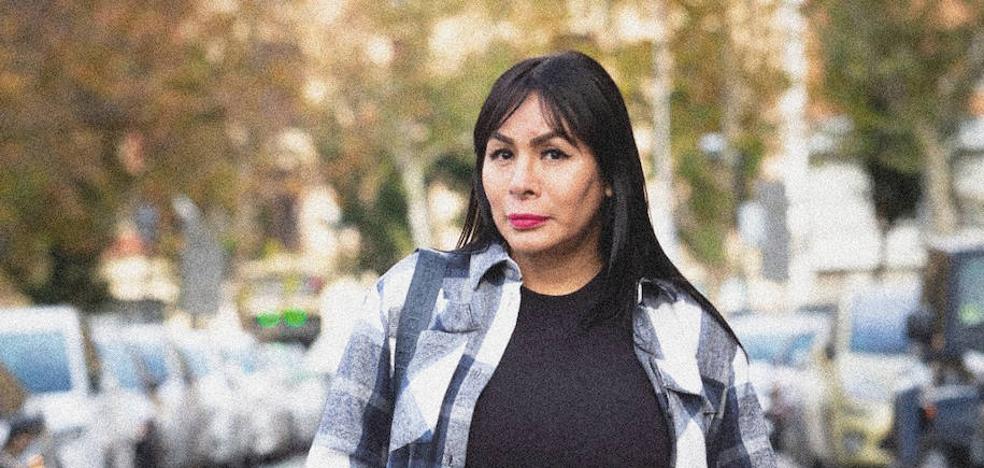 Violence and poverty predominate among the 'forgotten'. "Am I dreaming?" asks Samantha, who has managed to escape from hell
To prostitute herself, Samanta occupied a square meter of the Marconi industrial estate, on the outskirts of Madrid. For more than five years, this trans woman, who self-medicates with hormones, went to the place that another woman had pointed out to her, who before her had settled there every night, to earn little, very little money, sometimes nothing. "You are standing there every day, catching cold, knowing that there are days that you are not going to get a single euro, or have anything to eat," says Samantha, who is 37 years old and only wants to identify herself with that name. «The one who stopped me on the corner to work was the person with whom she lived. She had worked in that area. She says that she always worked voluntarily, that she started at the age of 17 in her native Honduras and that she requested asylum in Spain five years ago. The youth of the beginning is the common denominator. Due to their identity, "almost 20% of women began to feel that they could only obtain income in this way," indicates the study 'The forgotten ones. Report on the group of trans women in the context of prostitution'. "From a very young age, they find in prostitution spaces a place where they can be themselves."
What pierces Samanta's memory have been the episodes of violence she has experienced both in Honduras and in Spain. "What marked me the most was when they raped me," he recalls. «In Madrid I have been assaulted and beaten. For example, a man grabbed me with a knife and told me that for the ten euros he gave me I had to stay with him until he finished three times.
Like Samanta, the majority of trans women who work in street prostitution suffer violence. 83% physical and verbal, 61% psychological and 30% sexual, according to the report published by the Imagina Más association. She has been working as a maid for eight months, with a temporary contract. Violence is carried out by "clients" in 47% of cases, other "sex workers" (36%) and authorities (29%), among others. Why? In 'Las Olvidadas', transphobia is mentioned as the reason for six out of ten attacks, and racism or xenophobia in one out of five.
As trans women and prostitutes, they are permanent victims of "transphobia" and "putophobia", according to the study signed by Bárbara Mainieri as the main author. "The levels of violence they face are very high," she says. "They are in a situation of vulnerability both in the workplace and in public spaces where they are frequently subjected to violence by unknown persons."
Common profiles

Samantha's story begins when she leaves her mother's house. "I had to run away. I met a trans woman who started me on the street. The first time I made a lot of money, she had never seen so much for myself, and I liked her». Poverty is the common sign of trans women who work in prostitution. 41% earn between zero and 300 euros and less than a tenth earn more than 950 euros, is indicated in 'The forgotten ones'.
The study makes a profile of the trans in the streets. There are Spanish, but they are a minority. Almost all of them come from Latin American countries, they are in a legal situation (73%), they do not hide what they do for a living (85%), they share a home with other prostitutes, more than half drink alcohol, cocaine and viagra «in the exercise of prostitution" and use a condom with their clients. A quarter of them have HIV, of which 5% are not on antiretroviral medication.
As for their trans status, one in three take female hormones. "Of the 29% who are currently undergoing hormonal treatment, 86% do so within the health system and 14% 'self-hormone' without medical follow-up." This is not the case of Samanta, who does not undergo therapy because "it is very difficult to get an appointment and I got tired of being sent from one place to another," says she, who from the age of 18 began to self-medicate, on her own. She «she bought hormones in pharmacies, and tried them all».
The majority of trans women who prostitute themselves have work experience (86%), but "it is true that trans women are pigeonholed in that we only serve for sexual activity, and it is not true," says Samanta. «I never saw myself working. Even today there are days that I don't believe what I do. Am I dreaming? I ask myself how hard it has been to change my life».
Although Samanta says she now has "a phobia of street work," she still occasionally engages in prostitution for "extra money." "There are clients who call me and I still attend to them in the afternoons. Sometimes I go to their houses, other times they come here. But it's not like before, that if they called me at dawn I'd get up to get ready. Not anymore".
The study indicates that their lives take place in "a stigmatized and excluded space that distances them from other vital opportunities, while they internalize not being worthy of those opportunities."