The lava from the La Palma volcano continues to feed the lava that reached the sea on the beach of Los Guirres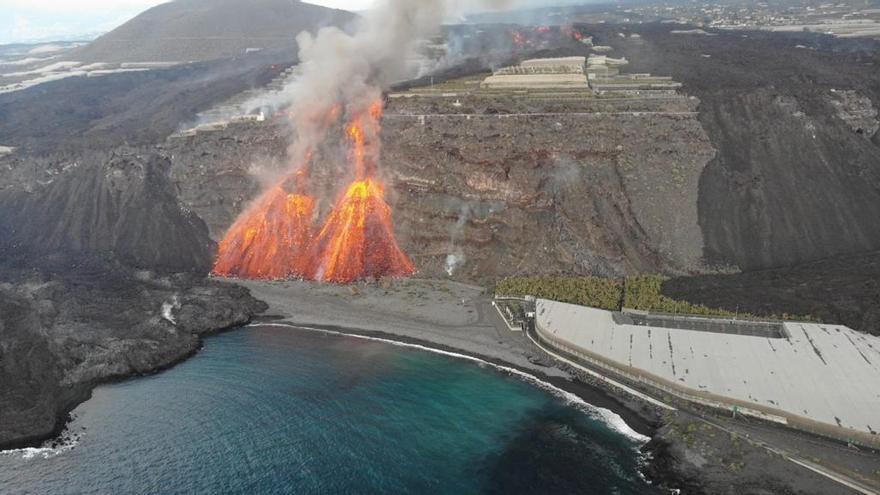 As reported by the Cabildo of La Palma, farmers and workers will be able to access the coast of the Aridane Valley, except for the La Bombilla area, close to Los Guirres beach.
The residents of Todoque, Las Norias and Morro Los Judíos will have access to collect their household items. It is necessary to carry the DNI or any other document that proves residence in that place (water or electricity bills, rental contracts, etc.).
This Wednesday face-to-face classes will resume in Los Llanos de Aridane, El Paso, Tazacorte, Puntagorda and Tijarafe.
From the Cabildo they remember that these measures may vary according to the meteorological conditions and evolution of the eruptive process. Likewise, the population is asked to inform itself in official sources.
More than 40 earthquakes during midnight
The National Geographic Institute (IGN) has located about 46 earthquakes on La Palma since midnightThe highest magnitude being the one registered at 04:24 this Wednesday, reaching 3.7 in the municipality of Fuencaliente, intensity III-IV, and has been located at a depth of 14 kilometers.
Anyway, the latest report from the National Security Directorate (DSN) points out that seismicity remains low in relation to previous weeks and continues to be located in the same areas at depths of between 10 and 15 kilometers, and greater than 20 kilometers.
At this time, lava flow has exceeded the pre-existing front, reaching the coast at Los Guirres beach on two occasions, the second at approximately 1:45 this morning, as reported by the Ministry of Transport, Mobility and Urban Agenda.
Likewise, several emission centers with variable activity are still active, without ruling out the appearance of new emission centers in the vicinity of the main cone, within the exclusion zone. At the moment, the affected area reaches some 988.27 hectares, with the maximum width between external flows being 3,100 meters.
Regarding air quality due to PM10 suspended particles, they indicate that there has been an improvement in the values ​​when going from an extremely unfavorable to a favorable situation in Los Llanos de Aridane, El Paso, Tazacorte, Puntagorda and Tijarafe.
The emission of sulfur dioxide (SO2) associated with the volcanic plume continues to be high, with values ​​between 9,000 and 13,000 tons per day, but its temporal evolution reflects a downward trend.
The ship 'Castilla' of the Navy is expected to arrive this Wednesday on the island of La Palma to help farmers affected by the eruption to tend to their crops.