The lava advances over the sea and occupies almost 41 hectares from the shore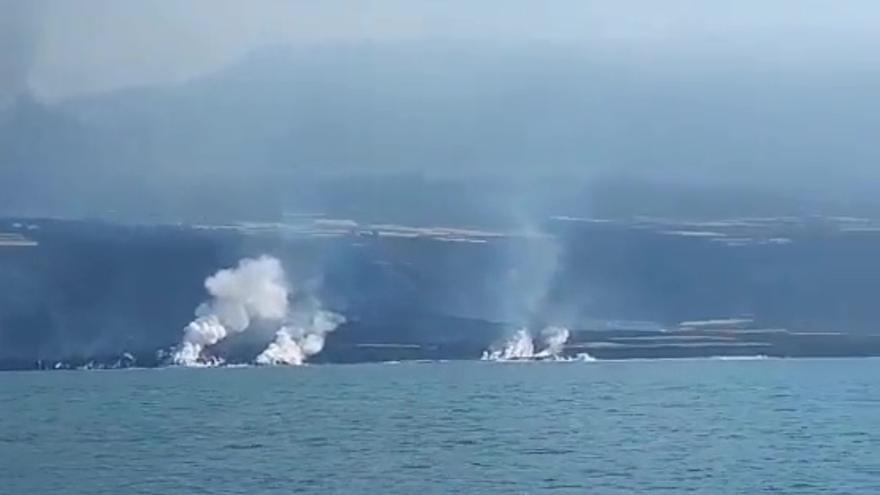 The lava of the La Palma volcano It has continued to advance over the sea, especially due to the lava flow located to the south, which has already reached the water, so that the lava delta generated by the eruption occupies an area of ​​40.9 hectares from the shore, according to calculations by the Geological and Mining Institute of Spain (IGME).
The technical director of Special Plan for Civil Protection and Emergency Attention for Volcanic Risk of the Canary Islands (Pevolca) Miguel Ángel Morcuende, has explained that the greatest energy of the lava is concentrated in flows 4 and 7, in the central area of ​​the affected area.
The scientific spokesperson for Pevolca, Maria Jose Blanco, has reported that sulfur dioxide (SO2) is between 12,000 and 15,000 tons per day, higher than the values ​​recorded on Sunday, but within the downward trend from the highs of 50,000 tons per day on September 23.
On the other hand, the values ​​of small particles (PM10) have been increasing at the Los Llanos de Aridane station. Scientists will continue to monitor evolution for the next several hours. In the rest of the stations the levels remain between good and reasonably good.
Regarding the volcanic tremor, it increased compared to yesterday and currently stands at the usual values ​​of previous weeks.
The area affected by runoff since the eruption began 57 days ago is 1,019.79 hectares.