The laundry released when the cone of the La Palma volcano collapsed carries blocks like 3-story houses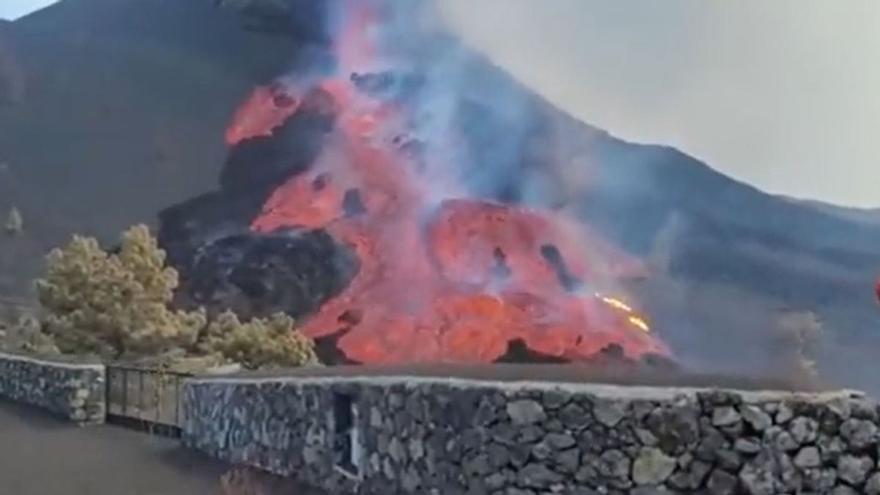 The new river of lava that was released this Saturday afternoon when the north flank collapsed of the Cumbre Vieja volcano, in La Palma, carries with it, floating, blocks of rock the size of a three-story building, warns the Geological and Mining Institute of Spain (IGME).
The IGME has published a video recorded on the ground by its scientists on La Palma very close to the new wash, in which the force with which it descends and the size of the blocks it drags can be appreciated, "equivalent to a house of three plants".
The north flank of the volcano had already suffered a partial rupture the previous morning and ended up collapsing at around 7.15pm on Saturday, according to information provided by the Volcanological Institute of the Canary Islands (Involcan).
Shortly after reporting this collapse in the cone, Involcán scientists released a video showing a huge front of lava engulfing the Camino de la Gata industrial estate, in Los Llanos de Aridane.
For its part, the Volcanes de Canarias association, a group made up of geologists and volcanology fans who collaborate with the authorities in training programs for citizens, has warned that the volcano has gone through a phase with "highly noisy explosions this morning." , energetic and sustained ", which have caused" vibration of the ground, vehicles and crystals "in a radius of up to six kilometers from the eruptive cone.