'The last journey of Galdós' sold out in its three premiere functions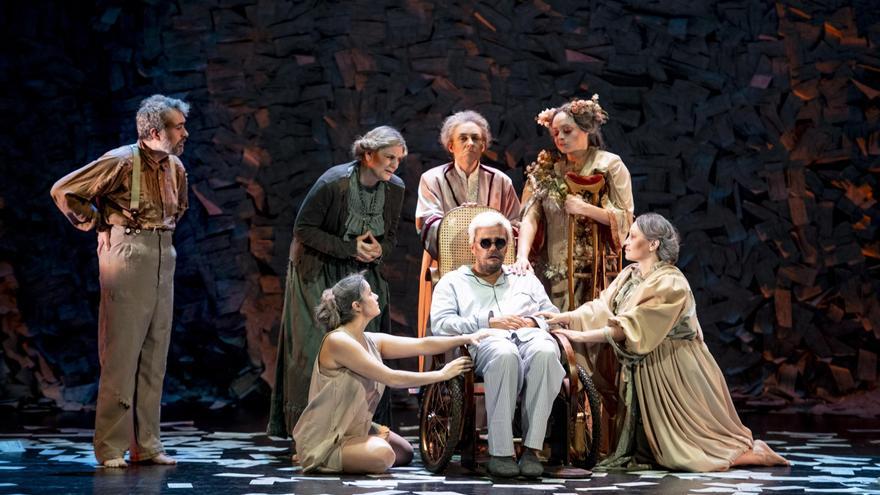 The public has sold out the seats for the three functions of the stage production 'The last trip of Galdós' that, from today, the 8th, and until next Sunday, October 10, will occupy the stage of the Pérez Galdós Theater.
The mentioned production promoted by Unahoramenos and the Pérez Galdós Theater, is the first show programmed by the capital coliseum with which its current season opens, a campaign that has been marked by the exceptional situation caused by a pandemic that has forced it to delay the start of it.
The 450 seats available to the public (150 per show) were sold out the day before the premiere of 'El Último viaje de Galdós', a moving montage that is formulated from fiction as a human portrait about the last days of an elderly Galdós who seeks to reconcile with the main women who went through his hectic life.
Next appointment: Agüimes
People who have not been able to buy their tickets to enjoy it at the Pérez Galdós Theater will have a new opportunity at the next scheduled appointment of 'The last trip of Galdós', planned within the framework of the 33rd edition of the Tres Continentes de Agüimes Theater Festival, on October 16, in the auditorium of said municipality.
The production that is sponsored by the Cabildo of Gran Canaria Y City Hall of Las Palmas de Gran Canaria (Patrons of the Auditorio y Teatro Foundation), to which the collaboration of the Government of the Canary Islands and the City Council of Agüimes is added, will also undertake a tour of some areas of the Canary Islands as soon as the health situation allows it and the capacity restrictions for theaters and auditoriums of the islands.
Performed by a choral cast of actors and actresses made up of Lili quintana (Dolores), Ruth Sanchez (Emilia), Marta Vierto (Conchita), Maday mendez (Lorenza), Alicia ramos (Sisita), Jose Luis Massó (The circumspect gentleman) and Rubén Darío (Benito Pérez Galdós), in 'El Último viaje de Galdós', the Pérez Galdós Theater space takes on great relevance, having a direct impact on the staging of the play, which takes in five different places in the capital coliseum.
So, the audience will be divided into five groups enjoying a comprehensive immersive theater experience. During the first act, one will go to the Saint-Saëns room, another to the henhouse area, a third to the rehearsal room, a fourth to the theater chácena and a fifth to the pit where the orchestra is usually housed. In each one of them you will enjoy a theatrical piece and, finally, in the second act, you will end up sitting in the stalls to contemplate the outcome of the play.