The largest glass recycling container in the world is in Lleida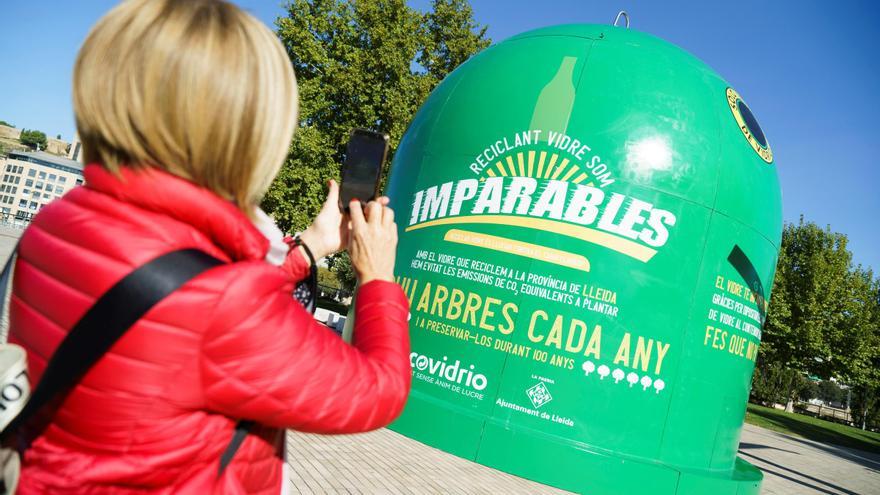 Ecovidrio has installed in Lleida the largest glass recycling container in the world, 8 meters high, as part of the 'Recycling glass we are unstoppable' campaign.
As reported by the non-profit entity, this container will travel for a month through all Catalan demarcations to honor citizens for their "commitment to the circular economy and recycling".
In this sense, they highlight that Lleida is the city in which the campaign begins because it is the seventh in the entire State that recycles the most, with a contribution of 22.8 kilos of recycled glass per inhabitant.
During the days that the container will be in Lleida, they will be organized around it awareness activities for families on October 9-10.
During the presentation of the container installation, the Ecovidrio area manager, Silvia Mayo, explained that, "year after year, Catalonia revalidates excellent data on recycling of glass containers".
He has highlighted that these good results They are "the result of teamwork and the ambitious commitment of administrations, hoteliers, citizens and Ecovidrio".
Tarragona will be the next city to receive the container on October 27 and on November 3 it will be Barcelona's turn and, finally, it will move to Girona on November 10.
In general terms, the entity highlights the latest official data that show that, despite the restrictions suffered by the hospitality sector, throughout Catalonia the tons of glass containers collected have been maintained, while in the rest of the State there has been a drop of 6%.
In fact, last year the Catalans recycled more than 1.5 million glass containers every day and more than a thousand containers per minute.
All waste was treated in the three existing recycling plants in Catalonia and turned into new packaging in the three packaging factories in the provinces of Tarragona and Barcelona.