The largest exhibition on the creator of Tintin arrives in the fall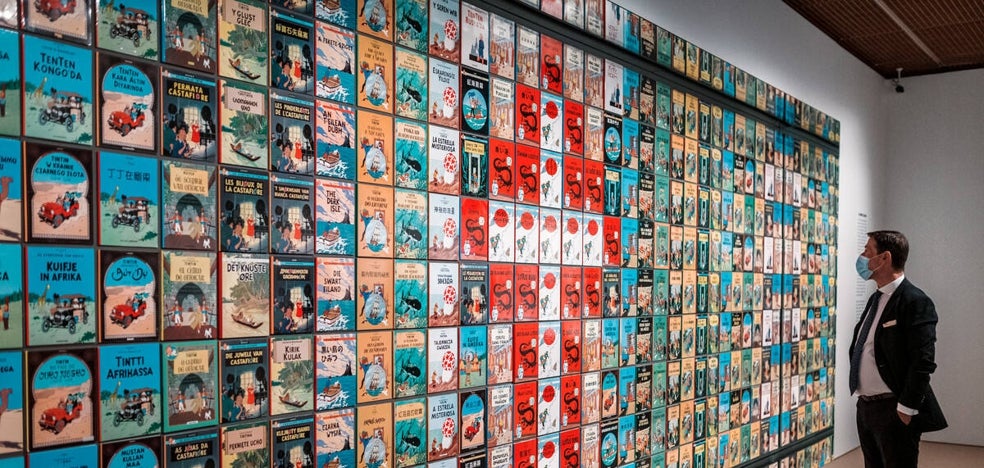 The Círculo de Bellas Artes de Madrid will host the exhibition from October 5, a monograph on Hergé that has already made its way to several cities around the world
Starting this fall, on October 5, Madrid's Círculo de Bellas Artes will open the exhibition 'Hergé. The Exhibition', an exhibition that will immerse its visitors in the universe of the illustrator and artist Hergé, creator of the iconic series of comics 'The Adventures of Tintin'.
The Hergé exhibition arrives in Madrid preceded by public and critical success in cities such as Paris, Quebec, Odense, Seoul, Shanghai and Lisbon. Curated by the Musée Hergé in Belgium, the exhibition is presented in Spain by Sold Out in collaboration with the Círculo de Bellas Artes.
The show will present a superb selection of priceless documents, original drawings and many other works by the multi-talented artist and 'father' of Tintin. From illustration to comics, with forays into advertising, newspaper cartoons, fashion design and plastic arts.
In addition, for the first time in Spain, part of Hergé's private collection of contemporary art will be shown, revealing his facet as a great collector. The public will also be able to see the works of Hergé himself, inspired by Modigliani, Klee, Miró and many other great artists.
Many other treasures from the Musée Hergé collections will also be on display at the exhibition coming to Madrid, including original drawings, sketches, film clips, models and original artwork by Hergé.
The tireless reporter Tintin has already passed the threshold of 90 years, although in the 21st century he has not lost a bit of topicality and has conquered his place among the greats of universal literature in his own right. The adventures of Tintin continue, even today, arousing passions: more reissued than ever, they inspire artists, writers, producers and film directors.
Adult ticket: 14.90 euros

Considered the father of European comics, Hergé's creative genius has opened decisive paths for the 9th art and his influence is still visible in the world of contemporary comics. He is not only the master of the Ligne Claire, and the creator of Tintin, but also a multi-talented artist: graphic designer, publicist, screenwriter and painter. Recognized as one of the great artists of the 20th century, Hergé is a universal creator whose works are totally valid today. With more than 250 million copies sold worldwide, his work has been translated into a hundred languages.
Visitors to 'Hergé. The Exhibiton' will be able to explore the creative processes behind his most emblematic albums, his work in the studio, his markedly cinematographic influences, his dialogue with contemporary art, his different steps as a creator, from modeling objects or buildings to colouring.
General admission (+13 years) costs 14.90 euros and child (4 to 12 years): 8 euros. Today a wait list opens in Fever for those who want to get the first tickets. More information and tickets on sale starting next Wednesday, July 6 at herge-exhibition.com.