The labyrinth of the Champions zone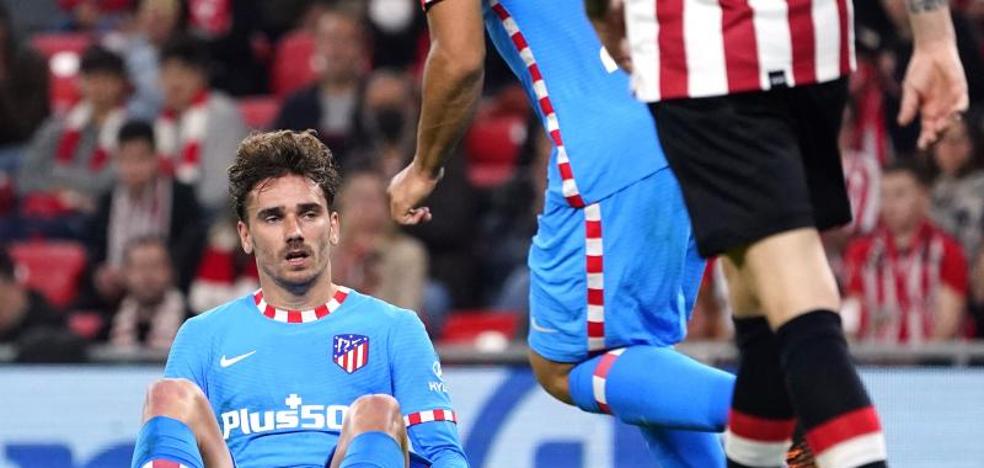 Reportage
The cracks in Sevilla and the lack of control in Atlético shoot Barça towards second place and feed the hopes of their pursuers four days from the end
Barça's irregularity, mitigated by the win against Mallorca that consolidated it in second position, and, above all, Atlético's bewilderment and Sevilla's feeling of exhaustion, have turned the final stretch of the championship into a kind of competition for clumsy to seal the ticket to the Champions League. As Xavi Hernández, the Barça coach, rightly reflected, once Real Madrid adorned La Cibeles, a smaller tournament of five teams is played from behind in search of three Champions League places.
In the absence of only four days, ten points separate Barça, second, from Real Sociedad, sixth after having wasted with their poor draw in Vallecas a pintiparado opportunity to take advantage of the new sevillistas and colchoneros kits and to threaten them with sorpasso. However, there are still direct confrontations that can turn the situation around in the course of surprises.
Only a debacle would make the azulgranas fall off the Champions League car. They lead Sevilla by two points and Atlético by five and their calendar is not the most complicated either. His main stumbling block, a priori, next weekend's visit to Benito Villamarín against Betis, who, having won the Cup, dreams of a place in the elite of European football. Then, Xavi's men will receive a Celta team that has nothing at stake, will visit Getafe, perhaps almost saved, and will close at home against Villarreal, who could be playing for a place in the Europa League.
Restlessness at the Sánchez Pizjuán, where in a matter of weeks they have gone from even aspiring to the League title to fearing for a place among the top four. The feeling in Nervión is that the season is taking a long time, with obvious cracks between the players and the bench ruled by Julen Lopetegui. He was seen in the last match against Cádiz, where the boss's slogans went on one side and the movements of the footballers on the other. Two points behind Barça and three ahead of Atlético, Sevilla faces a very difficult calendar, with visits to La Cerámica and the Wanda Metropolitano and clashes at home against a Mallorca team that will risk their lives and an Athletic team that may have European options on the final day.
Alarm in the Wanda

Atletico this course no one understands. It's X-file, a permanent roller coaster. He grew after the ridicule against Levante with six wins in a row, but he's back to his old ways again, to that lack of forcefulness in the areas and to making mistakes that condemn him. A team that has only won one of its last six official matches and that lost 36 and 34 balls, respectively, in its own field in its last matches against Granada and Athletic, a negative record in the League, does not deserve to play in the Champions League. Simeone seems clueless, the calendar is great. With corridor or without him, on Sunday he receives the champion, then he cannot fail in Elche, then he faces a final against Sevilla at the Wanda and closes the course at the Reale Arena, who knows if with the Real one victory from snatching him fourth place.
Whatever happens until the end, Manuel Pellegrini's Betis have already completed an extraordinary season with the conquest of the Copa del Rey in that final won on penalties against Valencia in La Cartuja. Tired, hungover but no longer under pressure, he still has to dream of getting back into the 'top four', where he was already for much of the course. After visiting Getafe in the duel that closed matchday 34, Betis take a break for the final sprint: at home against Barça and Granada, who will stay one matchday from the end, and away to Mestalla, where Valencia He will want to get even with the cup defeat, to put the curtain on the course at the Bernabéu.
La Real is not giving up, although it cannot be neglected either because it is one point behind Villarreal and five against Athletic. The 'txuri urdin' team misses its captain Mikel Oyarzabal a lot and suffers from an alarming lack of punch that prevents him from making a great qualitative leap. He only has 33 goals in favor, not one on average per day, among the five worst First Division records. It is also true that he has only conceded 32, surpassed only by Sevilla and Real Madrid. His final accounts go through the Ciutat de Valencia and Villarreal and visits to Donosti from Cádiz and Atlético.
The last four days of the candidates for the Champions
Barcelona: *BETIS, Celta, GETAFE, Villarreal
Seville: VILLARREAL, Majorca, ATHLETIC, Athletic
Athletic: Real Madrid, ELCHE, Seville, REAL SOCIEDAD
Betis: Barcelona, ​​VALENCIA, Granada, REAL MADRID
Real society: LEVANTE, Cadiz, VILLARREAL, Atletico
*In capital letters the teams that play at home.