"The La Palma volcano has discovered that there are bad people, but also good people"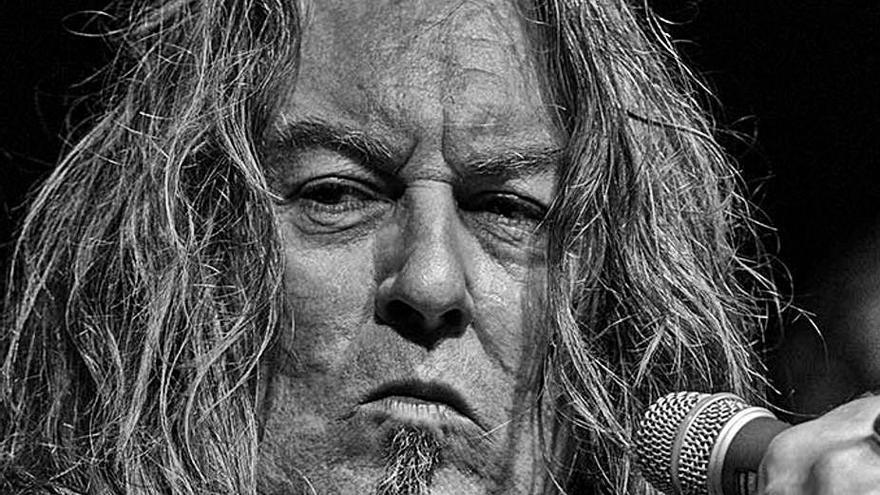 Catana, who on October 19 presents the collection of poems The smile on the moor in the Pérez Galdós House-Museum, has been evacuated in recent days since the north wash, the one that has destroyed ships in the Los Llanos de Aridane industrial estate, is heading towards your home. "There are possibilities that it will be saved, but in the face of this volcano to say that there are possibilities is very uncertain," he assures.
His house and a 4,000-square-meter farm, the legacy of his father, where he grows organic bananas and avocados, is on the north side of La Laguna Mountain.
«The laundry that can affect me is the one that comes through the industrial area of ​​Los Llanos. If it touches La Laguna and destroys the square, as happened in Todoque, it will continue straight and I will lose my house and my farm, or I will be isolated, because this volcano is making arms that look like octopuses, "he laments.
September 19th
Catana returned to the island of La Palma that fateful September 19, the day of the eruption, after giving a concert in Madrid with the band Catana the night before. When the flight was about to take off, the pilot announced that the volcano had already erupted and could see it from the air, but when he arrived in the El Paso area, he realized the magnitude of the tragedy that lay ahead. .
"I was impressed that it was so close to El Paso and when I went around the soccer field I was already realizing what was in front of me and I was the first three nights without sleep." And he spent the nights in a bar, the one closest to the volcano area and which they evacuated these days, from where he observed him and analyzed everything, at the same time he saw how the laundry was going to one side and the other.
"The volcano has discovered that there are bad people, but also good people"
«It was the clearest point of information because volcanologists, policemen and people from Todoque were arriving who were aware of whether or not they lost their homes because El Paraíso had already been lost. There I had information about the alleys I was going through and at first I saw it very easy and I said to myself: it will not touch me, but more mouths began to open and I already realized the danger, "he explains.
The following nights, he either stayed at home or with friends, depending on how explosive the volcano was. «The first wash that swept the Todoque church I saw from the bar and saw how the houses exploded, and the second I was scared because it was coming towards the Todoque Mountain and it was 800 meters from my house, but it is there, if you take the Plaza, I have nothing to do, "he laments.
And before what may happen, he has already taken from his house what he loves most, piano, guitars, amplifiers, hard drives, the computer, books … "40 years of rock and writing," he says. He also took his four cats, the Garafian dog and four chickens and a rooster.
Catana explains that in this situation she feels fear, pain, pain and sadness. "When people who were following the volcano with you from the first days arrive at the bar and you see how more and more people arrive who have lost everything, their house, their farm and their livelihood, they feel a lot of pain," he laments.
Given what may happen, he has already taken out of his house what he loves most, the piano, guitars, books …
"Physically I feel as if I always have sand in my socks, because I shake my shoes and socks, and I keep walking and I feel sand on my feet," he explains, while detailing that the noise caused by the volcano is impressive. "At first it was like waves hitting a cliff, then it became a kind of bombardment as you see in war movies and explosions that exploded windows. If you have to put up with that for three months, you end up badly, "he says.
«When I was eight years old, my father took me to see the Teneguía. That was a spectacle, it was very beautiful, it did not hurt any because it was smaller and it was very close to the sea and there were only vineyards on the way to the ocean. That was wonderful because we are on top of the mountain seeing the volcano below, but here it has caught us on the contrary, we are under the volcano, "he adds.
He has no idea what will happen in the future because thinking about him "doesn't make sense," he says. «Now what I do is try to save what I can from my house and take it to friends' houses. I can't think about tomorrow, or in a month or two months, I have to think about the moment, I have to function every day. There are times when you wake up at a friend's house and wonder if this is a dream, is it real or is it a lie. And you have to work, you have no choice, "he says.
"What surprises me is the people who lose everything because they accept it almost with resignation, but after a month or two passes, that's when the real pain begins, because people go into emotional shock. Right now the entire Valley is in an emotional shock, "he says.
Banana area
And it is that the volcano is affecting the best banana area of ​​La Palma and the Aridane Valley only lives on banana, he explains. That is why he is aware that this will cause a domino effect in the economy, "because you throw one chip and all the others are falling," he details.
Regarding the reactions that he has seen from the clappers, he assures that the volcano is as if it were an activator of consciences or the curtain of a theater, where really when the curtain opens, people with masks come out, but when the show ends you have to take it off. «I have seen many people who wore a mask and when they took it off they were not the same being, nor the same person. I have discovered many bad people in the face of tragedy, and then I have also discovered very good people, "he says.
"Physically I feel like I always have sand in my socks"
"When they say that La Palma tree is strong, it is not like that, there are very strong people and others very cowardly, very good people and others very bad," he says and refers to comments he has heard these days, when one person said to another that he had lost everything, that he could always go begging in the streets of Los Llanos. "But I have also met people who help with vans and trucks. We are at other people's houses, we have things spread over four houses, so there are also good people, "he adds.
Catana regrets how the landscape of the Valley will change with this eruption and the wonderful sites that have been lost forever. «When a wind comes, it knocks down trees and destroys bananas, but keep going, but when you see lava flows with an altitude of 15 to 25 meters, you say oh my! It is a mountain range that splits the Valley », he laments.
And it is that he grew up in the area of ​​La Laguna, Tazacorte and Los Llanos, and Todoque was his favorite place since from his square you could see beautiful sunsets. «It's very hard, when I leave my house and look at the lava, I say, my God, this is it! Maybe at one time it will be a wasteland, now it is lava, "he says.
«When I was eight years old, my father took me to see the Teneguía; that was a show »
Despite everything, he is optimistic. «I am fortunate, unfortunately, that in the face of the difficulties that life gives me, I get harder every day. I am made to that situation, I have gone through thousands of battles, I am 58 years old and I have walked many roads, "he sums up.