The La Palma volcano buries the hairdresser of a family that welcomes migrant children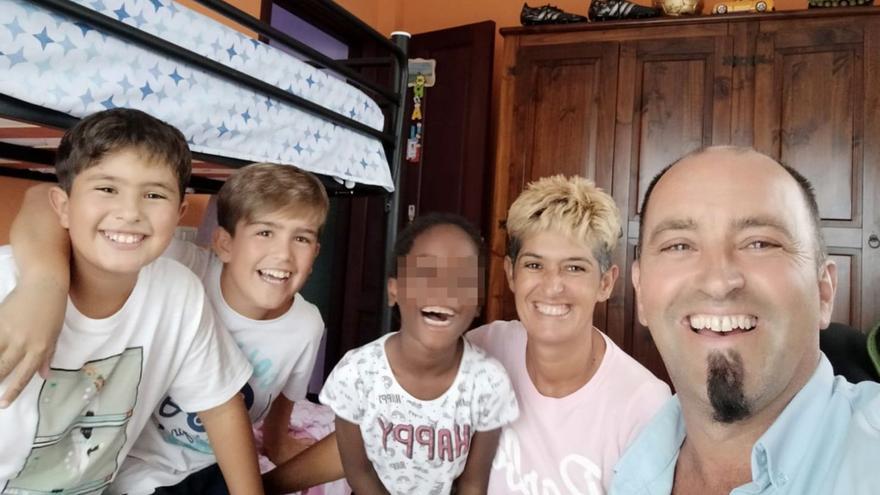 Three-year-old Ibrahim arrived alone in a boat. His mother, from Ivory Coast, traveled half of Africa with the little one in tow until arriving in Morocco, with the dream of embarking and crossing to Europe in search of a better future. But the illusion was cut short. When he arrived in Morocco, they told him that he did not have enough money to pay for two tickets, so they gave him a choice: either your son or you. A decision as painful as it was inhuman that, out of necessity, she faced. He had heard that the children were taken care of as soon as they arrived in the Canary Islands, so he gave his little one to an occupant of the boat.
It is unimaginable what that little boy must have felt when he saw himself with strangers in the middle of the sea and without the warmth of his mother's arms. And even more so the pain of that woman when she got rid of her son without knowing what would become of him. The boy is fine. He arrived in Tenerife and was under the tutelage of the Government of the Canary Islands. A few days later, the mother was able to contact the island authorities and told them about her situation: she is in Morocco waiting to get money to buy a hole in a boat. This is how sad and cruel the reality of migration is. Meanwhile, Ibrahim is recovering his smile with the love he receives from Mario Martín, Caroli Pérez, and his two children, 9 and 14 years old, Raúl and Mario, a family that lives in Las Breñas, on La Palma, and who are part of of the foster care program developed by the Ministry of Social Rights. Ibrahim is the third child sheltered by this family who only deserves praise.
Mario Martín works with Disa trucks delivering gasoline on the island, and Caroli Pérez ran her hairdresser in Todoque, the neighborhood where she grew up. After exploding the volcano, the lava took everything ahead, his business and his parents' house, from his childhood. When they decided to take in children who needed a home, they did not even imagine that the volcano was going to explode.
It all started when a mother from the school where her children study told them that there was a Canarian foster care program. It is not about an adoption but rather that a minor with a situation of helplessness lives with a family for as long as necessary until they can return to their environment. They liked the idea and decided to try: they passed the interviews, took a training course and were registered as a suitable family to take in a minor. This program does not differentiate whether they are Canarian children or unaccompanied minors arrived in boats or cayucos. Those responsible for the program contacted them last September and told them that they had a girl who could fit in in their family, they explained her characteristics and where she came from. And that's how Aicha came into their lives, a little girl from Guinea who spent six years in the Canary Islands with them. «She is a very special, very endearing girl and she integrated perfectly; everyone had to do with her at school and within three months she spoke Spanish perfectly, "Mario evokes excitedly. Aicha arrived in a dinghy to Gran Canaria with her aunt, but since she had no documentation, it was not possible to prove whether or not she was her relative. The mother had passed away and her aunt took care of her, and she decided to risk her life crossing the ocean to find a better future. Like the vast majority of migrants, they had relatives in Europe, in this case in France.
While waiting for DNA tests, the foster care program looked for a family and called them. Aciha was a ray of light in their lives and adapted perfectly with them and with their children, especially with little Raúl, 9 years old. It was as if they were brothers. The family lives in an earthen house and the girl enjoyed the home environment. About the trip in the boat, Aicha said that "when I was hungry, there was nothing to eat; when I was thirsty, there was no drink; she wanted to sing and they wouldn't let her; then he just got under the blanket to cry. With these words she was telling it so little », recalls Mario excitedly. Two days, at least, he was at sea. While they waited for the DNA tests, they made video calls with their aunt, who was in a Red Cross center in Las Palmas de Gran Canaria. Mario and Caroli even took Aicha to visit her aunt, "but the girl always wanted to go back to La Palma," says Mario.
They knew that when she had the documentation, Aicha should go with her family and continue on her way, and they explained it to her. The program is clear that the goal is family reunification. The papers arrived at Christmas last year and they waited for Aicha to finish classes, and in December they took her to her aunt. Now they are in France and they communicate with both of them, they send them photos and they have remained calm when they see that they are well.
Zahara, the joy
The second girl they had in foster care it was a joy for the family. His name is Zahara, he is from the Ivory Coast, like Ibrahim, and when he came he was the same age. She also arrived in a single boat, in this case to Fuerteventura, when she was only three years old, and upon arrival someone handed her over to the Police. A few days later they called from France claiming the girl. It was her mother who had left a year and a half earlier, also in a boat, pregnant and left the girl in the Ivory Coast waiting to be able to pay her ticket and take her with her. The mother already has papers in France and she thought that this would help them to give her the little girl. Since they left her in the Canary Islands, the Government took her custody and logically they could not hand her over to anyone even if they said she was their mother. He had to come in for a DNA test to prove the link. Meanwhile, they called Mario and Caroli again. It was in June and coincidentally they were on vacation in their caravan with their two children in Lanzarote. So they made it known to the person in charge of the reception program and they offered to go look for the girl in Fuerteventura. The Red Cross had it with a woman in a sheltered apartment. Zahara was a burst of joy, talkative, danced and sang all the time, Mario says.
As soon as they picked her up, they went to Las Palmas to do the DNA tests and then continued their vacations to La Gomera, Tenerife and back to Isla Bonita. They were in the caravan for 15 days and Zahara had a blast with the children and the family. Upon arriving in La Palma, they led their normal lives and she was with them in July, August and September, while the mother traveled to Fuerteventura and waited for the results of the maternity tests. She stayed in a Red Cross center and they spoke with her by video call. Zahara, of course, hardly knew her because she was one and a half years old when the mother was forced to emigrate from the Ivory Coast. And then the volcano erupted. On September 19 everything changed, especially for Caroli who lost her hairdresser and her parents' home in Todoque under the lava. "It was very hard," Mario evokes, and Caroli in a way took refuge in the joy of Zahara and her children. The girl was already speaking Spanish with a certain fluency and she said to her: "Mama, don't cry, be happy, don't cry." Seeing Caroli's attachment to the little girl, Mario called the foster care program to see if they could spend fifteen more days with Zahara and they consulted the mother, who did not put any impediments but quite the opposite. "She was very grateful that we took care of her little girl," explains Mario. So on October 2, they took Zahara to Fuerteventura because they wanted to meet her mother and thank her personally for having left the girl for a few more days. They are both doing well in France and keep in touch with their palm family.
They've had Ibrahim for twenty days. He was picked up in Tenerife and he is cuter than the girls. He just wants hugs and it makes sense. He separated from his mother when he went up alone in a boat with strangers. Mario and Caroli do not know how long they will have it. His mother is raising the money to be able to come from Morocco in a boat and they have already contacted her by video call and, in French, she reassures Ibrahim and tells him to behave well with them. He is already breaking Spanish and is already recovering his sweet smile.