The L Lidl 'phenomenon: why this cost low cost' supermarket grows so much in Spain | Economy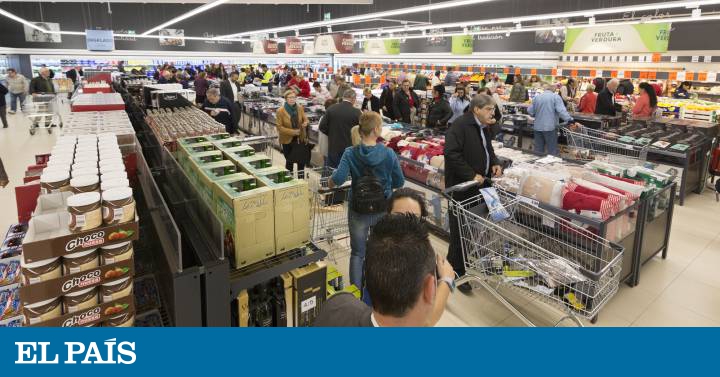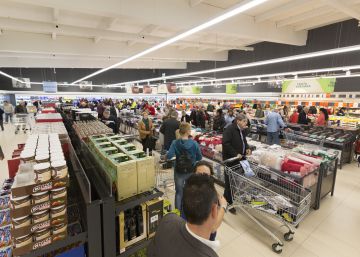 For years, the great success story of Spanish food distribution has been the escalation of Mercadona towards the leadership of the sector. Without the Valencian chain having slowed its growth rate, in recent years the analysts of retail begin to look at another emerging phenomenon; the triumphant pass of the two companies of the so-called discount or German discount, Lidl and Aldi. And, among the largest, Mercadona, Lidl and Aldi are the only ones that grow. According to Kantar Worldpanel, the other main operators in the sector (Dia, Eroski, Carrefour and Auchan) have stagnated or given market share in the last four years.
Between 2015 and 2018 Lidl raised its participation in the cake from the distribution of 3.6% of the total to 4.9%, while its sales soared 31.5%, from 3,048 to 4,009 million. The turnover of Aldi would have also grown strongly: 23% in just two years, reaching 1,000 million in revenue. Where does the growth of the two German brands come from? Basically they have managed to fish in the crises of two of their great rivals: Dia and Eroski.
Of course, although both chains have exhibited muscle in the Spanish market in recent years, Lidl's takeoff is much stronger than that of his compatriot. Although they were installed in our country only eight years apart, Lidl in 1994 and Aldi in 2002, the first is already four times larger than the second in sales despite having only twice as many stores, 580 versus 300. And not only that. While Lidl bills seven million per store, Aldi is over three million, with supermarkets of similar size, that is, 1,200 to 1,400 square meters. This differential explains that the two chains have antagonistic results in profitability. While Aldi is still in the red, Lidl is a leader in profitability; It reached 150 million profit in 2017, five times more than in 2013. Only Mercadona earned more that year, 322 million, but with a six-fold turnover.
The growing sophistication of Lidl has not led to cost increases. Nor of prices. "The store has a model of efficiency and simplicity absolutely the same as in 1994, which allows us to always offer the lowest price," says a spokesman for the company. Of course, "lower than those of Mercadona," says Raimon Mirosa, professor of Marketing and Retail at ESADE. A result achieved by making aggregate purchases for the 30 countries in Europe where they are present and concentrating 90% of their references on white labels (compared to 58% of Mercadona). The limited number of references also helps reduce costs. A super Mercadona can have 5,000 or 10,000 references, compared to 2,200 of Lidl.
Experts in the distribution sector do not believe that the different evolution of Lidl and Aldi can be attributed to their playing with unequal abilities. These are two giants with a global presence and more than 10,000 stores each almost worldwide. Lidl totals 81,000 million and Aldi 53,000 million. And in some countries Aldi has achieved more market share than Lidl. In the United Kingdom the first one has 8% and its rival 5.7%. The divergence between the two would be better explained, according to analysts, by the particular circumstances of each in the Spanish market. Lidl has advanced to Aldi in the transition of hard discount more austere towards its current strategy, focused on the shopping experience of its customers. "In Lidl they saw that the model hard I wasn't going to have a tour in Spain. Tengelmann tried, also German, which had 250 stores and did not work: in the end he retired and sold his network to Carrefour, which transferred them to Dia ", explains Alfonso Sebastián, vice president of the Spanish Retail Association (AER) .
One of Lidl's main strategic decisions was to gradually increase its number of references to prevent the customer from having to go somewhere else to complete their purchase: the initial 700 products tripled to 2,200. This has forced to expand the size of the stores, circumstance that took advantage to modernize them. "Since 2010 we have invested 2,000 million euros in renovating the stores and replacing a good part of the old ones, which had 700 square meters, with new premises, with 1,200 meters," says Carlos González-Vilardell, director of communication for Lidl. The chain, which began in peripheral locations, has been approaching the center of the cities.
The company has also refined its offer. It was the first to introduce the bazaar in supermarkets, a section that Mercadona, for example, with stores three or four times larger, does not have. González-Vilardell explains that the bazaar has been very successful and "has become a differential element of our model. People wait for new products. " The company brings every week, from any country in Europe, 30 or 40 references at very competitive prices that, once they are finished, are not replenished and that respond to a specific theme: kitchen, garden, decoration … Lidl has also managed to raise true adherents to some of their products, such as wrinkle cream or your kitchen robot. It was also the first supermarket to offer clothes, at a good price (less than 20 or 10 euros), a section that already accounts for 10% of the turnover.
Rotation
Changing the assortment is not exclusive to the bazaar. Loyalty and generates expectation. The company takes advantage of its presence throughout Europe to add all kinds of products to the linear ones, which it does, says González-Vilardell, "that shopping in Lidl is more fun". Being throughout Europe allows Lidl access to products that succeed in other markets and then sometimes remain permanently. This is the case of Skyr, a Nordic yogurt, or a series of vegan products from Central Europe. Lidl was also a pioneer in creating an area of ​​frescoes, which goes for 700 references and covers 30% of its sales.
Why Aldi, very similar to Lidl, has not achieved the same degree of acceptance? In the sector they explain that it has been delayed in the transition to the call smart discount or smart discount. "Only recently, in July, has it been decided, for example, to launch its section of frescoes: even so, it does so with far fewer references than its rival: 300 versus 700 of Lidl," says Raimon Mirosa, of ESADE. In the sector, the low turnover of its stores is also attributed to its location. "It is clear that Aldi has a hard time putting more customers in their stores, which has to do with the location of their first supermarkets, far from the cities," according to Sebastian. Aldi is now trying to solve this situation with the accelerated opening of stores. All this has generated tensions in the dome of the company in Spain, which led to the appointment, in May, of a new CEO, Valentín Lumbreras, an executive from precisely Lidl.
. (tagsToTranslate) phenomenon (t) lidl (t) supermarket (t) low (t) cost (t) grow (t) spain (t) chain (t) benefit (t) crisis (t) day (t) eroski ( t) lead (t) implementation (t) German brand (t) (t) German (t) national market (t) (t) aldi



Source link