The Kings inaugurate the most atypical ARCO fair due to the coronavirus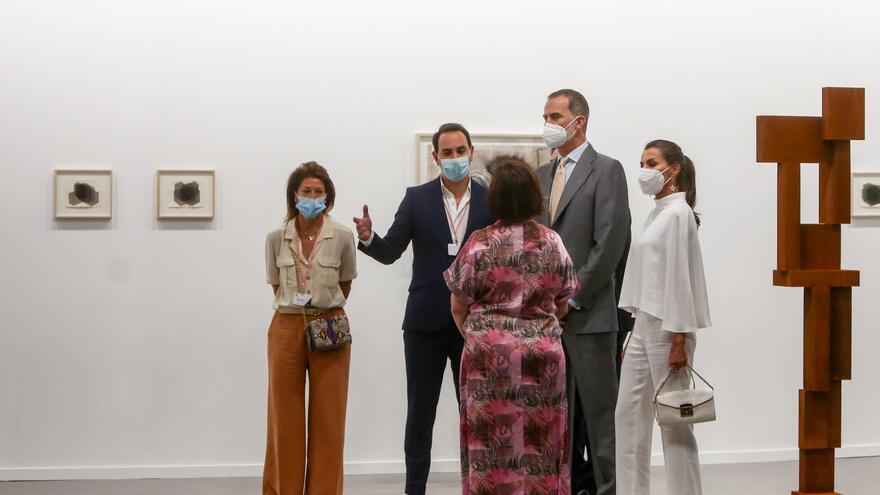 The Kings Philip VI Y Letizia have visited this Thursday July 8 for about an hour the 40th edition of BOW, the contemporary art fair that is being held in Ifema Madrid and that will remain open until this Sunday.
The visit of the Kings in this edition of the fair is special because it is about the first time that ARCO has been held in person at Ifema Madrid since the beginning of the pandemic in Spain, which is why it is celebrated in some exceptional dates.
For this reason, several of the gallery owners who have been present in the last editions of ARCO have shown themselves doubtful about the success of this exceptional fair in July.
During their attendance at the contemporary art fair, the Kings have seen the works of about a dozen galleries. The fair is being held in pavilions 7 and 9 of Ifema Madrid, in a space with a capacity reduced to 50 percent due to the measures against Covid-19.
The Kings have begun their visit around 12.00 in Hall 7 of Ifema Madrid. Their first stop was at the El País stand, where they stopped for a few minutes.
Subsequently, Felipe and Letizia, dressed completely in white, continued their march through corridor 7B, where they stopped for a few moments to see the works of the French gallery Thaddaeus Ropac and they have been interested in the situation in the neighboring country.
After about half an hour in hall 7, the delegation continued their journey through hall 9 of Ifema Madrid, where the Kings visited the Pedro Cera galleries in Lisbon (Portugal); Nordenhake, gallery founded in Sweden; o Senda, Catalan gallery.
The visit of the Kings has ended in space 'Opening', where they have greeted the commissioners of the section Övül Durmosoglu and Julia Morandeira. After a little less than an hour of visiting, Felipe and Letizia have left pavilion 9 at Ifema Madrid
The Kings have been accompanied by the Minister of Culture and Sports, Jose Manuel Rodriguez Uribes; the Minister of Culture of Portugal, Graça Fonseca; the Portuguese ambassador to Spain, Joao Mira-Gomes; the Minister of Culture, Tourism and Sports of the Community of Madrid, Marta Rivera de la Cruz; and the delegate of the Government Area of ​​Culture, Tourism and Sports of the Madrid City Council, Andrea Levy.
In this edition they participate more than 1,500 artists and a total of 130 galleries from 26 countries, of which 105 make up the 'General Program', adding to them the curated section 'Opening', with ten galleries, and 'Sender. Latin American Art ', with representation from fifteen galleries.
During the presentation of ARCO, the general director of Ifema Madrid, Eduardo López-Puertas, highlighted that the presence of the Kings at the fairgrounds "represents the firm support of the Royal Household for contemporary art."