The king returned to the throne and UD Las Palmas is scary: Viera flies and with him everything is possible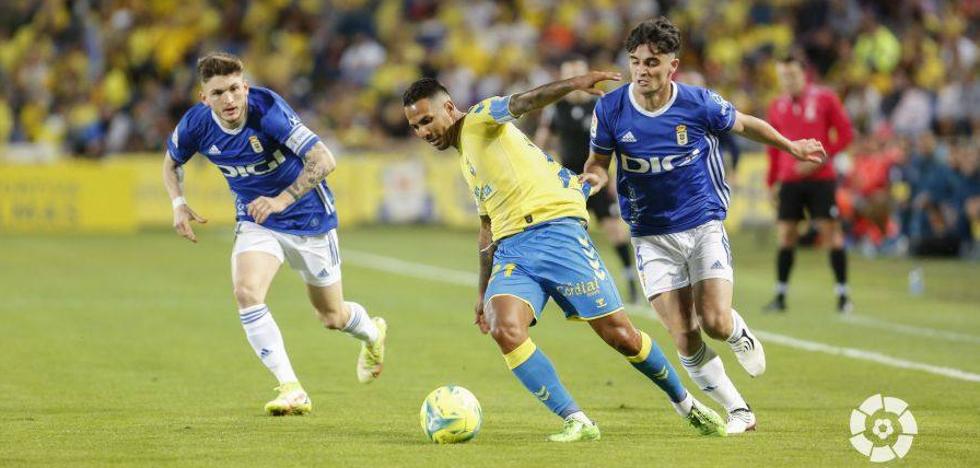 soccer
He made the difference against Oviedo and is now the team's top solo scorer, with 12 goals and a total of five assists in 31 games
Some are born stars and others work to have their own light. In case of
Jonathan Vera mix both concepts.
Since childhood he stood out like no one and then the daily effort put him where he is today. The fact of returning to the team of his life, UD Las Palmas, when he could have extended his stay and his portfolio in China speaks for itself.
The clash against Real Oviedo, where the yellows played the whole season for life or death, vindicates his figure even more. Because
Jonathan put the team on his back again and ended up deciding the contest in another exercise against logic. Between three rivals he started and his head was cool enough to give a pass to the net when Femenías, goalkeeper of the Asturian club, jumped on him and covered all possible space.
He never tires of delighting Viera, applauded and excited even when Pimienta, three minutes from the end of the battle, decided to give him a rest and put more legs with Benito Ramírez.
The public, with the stadium to bursting, dismissed him as the idol of the fans that he is. Like that player who never hides when his boots shake from nervousness. The captain's thing is poetry and you just have to see the compliments that, after taking Oviedo out of the promotion promotion, rained down on him from Asturias.
He has 12 goals and five assists in 31 games this season

It's already 12 goals13 if the one that in LaLiga they give to Raúl Navas, those of
Jony in a campaign in which he arrived recovering from a knee injury, a toe was fractured in the derby and he also had to stop due to the coronavirus.
Reaches the decisive stretch of the seasonas he said in his day, in conditions to compete.
He wanted to be like this when "May arrives" and that is how he is commanding the climb of Las Palmas in the classification table. He has also given away five assists. But everything goes further. He is the born leader of the yellow team. On and off the field is a reference.
Balls to La Feria, that everything is possible and the UD returns.