The king of 'coworking' runs out of office | Economy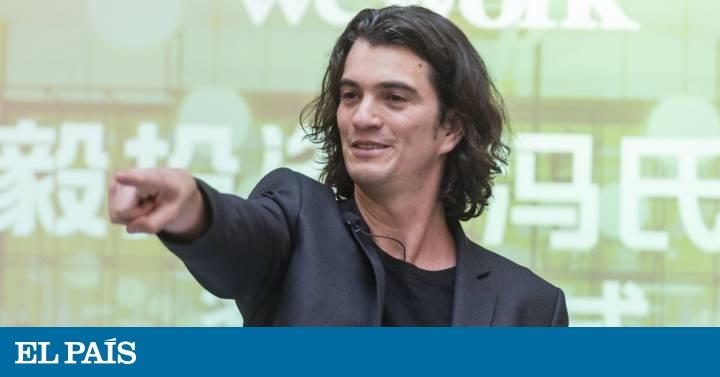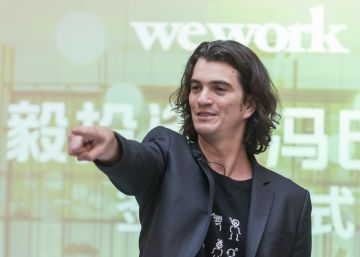 "Our mission is to raise awareness of the world." The first paragraph of WeWork IPO Brochure It is pure poetry. "We offer our members flexible access to beautiful spaces, a culture of inclusiveness and the energy of an inspired community." Thus the company of spaces of co-working. "This is dedicated to the energy of us. Bigger than any of us, but within each of us, "says the brochure. A month later, the company has canceled its IPO and has fired its CEO, Adam Neumann.
The rise and fall of WeWork It is parallel to that of its co-founder and visible face. Neumann is a 40-year-old and 1.98-tall Israeli, who this week has joined the recent club of wild executives who grew their businesses aggressively until success devoured them. In just a month, the new Travis Talanick, the co-founder of Uber who was forced to leave after years of excesses, has gone from the summit.
He was traveling in a private plane of 60 million euros and maintained that his mission was to change the world
Neumann was born in Tel Aviv In 1979, his parents divorced when he was little and when he reached adolescence he had lived with his mother in up to 13 different places, as he has told in several interviews. He spent a brief season in New York and returned to Israel in 1990. The family then moved to kibbutz Nir Am, in Sderot, very close to the Gaza Strip, where he attended high school. Neumann would count years after the experience of kibbutz it has inspired him for WeWork, which sometimes even calls kibbutz 2.0.
First steps
After the service in the Israeli Army, Neumann moved to New York to live with his sister, the model Adi Neumann. There he founded a company that would serve as a precursor to the co-working and that it ended up selling, and another one that tried to sell clothes for babies and failed. In 2010 he founded WeWork with his partner, Miguel McKelvey.
Since then, WeWork has really invented and developed its own market and has become a very recognizable brand. In nine years he has managed to popularize a type of workspace that meets the needs of small businesses, freelance or businesses with minimal physical space needs. Anyone who needs more than a Starbucks to work, but less than a full office, has found its place in these flexible spaces.
According to company data, WeWork already has 528 locations, in 111 cities in 29 countries and a community of 527,000 customers, or "members" in the jargon of the company, half of them outside the United States.
That growth has ridden Neumann's amazing ability to attract venture capital investors. In 2016, it obtained a financing of 430 million dollars (393 million euros, at the current exchange rate) that valued the company at 16,000 million. In 2017, the Japanese entity SoftBank put in the company 4.4 billion dollars. After the last injection of capital from Softbank, WeWork became valued last January at 47,000 million dollars (almost 43,000 million euros).
Along the way, Neumann strove to be the most partying and wasteful executive in the ecosystem of famous CEOs. I was traveling in a private Gulfstream G650ER aircraft, valued at 60 million dollars. People around you cited in a recent article by The Wall Street Journal They claim that their personal goal was to become the world's first billionaire. One person heard him say that he wanted to be president of Israel and another, that he wanted to be "president of the world." Part of the company's culture, especially at the beginning, was to have big parties in which luxury tequila was flowing.
The businessman says that his experience in a 'kibbutz' inspired him to create the company of shared workspaces
Like its founder, WeWork has behaved in these years as if it were a Silicon Valley technology company. It has moved fast and has broken things, as if its growth depended on writing code. His image is that of hipsters smiling that change the world sitting before a Mac and a coffee latte. Neumann has lived the character of CEO technology thoroughly. "We are here to change the world. I'm not interested in anything more than that, "he said in an interview with the Israeli newspaper Haaretz in 2017. "Everyone is a creator. You are all creators and you have super powers, "he told the audience that he attended the TechCrunchNY conference that year. Neumann, today married to a cousin of actress Gwyneth Paltrow with whom he has five children, sounds like a character from the Silicon Valley parody.
Awards
There were annual prizes called WeWork Creator Awards. Last January, his second edition was celebrated with actor Ashton Kutcher and rapper Sean Combs as stars of a jury to which the applicants had to present their ideas.
But WeWork is, in essence, a New York real estate. Rent buildings and sublet by modules. Your business is not written in computer code and your success is not measured in clicks. It is written in lease agreements and measured in square meters.
When Wall Street saw the brochure with the ins and outs of Neumann's business, doubts began almost immediately. The ecumenical mission of Neumann that seemed to be irresistible in the face to face did not convince the market. In a few weeks, the reaction of the investors and the banks suggested a valuation of the company between 10,000 and 15,000 million dollars, much less than the 47,000 that the company was supposed to be worth six months before.
In addition, several murky businesses that Neumann had run with his own company came to light. On September 16, the company finally announced that it was paralyzing its IPO. On Tuesday, September 24, Neumann's departure as first executive was announced. It remains on the air if the premiere in the parquet will materialize in 2020.
. (tagsToTranslate) king (t) coworking (t) stay (t) office (t) fiasco (t) wework (t) try (t) leave (t) bag (t) cost (t) charge (t) founder ( t) adam neumann (t) visionary (t) delirium (t) greatness



Source link