The keys to the fall of the Ibex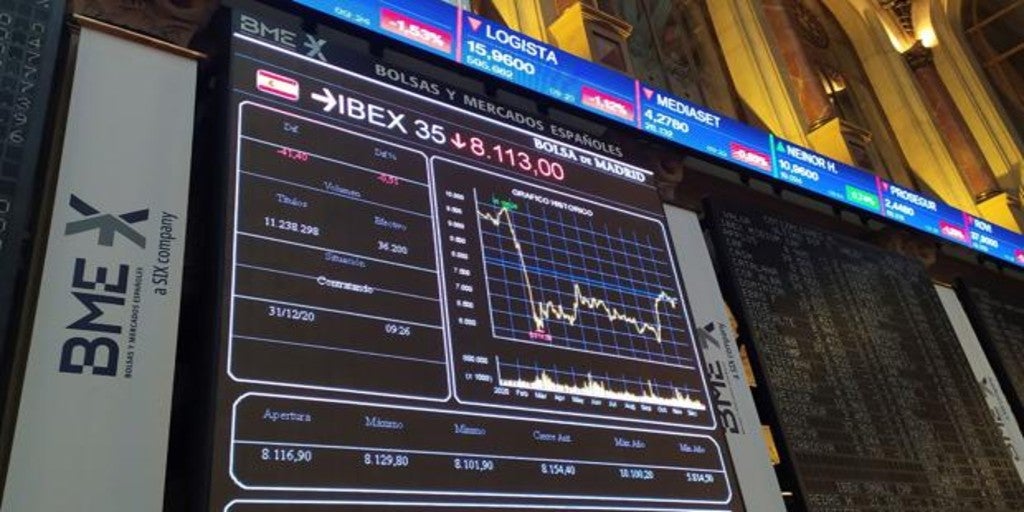 Updated:
save

24 negative components
The Ibex closes a black year with twenty-four of its values ​​ending in negative. In mid-February, the Spanish stock index reached 10,000 points, which it had not reached since May 2018, but the Covid-19 caused that in the first semester the selective ended with a decrease of more than 24%.
The Dax, the only positive one in the EU
The Frankfurt stock market was the only European that finished in positive after closing the year with a rise of more than 3% and remaining on the verge of its all-time high. None suffered a fall similar to that of Spain, and even Italy, which suffered the same restrictions as our country throughout the year, saw Milan barely fall by 5%.
The bank, very weighed down
The banking components close a 2020 to oblivion, in which only the merger of Caixabank and Bankia gave a break, although it did not prevent the fall of over 20% for Catalan banks. No entity ended the year positively and all fell into double digits.
The worst year for tourism
The worst year for Spanish tourism has taken a toll on the Ibex tourism values, with a special blow to Iberia's parent company, IAG, which has fallen above 60%. However, with the arrival of the vaccine, increases are expected in line with the number of decreases that have marked 2020.
The moment of renewables
The big winners this year on the Ibex were renewables. Of the only nine components that closed the year positively, four belonged to this sector: Solaria (250%), Siemens Gamesa (108%), Iberdrola (35%) and Acciona (27%). For their part, the rest of the energy companies were weighed down, with Repsol as the maximum exponent, falling by 35%.
Technology madness
The absence of technology companies was evident in the results of the selective. Investors relied on them from the beginning of the pandemic, and Wall Street became their refuge with them. More than half of the 16% increase came from Apple, Amazon and Microsoft.
Vaccines lead the way
What 2021 will be for the Spanish Stock Exchange will depend largely on the speed with which the population is vaccinated and normal activity is reactivated. In any case, experts think that the key companies will once again be renewable energy companies, also in the coming year, due to their high potential.