The Italian Government prepares the cancellation of the Atlantia concessions | Economy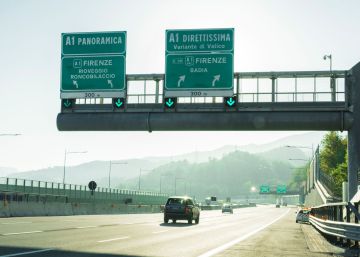 The Italian Government has begun the procedures to suspend the concessions that it has in the country Autostrade per l'Italia, a subsidiary of Atlantia controlled by the Benetton family, according to the 5 Star Movement (M5S), which directs the State along with other parties leftist. Atlantia is the majority shareholder of Abertis after launching an opa on the highway company together with ACS, Yes too the reference partner (29.9%) of Cellnex, The telecommunications infrastructure firm.
"We are starting a path for some infrastructure that will allow us to revoke the concessions to the Benettons," said M5S leader and Italian Foreign Minister Luigi Di Maio, in a recording published on social media.
Di Maio's training accuses Autostrade of being responsible for the fall of a bridge in Genoa in August 2018, an event that caused 43 deaths, and therefore asks since then to cancel its concessions in the wide network it handles and which accounts for more than half of the country's highways.
To prevent the State from having to pay an economic penalty for withdrawing these tenders ahead of time, the Italian Government has just approved a decree – which must still get a green light in Parliament – in which compensation is reduced in the event of termination of contract.
Stock Market Fall
"Those who were scandalized by the fall of the Atlantia Stock Exchange did not do so when the Morandi Bridge collapsed," said Di Maio. The minister ruled that the cancellation of the concessions will cause layoffs and said it will reduce the benefits of the Benetton family, something that will be correct because "they did not do what was necessary to keep standing" the viaduct.
The M5S accuses Autostrade of not carrying out the relevant controls to ensure the smooth operation of the bridge and since then wants to punish the company, especially after the Prosecutor's Office of Genoa, which is investigating what happened, has found evidence of documentary fraud in reports on the poor condition of other bridges in the country.
This information caused the resignation in September of the former CEO of Atlantia -and of Autostrade at the time of the incident- Giovanni Castellucci, which was one of the strong men of the Italian's opa on Abertis, which ended in 2018 with an agreement with ACS.
The M5S is lighting its speech against the Italian company in recent weeks, among other factors because on January 26 the Emilia-Romagna regional elections (center) will be held, which will serve to verify the confidence of voters in the current Government and measure the forces preserved by the leader of the League, Matteo Salvini.