The 'Isla Calavera' festival rewards Elio Quiroga for his career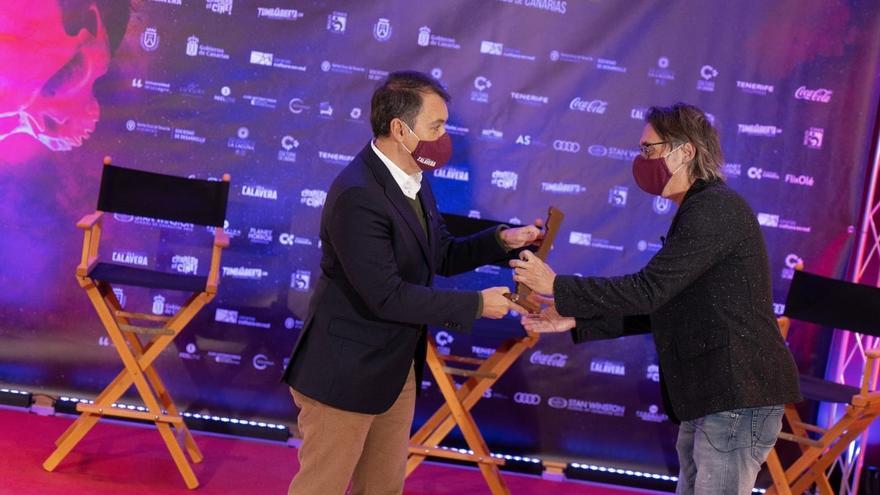 Last weekend, the Gran Canaria filmmaker and writer Elio Quiroga received, from the mayor of Santa Cruz de Tenerife José Manuel Bermúdez, the SS Venture Award of the fourth edition of the Isla Calavera Fantastic Film Festival of the Canary Islands, an award that seeks to recognize the trajectory of those canaries who have taken their talent from the archipelago to the frontiers of the genre.
Bermúdez pointed out that Elio Quiroga, who has stood out both in his role as screenwriter, film director, producer and documentarian, as well as in the creation of fantastic literature, "is a benchmark in cinema and one of the most established authors at the national level."
Elio Quiroga collected the statuette as part of the celebration of the Isla Calavera Festival Industry Meeting, a parallel activity of the event sponsored by the Development Society of Santa Cruz de Tenerife.
Fotos, Elio Quiroga's debut work, with Gustavo Salmerón and Mercedes Ortega from the Canary Islands, was recognized at the 1997 Sitges Festival, with the Best Screenplay Award and the Special Jury Award. In 2015, he presented his short Sirena negra in Sitges, and received the Minotauro Prize for fantastic literature for his novel Los que sueñan.
After The Pekingese's Strategy (2019), an adaptation of the homonymous novel by Alexis Ravelo, with Kira Miró and Unax Ugalde, he is preparing the animated feature Winnipeg, the ship of hope. Other titles are The Cold Hour (2006); the thriller No-Do (2009), with Ana Torrent; or the Goya-nominated short documentary The Last Minuteman (2005). His work Whence comes the rain received a special mention from the jury at the IV Isla Calavera Festival, last December.