The IPC shoots up to 6.5% and ends 2021 with the highest rise since May 1992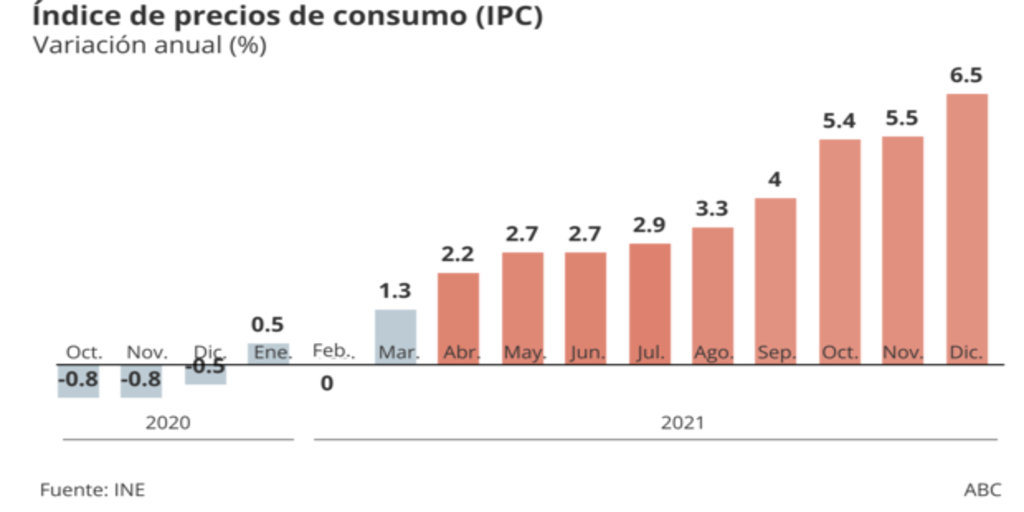 MADRID
Updated:
Keep

The prices continued to climb in December to levels not seen since May 1992. The annual rate of the Consumer Price Index (CPI) in the month of December stood at 6.5%, one point above that registered in November and two tenths less than the indicator advanced by Statistics at the end of the year. In the case of the monthly rate (1.2%), the final figure is one tenth lower than that reported by Statistics (1.3%).
With the year-on-year data for December, the highest in the last 29 years, the CPI has posted its twelfth consecutive positive rate and places average inflation for 2021 at around 3%.
Statistics highlights that in the interannual behavior of the CPI, the increase in electricity prices, higher in December this year than in the same month of 2020, and food, especially legumes, vegetables, bread and cereals and meat.
It is also worth noting, although in the opposite direction, the drop in heating oil prices, which rose in 2020.
The hotels, cafes and restaurants item also became more expensive, which increased its variation six tenths, to 3.1%, as a result of the increases in the prices of accommodation services, which fell in 2020, and restaurants, higher this month than in December 2020.
raise the underlying
Core inflation (excluding fresh food and energy products) rose four tenths in December to 2.1%, which is almost 4.5 points below the general CPI rate. It is the highest rate of the underlying since March 2013.
In monthly rate, the IPC chained its fifth consecutive upturn by rising 1.2% in December, almost one point above the rise registered in the month of November.
In the last month of 2021, the Harmonized Consumer Price Index (IPCA) placed its interannual rate at 6.6%, more than one point above the previous month. For its part, the advance indicator of the IPCA rose by 1.1% in monthly rate.