The interim, "no news from Torres" after a year and a half of strike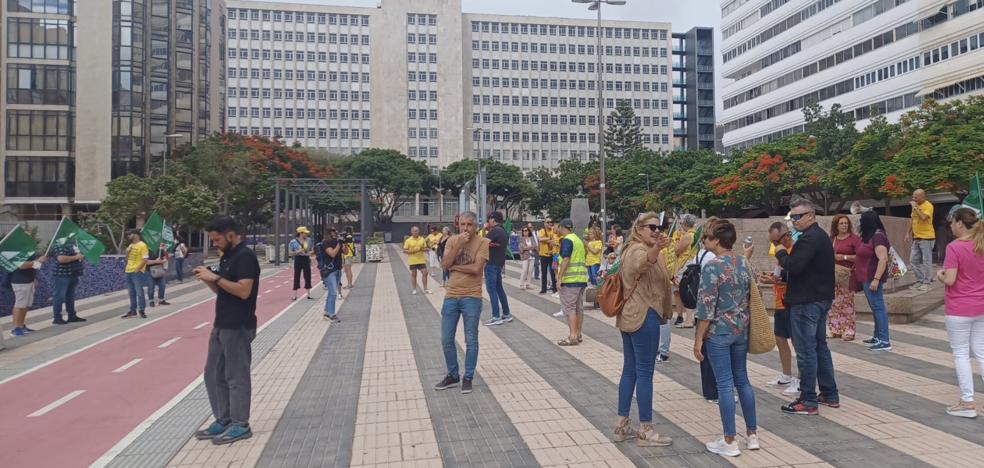 Those affected by the fraud of the law continue through the judicial process to demand compliance with the April agreement after considering the negotiations broken
Some thirty people from the platform affected by temporary abuse
they have demonstrated again this Friday before the headquarters of the Presidency of the Government in Las Palmas de Gran Canaria to demand compliance with the agreement that was signed on April 23, 2021 to give stability to public employees.
Members of the strike committee and the platform of those affected have gathered after extending the protests for another six months, which add to the year and a half of conflicts with the general administration of the autonomous community.
The delegate of Intersindical Canaria Yolanda Cívicos Santana has explained to the journalists that they have already summoned the President of the Government on several occasions,
Angel Victor Torres to meet their demands after breaking off negotiations with the Public Function area.
The reason is that the Administration only complies with state law and has left aside the agreement signed with the committee in April 2020, which ensured that public employees affected by the fraud of the law would obtain permanence. Instead,
the stabilization of temporary places will leave between 10,000 and 12,000 people outaccording to Intersindical Canaria and Cobas estimates.
"We have had some meetings within what was the framework of the agreement, working groups with civil servants, but we have not achieved our objective," said Santana, who recalled that they maintain an open judicial process to "achieve that do Justice»
Among the participants was Daniel Ramos Moreno, an employee affected by this situation and who has decided to join the strike to defend the rights of all his colleagues. «The Government is harming the worker by taking him to a merit contest where a place is not guaranteed. We signed an agreement where it was ensured
the stability of all legallyHowever, they have not complied and we have to continue protesting for our rights," he lamented.