The insurer, forced to pay the damages for the sinking of the Prestige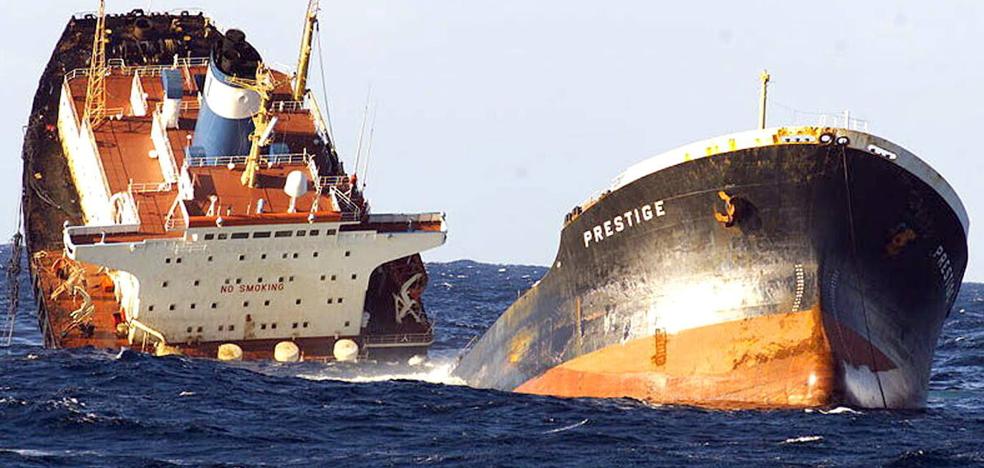 European justice agrees with Spain by endorsing the ruling of the Court of A Coruña that forced the disbursement of nearly 900 million euros for the oil slick
The European Justice gave the reason to Spain on Monday in the claim of 900 million euros to the insurer of the Prestige oil tanker. The ruling of the Court of Justice of the European Union (CJEU) comes twenty years after the shipwreck of the ship off the Galician coast and after a long legal battle between the Spanish State and the firm London P&1 Club. The insurer of the tanker that has tried to evade payment by taking the matter to the British courts. The decision of the European court, however, is an important step for Spain to collect this compensation.
In November 2002, the Prestige – a Bahamian-flagged oil tanker – split in two in a strong storm, spilling 70,000 tons of oil that caused significant damage to beaches, towns and cities on the Spanish and French coast. The ecological and economic disaster gave rise to a claim from all those affected by the damage to the ship's insurer, which was ordered to pay 900 million euros by the Provincial Court of A Coruña. London P&I then initiated an arbitration procedure before the British court, on the understanding that Spain should have raised its demands before that body.
The crossing of claims ended before the CJEU, a body before which even today, after the 'brexit', the courts of the United Kingdom respond. In its ruling, the court based in Luxembourg underlined the preliminary question that the agreement between the insurer and the insured "cannot force" the injured party to go to court in the place of domicile of the insurer. Thus, it rejects the claim of London P&I, since recognizing the British arbitration award against the judgment of the Spanish court "would deprive" the injured party of "effective compensation for the damage suffered."
The European court also stressed that an arbitration award can only "prevent" the recognition of judicial decisions of other Member States, "if it is followed by a judicial procedure." In the same way, it asks the British court responsible for dictating the arbitration to verify that the community regulation is complied with to prevent circumvention in this case.