The Insular University Hospital of Gran Canaria incorporates a new extracorporeal lithotripsy team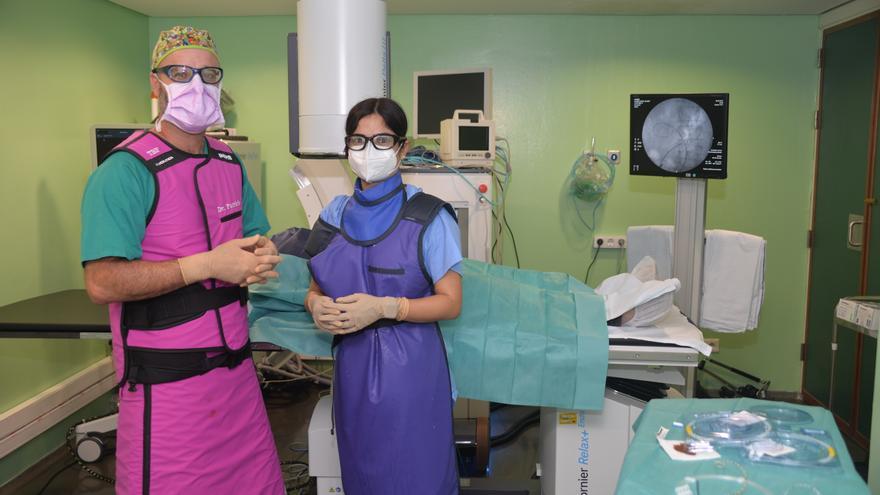 The Urology Service of the Insular University Hospital of Gran Canaria, attached to the Insular-Maternal-Infant University Hospital Complex, a center dependent on the Ministry of Health of the Government of the Canary Islands, has incorporated a extracorporeal lithotripsy with state-of-the-art shock waves.
The technology that incorporates the new lithotripsy has a radiological system with higher transmission quality, with lower radiation doses and shorter treatment times, allowing a better location of the stones. It is now possible to locate the stones with x-rays and ultrasound, which improves the precision of the treatment. It has a generator that produces shock waves of greater depth, which allows optimizing the needs of the service offering a safer treatment, in such a way that the range of patients who can benefit from this technique without having to go through the operating room is expanded, including obese patients. It also allows endourological procedures to be performed thanks to a state-of-the-art surgical table.
The objective of this technique is to fragment the stones or stones so that the patient can expel them from the body through the urine. It is a well-tolerated process, performed on an outpatient basis, non-invasive and without the need for anesthesia.
The Urology Service of the Hospital Universitario Insular de Gran Canaria has been treating lithiasis since 1993, and more than 3,000 SWL sessions and a significant number of endourological procedures have been performed at the center. Thanks to the acquisition of the new state-of-the-art shock wave equipment, more tolerance and safety of treatment are offered to the patient, as well as a higher quality of care.
Nephrolithiasis
Kidney stones is a disease caused by the presence of stones in a kidney or ureter, which is commonly known as having kidney stones.
These stones are formed by an excess of substances in the urine such as calcium, uric acid among others, which cannot be diluted and they solidify; they can also be caused by the lack of natural inhibitors.
The symptoms that cause the stones are renal colic, very painful, hematuria and urine infection. It is a problem that is more common in men than in women.