The innovative underwater journey of the wine industry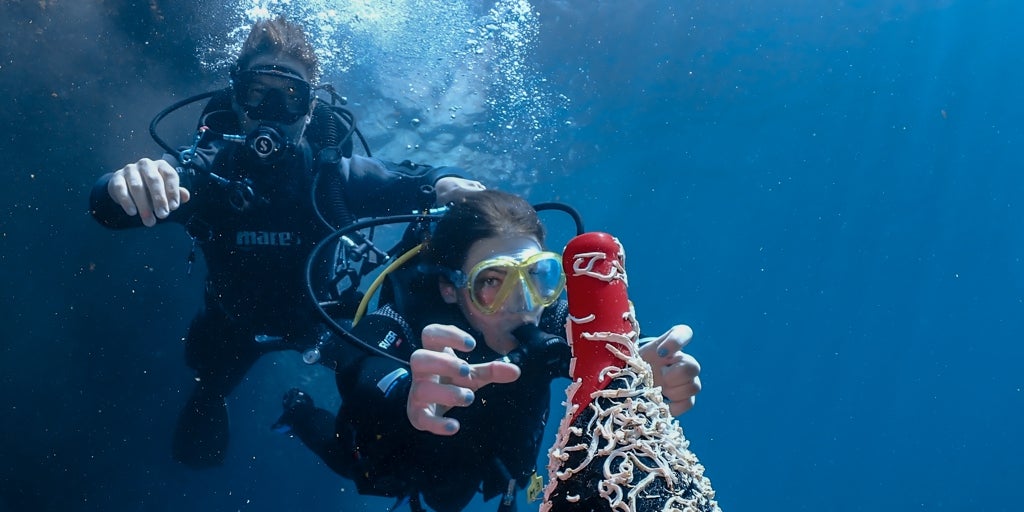 Rocked by the rocking of ocean currents and tides, safe from waves and storms on the surface, with hardly any light or noise, with a constant temperature, in a state of microgravity and under pressure. This is how wines age in underwater cellars, the most recent innovation in the world of oenology, which famous chefs such as Martín Berasategui and Juan Mari Arzak already include in their menus and which are making their way into European, American and Asian markets. Several Spanish brands are dedicated to this activity. Some are newly created companies and other lines of business that have opened traditional wineries to diversify their products. A technique that matures the wines more quickly and provides new nuances. And in which R&D has a great weight.
The inspiration to develop this new way of maturing wine has come from ancient amphorae and bottles found in shipwrecks. For example, a little over a decade ago, a shipwreck sunk in 1880 with bottles of champagne from the French brand Veuve Chicquot was discovered in the Baltic Sea. Those that were auctioned fetched up to $15,000. Although the broth had lost its bubbles, it was found that the wine was intact. Today this French brand already has its own warehouse in the sea to replicate those findings. And there are many other examples like this. "More and more wineries are becoming interested in this technique, they want to give their product a plus and present new wines that seem more naturalized, because even the bottles have algae, anemones and embedded marine fauna. Some brands allocate between 5 and 15% of their production to maturation under the sea," says Rafael González, a biologist at the consulting firm Sfera Environmental Project.
Crusoe Treasure is one of the oldest underwater cellars in our country. What began in 2010 as a laboratory to study how different wines evolved under the sea in the Bay of Plentzia (Bilbao) is today a consolidated brand that has received several international awards. «We have concrete and steel structures, harmless to the marine environment and prepared to house and protect the bottles from the storms and tides of the Cantabrian Sea. They also act as an artificial reef and serve as a refuge for marine species. We have already registered 1,500. We have wireless sensors that collect different parameters (salinity, turbidity, light, temperature...) and cameras", says Borja Saracho, founder of Crusoe Treasure. They also have wooden barrels under the water. At a depth of 19 metres, they have managed to age 20,000 bottles in a year. "We have ten different wines. We never make more than 3,000 bottles of each wine reference. Even sometimes only 500. They are limited productions, unique and special wines, which even people buy as an investment", explains Saracho.
Ten vineyards spread across the country provide the grapes. At least, the broths are six months under the sea. Although "we have wines that are up to four years old," Saracho points out. They evolve with small and continuous changes in temperature (between 12 and 19ºC) and pressure, at lower gravity, with tides that rise or fall up to four meters high... «The sea brings a different evolution to the wine that we age there. We try to reach the maximum evolutionary expression of each grape", says Saracho.
a hostile environment
Working in an environment as hostile as the sea is complex. Hence, they are wines with higher prices. "A bottle can be around 100-140 euros, but the price will drop as more are produced," believes Rafael González. "The very characteristics of the work make the product more expensive. We pay for the concession from the bottom of the sea, we use boats with cranes and professional divers. At certain depths we can only work for 20-25 minutes, so we don't have to make decompression stops on the way up. Each cage is made of marine steel to withstand the hostility of the sea, it is non-polluting and weighs between 1,800 and 2,000 kilos," explains Israel Padrino, founder of Vina Maris wineries, also a veteran brand that stores 2,000 bottles 30 meters deep off the coast. to the coast of Calpe (Alicante).
The locations of these warehouses are strategic
The locations for these warehouses are strategic. They are also a refuge for many marine species. «For example, at the bottom there cannot be posidonia or belong to a protected area and maritime traffic must be taken into account, even if the hold is at great depth. They are concessions that are made for a few years and that have their environmental study, "says Rafael González. In addition, each brand looks for its location in the conditions that it considers ideal for its variety of wine. Padrino, for example, took two years to find the seabed he was looking for for Vina Maris: "with moderate currents I constantly balanced the wines —he explains—; at a sufficient depth so that they do not affect surface storms, even if there are waves of 3 meters; with a suitable temperature (between 13 and 16º) and microgravity. They are factors that make wines evolve differently and that cannot be replicated in a land-based winery », he explains.
Vina Maris works with native Mediterranean grapes, such as Monastrell. «I started testing in 2011 and discovered that wines evolve faster under the sea than on land. About six months in water is equivalent to six years of aging in the bottle on land. And they don't lose the fruit. They are much more rounded wines", highlights Padrino.
Top photo, a diver uncovers a chest with wines from the Alicante winery Vina Maris. Above: left, one of the structures that stores the Crusoe Treasure brand wines and, right, the tanks of the white wine Habla del mar
Bottle corks are also a challenge in this technique. They are sealed to withstand pressure and so that there is no exchange with sea water. «The really difficult thing was to find the sealing wax. It could not be ceramic, but synthetic. They made them in France until I found a company in Spain," says Padrino.
Mariona Alabau is co-founder with Gergo Borley of Elixsea Wines, an underwater winery that started its activity in 2017. Its structures are submerged in an enclave in front of the municipality of Rosas, in Gerona. Behind Cap de Creus, which serves as a protective barrier against storms, 6,000 bottles aged in 2021. "This rock formation reduces the force of the most hostile storms that arrive from Levante by 80%," says Mariona.
These enclaves are also a refuge for many marine species
Its wines are made with grapes that come from plots of land in the Priorat wine-growing area. «It is a bottled wine that leaves the winery with its label, batch number, health registration... We do not use paper that comes off over time in the water, but metal or propylene labels. They are placed in cages that contain between 300 and 400 bottles and are lowered to the seabed with the help of professional divers", says Mariona. At a depth of 15 meters and between 13 and 16 degrees of temperature, these broths evolve "three to four times faster than on land. They maintain the characteristics of the fruit of a young wine and are rounded on the palate. It gains in complexity but does not lose the aromas of the fruit", says Mariona. Germany, Holland, Belgium, Switzerland, the United States are its markets. "These are limited editions because we want to sell quality and unique products," she adds.
Land and sea
The Habla winery has had a 200-hectare vineyard on land since 1999 in Trujillo (Cáceres) and four years ago it also opted to put its Habla del Mar variety on sale. A second-fermentation white wine that is made at a depth of 15 meters in the Bay of Saint Jean de Luz (France). "It is the result of seven years of research and development. And we keep doing more tests. Our wine undergoes a second underwater fermentation in 400-litre capacity tanks. They are deposits (we have 120) of a special resin that are anchored to the seabed but move with the tides. We have discovered that this fermentation brings a different character to the surface wine. It is made with white varieties from Atlantic vineyards that are on the coast. It has a slight hint of needle, very subtle. Now we want to investigate and try different varieties in Calpe and Ibiza", says Fernando Mendieta, Brand Ambassador of Bodega Habla.
Some of these underwater wineries also offer tastings of their wines at sea. On small boats, catamarans... Perhaps the ideal environment when looking for unique and different experiences with a new product like these marine wines that are making their way into the market and that have an ocean of innovation behind them.