The infinite kiss of Elisa and Marcela, two women married by the Church in 1901 | Babelia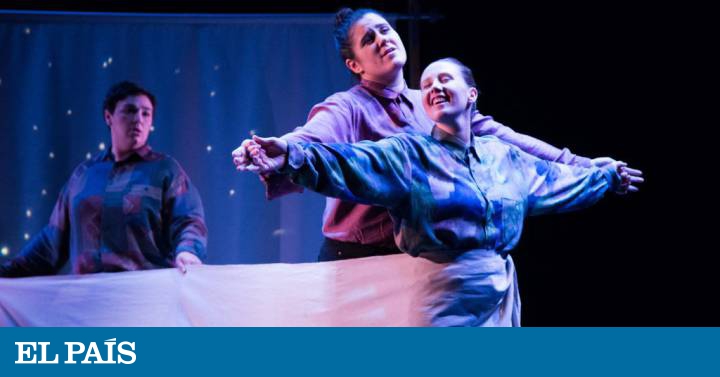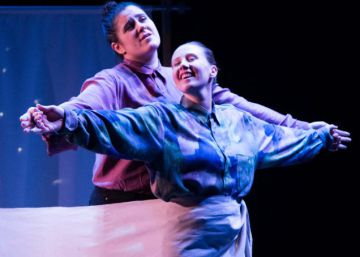 The incredible but true story of two women married by the Church in 1901. A serious matter, told with humor, joy and sandunga. The loves of Marcela Gracia Ibeas with Elisa Sánchez Loriga, her wedding, her honeymoon (harassed by her countrymen, like Frankenstein's monster for her own), her escape to Portugal, her imprisonment … dramatized with portentous imagination by three Aúpa comics. In the empty space, Ailén Kendelman, Noelia Castro and Areta Bolado (excellent actresses, virtuous mimes, good singers) recreate with detail the Corunna church of San Xurxo, the diligence that returns them home, the train where they travel to Madrid North Station… Without projectors, screens or microphones, the girls of To Bakery They make movies: Marcela's nightmare scene during her first night in a sordid capital pension brings together the vigor of the witches of Macla de Polanski and the comedy of Gordo and El Flaco in Night of elves.
The talent of this Galician company to materialize what it imagines is inversely proportional to its economic means: see the prodigious monologue of a Havana cigar in its box and its tragic end on the lips of a smoker. Directed with mastery by Gena Baamonde, the trio draws with each clear line, perfect definition and slightly expressionist color each of the 40 characters he plays and the dozens of places they travel through. Hopeful, weightless theater, which is subtracted from the laws of physics, like a short cartoon. A nutritious and affordable show, raised without yeast: only with sourdough.
Elisa and Marcela. Creation and interpretation: A Bakery. Until January 26, at the Teatro del Barrio (Madrid). Tour: Malaga, Leganés, Sestao, Ermua, Amorebieta, Torrevieja, Pinto.