The increase in hospitalizations, key in the passage of Gran Canaria to level 4 of covid alert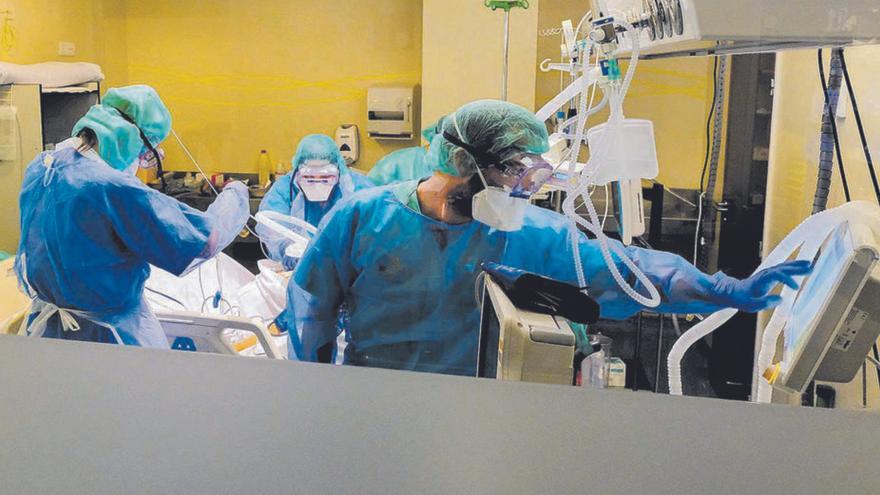 Gran Canaria and La Palma They will go from 00:00 on next Saturday, January 22, to level 4 of health alert by Covid-19, due to the increase in hospitalizations. This was notified yesterday by the Ministry of Health of the Government of the Canary Islands after placing the healthcare capacity on both islands at very high risk, an "extraordinary" decision that the Minister of Health, Blas Trujillo, will explain this Thursday to the members of the Governing Council.
In the case of Gran Canaria, the report of the General Directorate of Public Health warns that both the Cumulative Incidence indicators at 7 and 14 days, as well as those related to the incidence in people over 65 years of age at very high risk, have worsened. in those related to care capacity, which in the last week stood at 15.58% in conventional beds and 26.43% in ICU. Regarding La Palma, occupancy in conventional beds rises in one week, from a medium to very high risk level -with 15.76%-, although that of ICUs remains at a very low level -3.85%-.
Yesterday, the Ministry of Health of the Government of the Canary Islands reported 5,549 new cases of coronavirus, which brings the number of active cases to 91,257, of which 85 are admitted to the ICU and 539 remain hospitalized. The rest, 90,633 -99.3%- are isolated in their homes with a mild or asymptomatic infection. Since the pandemic began, 229,445 Covid-19 positives have been reported.
Tenerife added 2,727 positives yesterday, bringing the number of active cases to 43,746; while Gran Canaria registered 1,865 infections in the last 24 hours and 33,903 active ones. Lanzarote, with 515 more cases, accounts for 6,594 assets; Fuerteventura added 290 and its positives amount to 4,956; and La Palma has 6,171 with 106 positives registered yesterday. In the case of La Gomera, they counted 18 infections and 194 active; and El Hierro adds 28 positives, and accumulates 226 assets.
The number of fatalities from Covid-19 also continues to rise, after registering yesterday the death of five people, three women and two men, between 80 and 90 years old, all with previous pathologies -three in Gran Canaria and two in Tenerife- .
Regarding the new restrictions to which Gran Canaria and La Palma will be subjected after rising to level 4 from 00:00 on Saturday, January 22, the fact that the hotel industry must advance its closing time to twelve the night; while the capacity limits will be the same as in level 3: 33% indoors and 75% outdoors. The Covid certificate is also still mandatory to access establishments and activities subject to time limits and capacity limits at levels 3 and 4, although it does not allow them to benefit from applying lower level measures, as was happening when the use of the Covid certificate he remained a volunteer. These measures are in force until January 24.
Capacity.
For hotels, restaurants and terraces, bars and cafes, the capacity of establishments is 75% outdoors and 33% indoors. The general capacity, except for those activities or services in which it is expressly established, at alert level 4 remains at 33% outdoors and 25% indoors. Expandable up to 75% in interior spaces of commercial retail establishments of food, beverages, products and essential goods that are not considered large commercial establishments. In the case of fair attractions, it will be a maximum of 33% of the outdoor capacity and activities in indoor spaces will remain closed. And in tastings of food products, they will occupy a maximum of 75% of the capacity outdoors and 33% indoors.
Hours and occupation.
At level four, until January 24, the closing time in establishments and activities that, prior to the pandemic, did not have a fixed closing time or had a higher one, is established at 00:00. And the maximum occupancy per table will be six people.
Physical activity.
The practice of non-federated physical and sports activity in sports facilities and centers will have a public capacity of 33% outdoors and 25% indoors, in groups of up to six people, except cohabitants. Public capacity will be 50% in open spaces and 33% in closed spaces. Combat or other activities that require sustained interpersonal physical contact with the adversary are not permitted. During the activity, the interpersonal distance of 2 meters will be maintained and the use of a mask will be mandatory during sports practice. The children's and youth camps are allowed to occupy 33% of the capacity and a maximum of 20 participants including monitors. And as for swimming pools and spas, in the case of being discovered, they will not exceed 33% of the capacity. Indoor pools may only open for users for therapeutic purposes and health improvement with a maximum of 33% of their capacity, and indoor spa or hydromassage facilities, as well as saunas, will remain closed.
Transport.
Until January 31, in regular land, urban and metropolitan public transport the capacity will be 75%.
Groups.
The permanence of groups of people in spaces for public and private use, closed or outdoors, at alert level 4 is limited to a maximum of six people, except cohabitants. In the event that the group is made up of cohabitants and non-cohabitants, it will not exceed six people.
Culture.
The capacity will be a maximum of 75% occupied in outdoor spaces and 55% indoors. In cinemas, theaters and auditoriums, tickets will be numbered and seats pre-assigned and distributed by groups of stable coexistence, ensuring that the public remains seated, the safety distance of 1.5 meters between people and groups of stable coexistence is maintained. , and the mandatory use of the mask. It is not allowed to eat or drink during the show. In visits to museums, exhibition halls and monuments, the interpersonal safety distance and the mandatory use of the mask will be respected, and in libraries free access to spaces will be allowed, respecting the interpersonal safety distance of 1.5 m between coexistence groups, for which it will be necessary to adapt the reading and study spaces. The activity of choirs, bands and other musical groups is not allowed in closed spaces where the use of the mask and the safety distance cannot be maintained.
night leisure
Maximum of 75% of the capacity outdoors and 25% indoors, with tables for six people and closing at midnight. Dancing is not allowed.
No appointment for 30-39 years
Yesterday, the Ministry of Health began the vaccination without an appointment of the booster dose of the vaccine against Covid-19 to people aged 30 to 39, who have completed their vaccination with two doses. People who completed their vaccination schedule with Pfizer or Moderna will have to wait at least five months to receive the booster dose, while those from AstraZeneca or Janssen will be able to receive the booster after waiting at least three months. | LP