The importance of the first visit to the dentist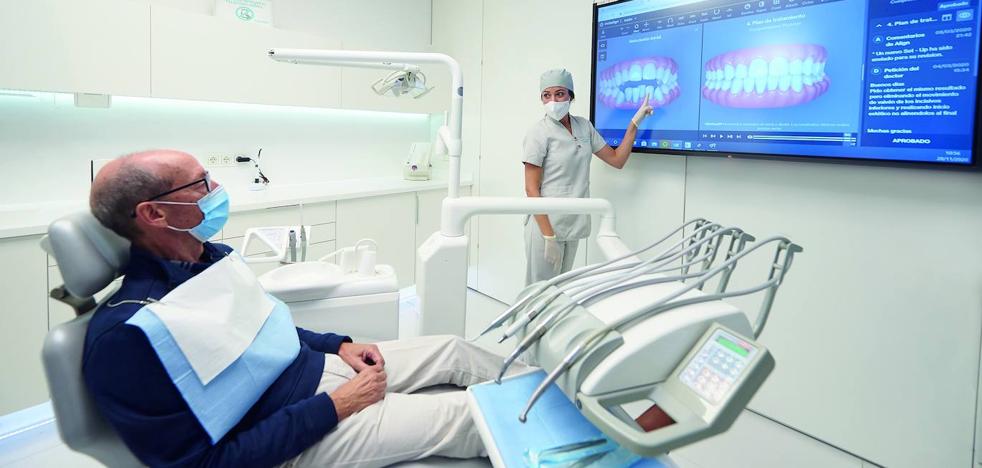 In the clinic, a strict protocol is followed where, in addition to X-rays, the patient is given a three-dimensional scan of his mouth, a CAT scan and as many tests as are necessary for an accurate diagnosis.
There is a general opinion that with a
proper oral hygiene And by taking some precautions, you can avoid visiting the dentist - which, on the other hand, we usually go to only when a problem arises. However, the reality is quite different: we should have our trusted professional and visit him at least once a year to do a complete review and eliminate possible problems before they appear.
We know that making the decision to go to the
dentist is not easy. Choosing the right time and the right clinic are decisions that are not easy to make, especially when the image of dental clinics that we have in the media is usually old and inaccurate. Today, technological advances have meant that, for example, a patient can relax by watching Netflix while
the dentist works in his mouth.
Some technological advances that have made our work more comfortable every day, both for the medical team and for the patient. If there is something that has not changed over time, it is the importance of the first visit, a first step in which the most important work of all will be carried out:
comprehensive diagnosis.
A diagnosis as complete as possible that must be carried out in the hands of a specialized medical team and helped with today's technology, where the patient will know the state of their oral health in a professional and detailed manner. the mouth is
the door to our bodya very delicate place that is directly related to many general health problems.
The Clinic team assessing a case. /

C7

At our
clinic, for example, we have placed special emphasis on this first diagnostic visit, which is as important to you as it is to us. We have established very complex guidelines and protocols to provide our patients with a first visit with a comprehensive guarantee diagnosis. In a nutshell: when a patient first walks in,
this strict protocol is followed where, in addition to X-rays, a three-dimensional scan of your mouth, a CT scan and as many tests as necessary for an accurate diagnosis are done.
The iTero Element 5D is a digital scanner that allows us to obtain
high-precision 3D digital imaging that reflect every last detail of the patient's mouth. This device scans the mouth in real time, being able to make infrared images (NIRI) that allow visualizing the internal structure of the teeth. Subsequently, the CT allows us to measure the quantity and quality of the available bone. These technological innovations allow us to carry out dental restoration and orthodontic treatments with a precision and speed that is difficult to imagine. Being a dentist today is absolutely fascinating.
With this information, completely digital, our specialist makes a thorough examination of the mouth and surrounding areas and a study to finally, in a last step, be able to transmit to the patient, in a clear and educational way, a comprehensive diagnosis and its possible
treatments.
This
first visitwhich lasts a little over an hour, we decided years ago to carry it out completely free of charge in our clinic, in order to be able, in this way,
use the best technology and dedicate the necessary time to establish a diagnosis that allows us to address the rehabilitation treatment that the patient needs. So important is this diagnosis that we decided that the economy should not interfere with it.
It is the patient who ultimately decides if he wants to invest in his health, but he does so with as much information as possible on the table. For this reason, although the technical and personal cost that the clinic invests in each of these visits is high, the reality is that it is vital for both the clinic and the patient. We professionals know that knowing the complete and precise diagnosis
is the first step to the solution.
In my day job I see dozens of first visitors every week. All of them endorse us with the satisfaction of knowing that they have an adequate diagnosis. The specialist, with all the information obtained, can provide a broad and close explanation of the treatment that the clinic proposes. There is no greater peace of mind or at a lower cost. A good comprehensive diagnosis
a good first visit- increases your quality of life with shorter, more effective, more pleasant treatments and in the fewest number of appointments possible.
By Doctor Elena Adalia, Adalia Dental Clinic. /

C7