The Ibex succumbs to losses in the quadruple witching hour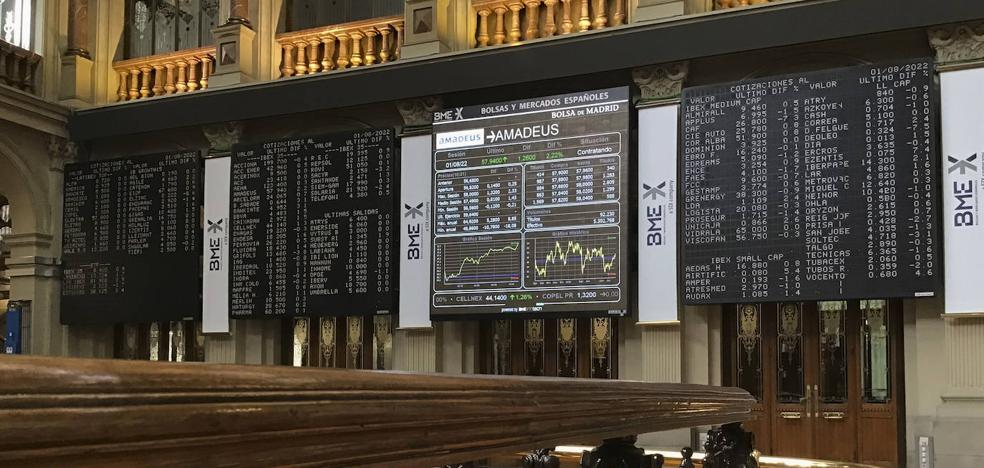 Volatility increases in a market already stressed by the prospect of further rate hikes by central banks
Caution returns to the European stock markets and the color red prevails in the main markets of the Old Continent, in a session marked by the so-called quadruple witching hour, with the expiration of futures and options on shares and indices. An event that usually raises trading volumes and volatility in the market.
The Ibex-35 yields 1% and puts 8,000 points at risk, with just seven positive values. Banking, which recorded strong increases on Thursday, is the main drag in the last session of the week, in which investors once again feel uncertainty about how the aggressive policy of central banks will affect the economic recovery.
Against this background, the market assumes the mantra that good economic news is bad for stock markets, assuming the support that monetary institutions need to continue raising interest rates. This is what has happened on Wall Street, with notable losses after the release of data such as initial requests for unemployment benefits or retail sales, which have positively surprised analysts.
Analysts at Link Securities indicate that "the latest macro figures published in the US, including those of the CPI for August, have caused an upward revision of the expectations of many investors about how far the Fed will raise its official interest rates." Expectations that are now closer to 4.5% than the 4% just a week ago.
This fact has caused the yields of short-term Treasury bonds, specifically that of the bond with a maturity of 2 years, to have experienced a strong rebound in recent days, which has placed it at its highest level since 2007.
"In fact, it is this rebound in bond yields that is doing the most damage to Western equities in recent sessions, especially growth stocks, such as tech stocks, whose theoretical valuations suffer greatly when they skyrocket. raises interest rates", insist the experts.
Ethereum prolongs falls

Investors are also closely following the behavior of the crypto asset market, after Etherum successfully completed its 'merger' on Thursday (
The Merge). The ether, the virtual currency that supports this platform, plummeted 10% after this movement that has brought about the updating of the network through technological improvements.
In technical terms, the change will consist of an update that transforms the platform from its computational power rewards model or proof of work (Proof of Work) to another of proof of participation (Proof of Stake), considering that the latter is more efficient and requires less energy consumption to verify transactions on the network. Among other things, because the figure of the 'miner' disappears.
The falls continue this Friday in its price, although in a much more moderate way.