The Ibex endures downward pressure above 8,200 points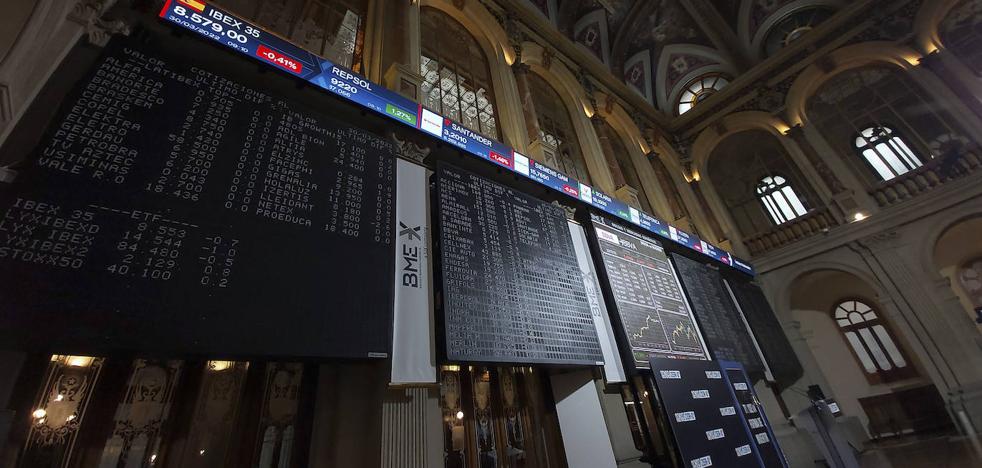 The selective closes flat a day marked by falls in other European stock markets and Wall Street
The Spanish stock market saved the session on Monday with a practically flat close and above 8,200 points, compared to the most notable losses in other European markets, which followed the downward turn of Wall Street after the strong rebound on Friday.
The selective will start on Tuesday from 8,242 points, after a transition session pending the OPEC meeting next Thursday and the statements that emerge from the annual forum that the European Central Bank (ECB) organizes until Wednesday in Sintra (Portugal).
The national parquet thus managed to save the tensions that came again from Russia, where the Government has stopped fulfilling its financial obligations abroad for the first time in more than a century, after the 30-day grace period expired on Sunday for the Kremlin to pay around 100 million dollars (95 million euros) in interest on its bonds whose payment was contractually scheduled for May 27.
In this scenario, the biggest rises in the Ibex 35 have been presented by Grifols (+3.37%), PharmaMar (+2.97%), Arcelormittal (+2.64%), Indra (+2.55%), Rovi (+2.52%), Fluidra (+1.69%) and BBVA (+1.63%).
On the contrary, in the negative terrain, Meliá (-3.08%), Sabadell (-2.63%), Bankinter (-1.52%), Ferrovial (-1.47%), ACS (-1 .39%), Iberdrola (-1.32%), Merlin (-1.18%) and Acciona (-0.9%).
Another of the great protagonists of the day has been Ezentis, which has returned to the trading floor with a collapse of more than 24% after the rejection of the State Society of Industrial Participations (SEPI) to rescue the company. Specifically, its titles have fallen to 0.085 euros, a historical minimum that leaves the value of the company at less than 40 million euros.
Meanwhile, in the raw materials market, the price of a barrel of Brent crude, a reference in Europe, rose another 1.5% to 114.71 dollars, while the US West Texas exceeded 107 dollars.