The Ibex cuts its bullish streak and loses 8,400 points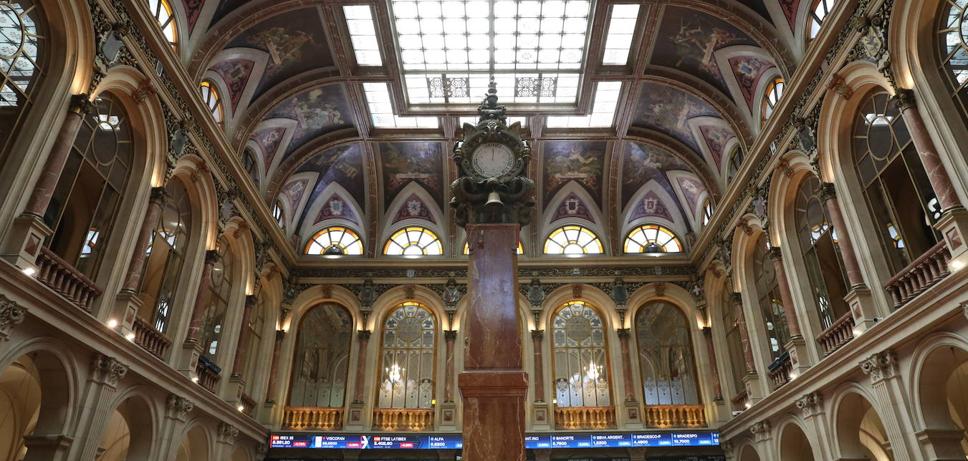 The selective stops short after four weeks of increases due to the resurgence of fears of a recession
End of the bullish streak. European stock markets resumed their falls on Friday due to the resurgence of fear of a recession in the final stretch of the year. The Ibex-35 lost 1.09% to 8,338 points and cut its streak of four consecutive weeks on the rise, with accumulated losses of 0.74% in the last five sessions.
Among the most bearish values, IAG stands out, with a drop of 5.5%, ArcelorMittal (-4.9%) and Sabadell (-3.71%). Aena closed the session with losses of 2.4% after announcing the concession of 11 airports in Brazil for 780 million euros, with almost 1,000 additional million in investments, the company's largest international operation to date.
At the top of the table, only seven stocks managed to reach the top, with Solaria and REE leading the rises with an advance of more than 1%. Cellnex, Acciona, Repsol, Naturgy and Iberdrola also managed to maintain a positive tone, although in a much more moderate way.
Investors are trying to digest renewed doubts about how firm central banks will be in raising interest rates to combat inflation. Especially after Isabel Schanbel, member of the executive committee of the European Central Bank (ECB) recognized this week that there are already indicators that point to a slowdown, without completely ruling out a technical recession in the euro zone if the worst of the scenarios handled by the agency, which includes a complete cut off of Russian gas supply.
The market was already discounting that the next rate hikes would be more moderate given the forecast that prices have peaked. But the data also known this week of an inflation of 9.8% in the euro zone in July has reactivated the possibility that the ECB bets on another rise of 50 basic points at its September meeting, although that implies a greater obstacle for growth.
A break after the rally

Link Securities analysts also recall that the markets are taking a breather after their recent rally. The same thing happens on Wall Street. The S&P 500 also eases in advances after rising 17% from yearly lows, marked on June 17. And the same for the technological Nasdaq with a rebound of 21%.
"The fact that a significant part of the rally was a consequence of the need for some large bearish investors to close short positions, given the level of losses they were accumulating, together with the high level of overbought reached by the main indices and by many stocks , makes it difficult for the stock markets to continue climbing positions in the short term without first stopping along the way", warn the experts.
Meanwhile, in the raw materials market, and with the euro once again approaching parity against the dollar, the price of a barrel of Brent, a reference in Europe, gives way to 95.7 dollars, while the West American Texas is trading below $90.