The Ibex 35 opens with losses and loses the level of 7,400 points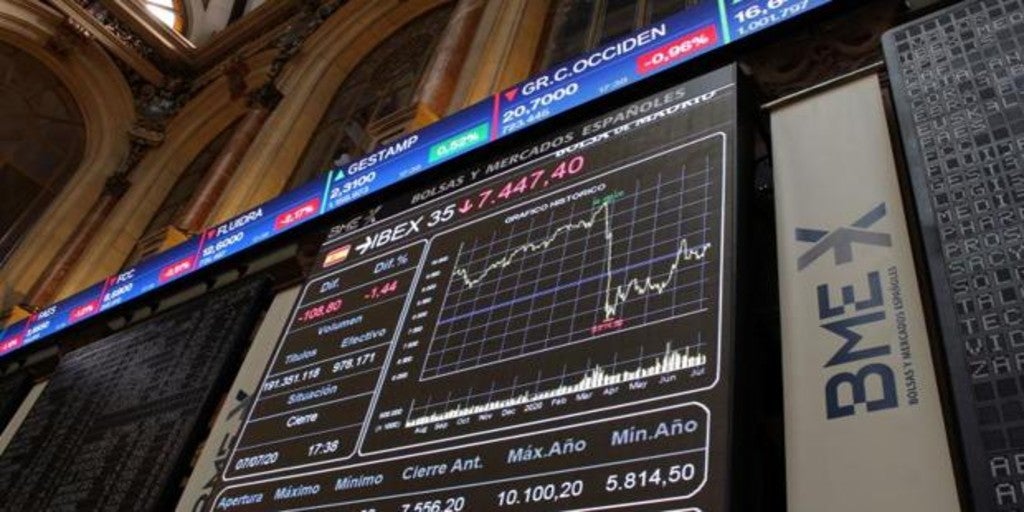 MADRID
Updated:
save

The Spanish stock market opened Wednesday with losses of 1.15%, and has lost the level of 7,400 points (7,351.90), in a new session of falls due to fear that the economic recovery will be slower than expected by the expansion of the coronavirus. At 9.15, the main indicator of the Spanish Stock Exchange, the IBEX 35, left 74.60 points, that 0.98%, up to 7,381.40. Annual losses amount to 21.66%.
In Europe, lThe main stock markets have also started the day lower: Paris yields 0.86%; London, 0.68%; Frankfurt, 0.59%, and Milan, 0.33%.
The biggest falls in the opening of this Wednesday were recorded by Iberdrola (-3.3%), IAG (-2.8%), Bankinter (-2.4%), Colonial (-2.3%) and ACS ( -2%), although the setbacks of BBVA (-1.9%), Sabadell and ArcelorMittal (-1.8%) and CaixaBank (-1.5%) also stood out.
Likewise, the main index of the Tokyo Stock Exchange, the Nikkei, fell 0.78% due to concerns over the increase in coronavirus cases and fear of the economic impact of a potential imposition of new social restrictions. The Nikkei, which groups the 225 most representative stocks on the market, fell 176.04 points to 22,438.65 points. The Topix, which includes the firms in the first section, those with the largest capitalization, lost 14.48 points, 0.92%, to stand at 1,557.23 units.
With today's falls, the Spanish Stock Exchange chains two consecutive sessions of declines. On the previous day, 1.44% fell, affected by the collection of benefits after the 2% rise on Monday, due to worse-than-expected economic data, and worse economic forecasts by the European Commission.
Wall Street also ended with significant setbacks in the face of the spread of the pandemic in the country. In addition, the White House reiterated its call for the next round of stimuli against COVID-19 to be limited.