The Ibex 35 loses the 7,000 point level and closes August with losses similar to those of July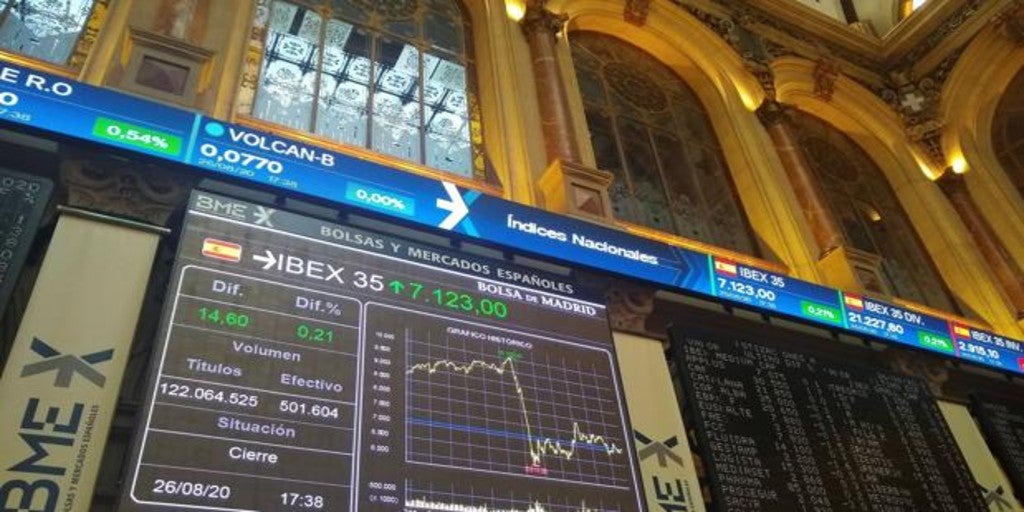 Madrid
Updated:
save

The Ibex 35 has closed the month of August with losses very similar to those of July, after falling 2.42% on the last day of the month and leaving the 7,000 point level on the way to 6,960.20. In a session in which the banking sector, with a strong weight in the selective, has registered sharp falls: BBVA (-5.73%), Bankia (-2.85%), Banco Sabadell (-1.75%), Caixabank (- 3%), Bankinter (-2.9%) and Banco Santander (-4.79%).
They have also been heavily punished by investors, securities linked to the sectors most affected by the economic crisis derived from Covid-19, such as tourism, where the strong falls in IAG (-6.68%), Meliá Hotels (-3.37%), Amadeus (-4.14%) and Aena (-2.48%), as well as heavyweights such as Inditex (-2.58%), Telefónica (-2.63%) and Iberdrola (-1.68%). On the earnings side, a handful of stocks led by ArcelorMittal, which has been in a bullish rally for a few days and today has risen 1.36%.
All this, with the London Stock Exchange closed for a holiday, the main European parks have not been hooked on the good feelings of some Asian squares such as Nikkei what Neither the Chinese stock market A50, which rose 1.81%, has appreciated by 1.12%. Nor to the good feelings of the Asian giant whose August survey of purchasing managers (PMI) for August indicates that the service sector and construction are recovering while the manufacturing industry stabilizes. Otherwise, the advanced CPI for August in Spain remained negative although it rose slightly to -0.5% due to the rise in electricity prices.
Data that did not invite optimism: Paris closed with a fall of 1.11%, Frankfurt 0.67% was left, Lisbon lost 0.96%, Milan 1.04% and the selective Eurostoxx 50 – which brings together the fifty European companies with the highest capitalization – closed with drops of 1.30%.
For XTB analyst Miguel Momobela, it has been «quite an active month based on what we are used to for equities ». In this regard, he pointed out the decline in macro data such as GDP or retail sales to which, in his opinion, the currency market would have barely reacted and that in equities it would cause the Ibex to close "without such a critical loss, practically in tables, a closing very similar to that of July ».
In the opinion of this analyst, August has had «Quite a movement not only bullish but also bearish» as in the case of pro-cyclical sectors such as tourism or banking. In this sense, he clarified that last week the selective managed to close at 7,000 points and that "it would have been quite difficult to predict, that it would have remained in that range very close to 7,000 points, but not straying too far."
In any case, in his opinion, the immediate evolution of the selective will depend on "business results, which are what should have the greatest impact" and pointed out that «Some companies are already trying to reverse the losses such as pharmaceutical companies, energy companies and technology companies such as Cellnex or PharmaMar ».