The Ibex 35 closes with a rise of 0.68% and recovers 8,100 integers, driven by the results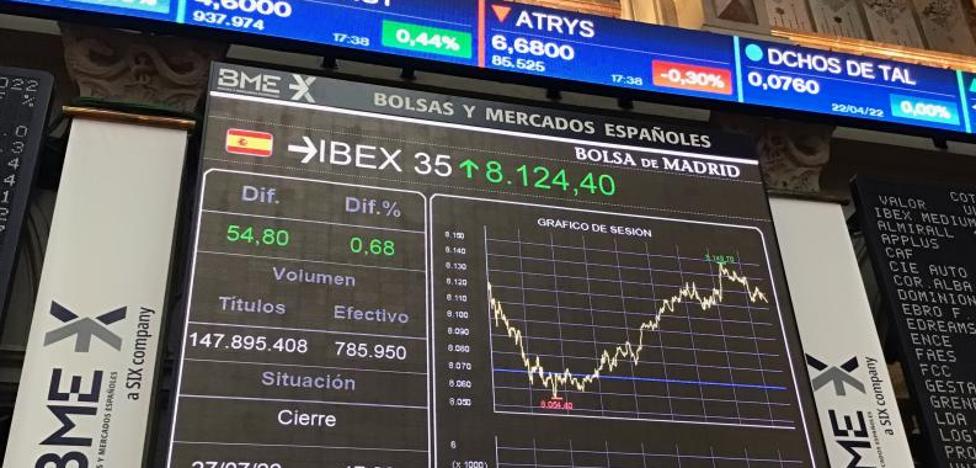 Meliá leads the Stock Market with a rise of 6.3% and Aena falls to 3.6%
The Ibex 35 has closed with a rise of 0.68%, an advance that has helped it to recover the level of 8,100 integers that it had lost last week and that has been driven by the presentation of business results, highlighting Iberdrola, Enagás , Aena, Redeia or Unicaja Banco.
Specifically, companies such as Aena have presented their quarterly results this Wednesday, which returned to profit after eight quarters in losses and earned 163.8 million until June, or Iberdrola, which shot up its profits by 36% in the semester, up to 2,075 million euros, despite the drop in business in Spain.
On its side, Enagás increased its earnings to 215 million in June, 1% more and Unicaja Banco earned 165 million in the semester. Likewise, yesterday afternoon, Meliá also announced that he was leaving his 'red numbers' behind, by presenting a profit of three million euros.
In addition, the day is marked by the outcome of the meeting of the Federal Reserve (Fed) of the United States, in which the central bank is expected to announce, late this afternoon, a rate hike of 75 basis points.
In this scenario, the Ibex 35 has closed at 8,124 integers, with Meliá (+6.33%), IAG (+5.22%), Fluidra (+3.32%), Banco Sabadell (+2.97% ), CaixaBank (+2.12%) and Acciona Energía (+2.10%) at the head of the increases.
In the negative field, the decreases of Rovi (-4.42%), Aena (-3.67%), Naturgy (-2.08%), Merlin (-1.05%), Telefónica (-0 .90%), Cellnex (-0.82%) and Grifols (-0.67%).
In the continuous market, Unicaja Banco shares have closed with a rise of 6.33%, although the most bullish value has been Artificial, with a rebound of almost 16%, after announcing an increase of 57% in its figures contracting in the first half of the year, with the signing of new contracts for 48 million.
The rest of the European stock markets have also closed in 'green', with advances of 0.57% in London, 0.75% in Paris, 0.53% in Frankfurt and 1.52% in Milan.
On the other hand, the price of a barrel of Brent quality oil, a reference for the Old Continent, stood at a price of 106.52 dollars, with an increase of 2.11%, while Texas stood at 97, 42 dollars, after rising 2.58%.
Finally, the price of the euro against the dollar stood at 1.0117 'greenbacks', while the Spanish risk premium stood at 120 basis points, with the interest required on the ten-year bond at 2.124%.