The Iberian lynx exceeds a thousand specimens for the first time in 20 years, but continues to be at risk of extinction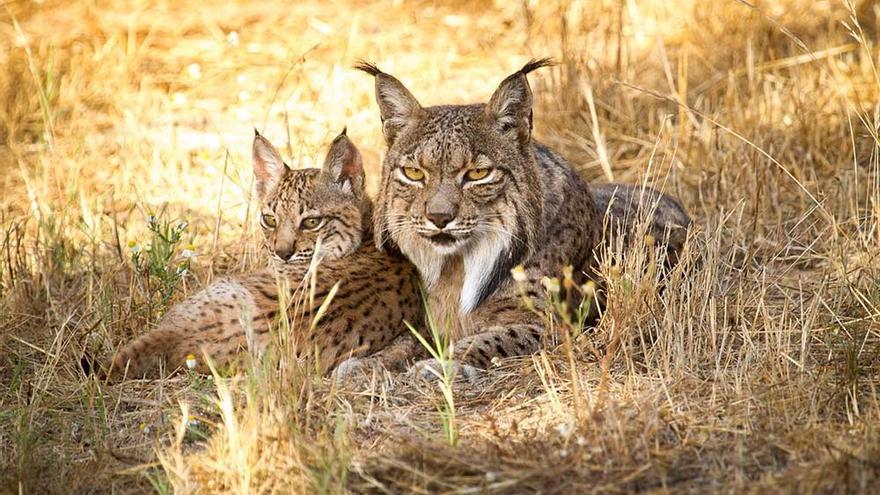 The population of Iberian lynx amounts to 1,111 specimens in 2020 throughout the Iberian Peninsula, the highest figure recorded since there are monitoring programs for the species and 30% more compared to 2019, when 855 specimens were registered throughout the territory.
It is a "very important step" in the recovery of the species and "one of the greatest joys that we can take", said the vice president and minister for the Ecological Transition, Teresa Ribera, who emphasizes that this figure constitutes the maximum number recorded since there are monitoring programs for the lynx (Lynx pardinus), a "sensitive and emblematic" species.
Ribera has specified that since 2011, the date on which the first releases of these felines began, and until 2021 a total of 305 specimens have been reintroduced which, in his opinion, "exceeds all initial expectations."
The demographic curve of the lynx population allows us to be "optimistic and draws scenarios that they keep the Iberian big feline away from the critical risk of disappearance ", Ministerial sources have advanced that also point out that, for the first time in 20 years, it has exceeded a thousand copies.
In Spain, the main population centers are in Andalusia, which is home to more than half of the Iberian lynx, followed by Castilla-La Mancha, with a third of the population, and Extremadura, which has 141 animals.
According to data provided by Miteco, there are 14 nuclei with a stable presence of lynx throughout the Iberian Peninsula, the most important being those located in Sierra Morena (603 lynxes), Montes de Toledo (145) and Valle del Guadiana (140).
In 2020, a total of 414 births of 239 reproductive females were registered, This has favored the positive trend that the species has presented since the beginning of the lynx conservation and protection programs in 2002, when there were less than one hundred specimens in the entire peninsular territory.
In order to achieve these very positive figures, it is necessary to highlight the decisive actions to manage the habitat and protect the lynx from the threats existing in the natural environment, as well as the ex-situ conservation program for the lynx.
The Ministry for the Ecological Transition, through the Autonomous National Parks Organization, manages two of the four existing breeding centers, the one in Zarza de Granadilla (Extremadura) and El Acebuche (Andalusia), while the remaining two are in Andalusia ( La Olivilla Breeding Center) and by Portugal (Iberian Lynx National Breeding Center).
The Ministry has also highlighted the role played by the autonomous administrations of Andalusia, Castilla-La Mancha and Extremadura, as well as the Instituto da Conservação da Natureza e das Florestas de Portugal; Besides, the European Union It has co-financed various projects through the Life program of the European Commission.