The hypocenters are located under Cumbre Vieja at depths between 20 and 30 kilometers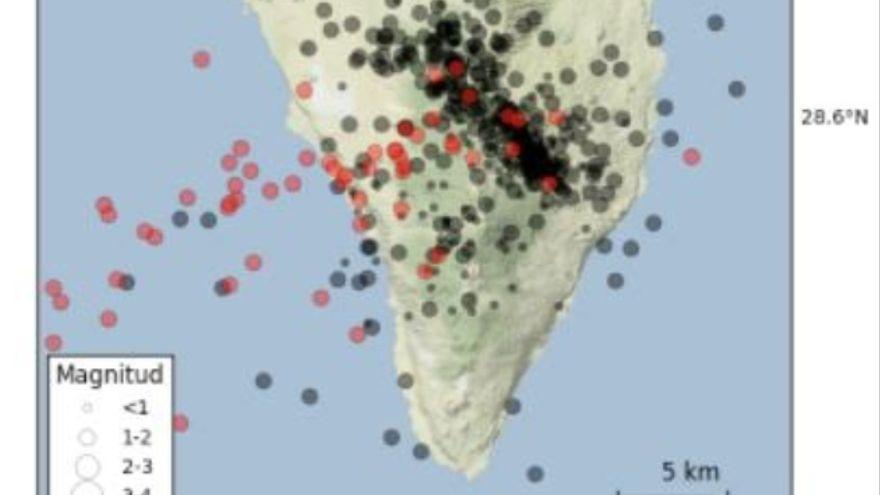 The Volcanological Institute of the Canary Islands (Involcan) has reported that since 9:26 p.m. on December 23, the new swarm of seismic events in the south of La Palma has been maintained and until 9:29 p.m. on the 24th they had been located 68 of them by the Canary Islands Seismic Network on the island.
The Hypocenters are located under the western slope of the Cumbre Vieja volcano at depths between 20 and 30 kilometers, and the maximum magnitude observed has been 1.8.
Involcan informs that this new seismic swarm does not represent any danger to people given the small magnitude and depth of the earthquakes and that the volcanic traffic light is in the green position.
In the short and medium term, no significant change in the volcanic activity at Cumbre Vieja, which since 2017 has experienced seven seismic swarms including this one: one in 2017, one in 2018 and five in 2020.
During the last years, no significant horizontal and vertical displacements have been recorded through the Canary GPS Network in La Palma and no deformation of the terrain has been observed in Cumbre Vieja.
Regarding the geochemical program for monitoring the volcanic activity of Cumbre Vieja, significant changes are observed in the diffuse emission of hydrogen into the atmosphere by the volcano related to the recent swarms, as well as an upward trend in the diffuse flux of carbon dioxide. at the LP04 geochemical station.