"The human condition is terrible if suffered and magnificent as inspiration"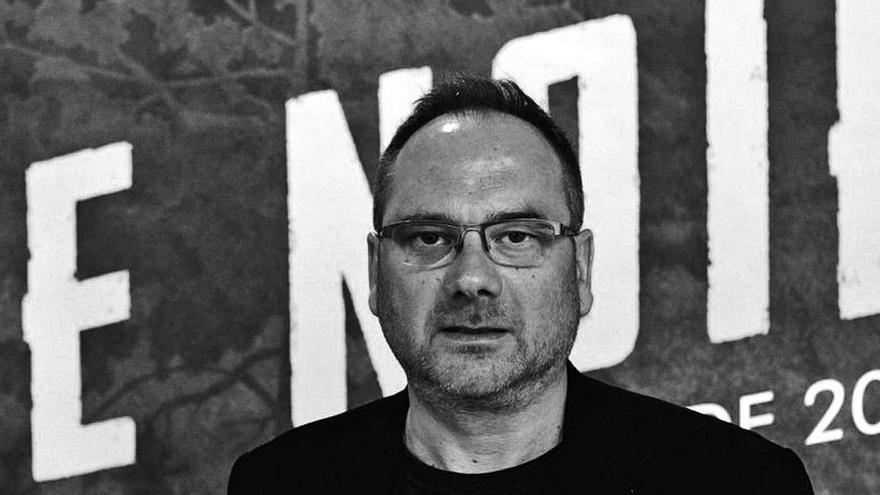 Rafael Guerrero has published four novels: Un Guerrero Entre Halcones, Muero y Vuelvo, Ultimatum y Yo, Detective. As well as the Elemental essay, Radiography of the Private Detective. He just received the Wilkie Collins crime novel award for The Truth Doesn't Make Friends. He has just received at the Tenerife Noir International Festival the 10th Wilkie Collins Noir Prize for The truth does not make friends. What do you feel?
An immense joy, an honor for the list of winners that precedes me, a shot of esteem that I liked and stood out among many others, an incentive to continue writing, an opportunity to reach more readers and a perfect excuse to travel to Tenerife to receive it, thank it and enjoy it. Tenerife Noir has always treated me very well, from the beginning and I have very good memories.
A wife who wants to get rid of her husband, a murderous lover, a detective who begins to doubt his morals … It seems that neither truth nor love make friends.
The human condition is terrible when it comes to suffering and magnificent as a source of inspiration. We all deal with evil on a small or large scale, we all suffer it and exercise it consciously or unconsciously. I do not believe in good and bad, each person is an abyss in himself. Sometimes he falls into it and sometimes he clings tooth and nail to the precipice. That is where the epic enters if it exists, there yes literature redeems the prosaic reality. That said, a life without love and without true friends is a complete failure.
The profession of writer is very lonely and with the confinement it was even more so. Literature festivals and contact with others are back: readers and writers …
Writing a crime novel is like creating a clockwork machinery that seeks precision so that all the pieces fit together and do so at the precise moment, neither before nor after. For that, I need solitude and silence. During confinement I was able to write a four-handed novel. The return of the festivals and crime novel encounters is cause for celebration, it is to feel life again in all its splendor. They have been very hard months and we look forward to enjoying it with colleagues from the trade and other plotters of the noir.
Tell us a little more about that four-handed novel
I've always wanted to write about love, sex, and human passions from a gender other than black. Being locked up at home was the perfect excuse to create a novel with the Balearic writer Xisca Font. It is entitled, Love lasts three months and it is a novel narrated in the first person in two voices during the first three months of confinement and that delves into the romantic and erotic genres. I can't say much more, we want readers to ask … Are you sure you know yourself?
"Writing in a laborious art that you never master, the more you insist the more you doubt your talent"
When you write, who really has more weight, the writer or the detective?
What I do when I compose a story based on real events and people is cultivate a certain amount of self-censorship. I have to preserve the privacy of those who appear in it and also my own. Discard potentially harmful data and plug those gaps with the narrative techniques of fiction and self-fiction. Furthermore, a private detective must by definition be discreet in and out of his suit, at work and after him. It would be counterproductive for me to tell everything about everyone, starting with me. So I keep a lot of things to myself and try to make up for these voluntary gaps with imagination. That does not mean that if my protagonist, my alter ego, makes a mistake or fails, I put on makeup so that it does not show or always shines, on the contrary, first of all I pursue verisimilitude and clothes do not hurt in that sense: I give myself as much cane as massages .
There will be those who say that their work almost puts the novels in their hands …
Writing is a laborious art that you never master, the more you insist, the more you doubt your own talent, the more modest you feel for showing what is narrated. It is true that my profession gives me a series of advantages and a privileged access to the real work of a private detective, I know first-hand the cases that I describe because I worked in them, I know how and where to document myself, I have a wide palette of experiences and resources that perhaps another author will find it difficult to figure out and capture as he only draws from imagination and readings (which is not little, far from it). But having lived what I later narrate is not an endorsement for the novel to be convincing or attractive to the reader, in that leap into the void I play it like anyone who is linking chapters and weaving plots.
Have you ever said, "Detectives exist because someone has to do their dirty work." Could you explain a little more what you mean?
Let's say that detectives are where no one wants to be, many hours in a car, many trips to lands that we do not master, investigations of people who do not know the background they have, we must know how to handle personal life with certain security measures … it doesn't really make friends.
Therefore, we live surrounded by evil.
The first thing one learns crouching in the seat of a car or behind the lens of a camera is that evil and lies can be found anywhere ("lies are necessary for life"), and that they do not wear disguises but rather on the contrary, they are embedded in the costumes of anyone, poor or rich, crazy or sane, and of course, ours as well, and violence may or may not produce blood. The typical corpse does not appear in my novels, there are more "living" dead than we think.
It is, perhaps, the antidote literature …
I wish I knew for sure, we can think that, against ignorance, bad education and ignorance, but we already know that the latter is daring and so we are.