The hotels of the Canary Islands, with employment levels prior to the pandemic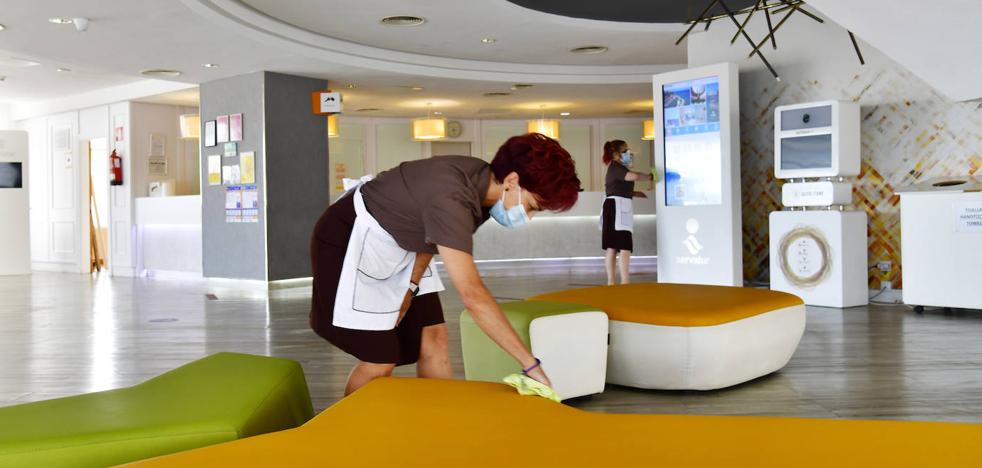 It is the only community that currently registers figures higher than those of 2019 in all parameters: open businesses, vacancies and active workers
Employment in Spanish hotel accommodation is
above pre-covid levels in the two archipelagos, at a rate somewhat higher than 1%, but it is still a long way off in Madrid, where last July it was 8.6% below that same month of 2019.
According to figures from
National Statistics Institute (INE)at the end of last July there were 16,437 hotels open in Spain, 4% less than three years ago, before the pandemic, although in terms of number of beds the figures are similar at both times (around 1.86 million).
In terms of employment, all
establishments accounted for by the INE in the country as a whole add up to 277,829
workers, 1.7% less than at the end of July 2019, when there were 282,603 ​​people active in the sector.
The six large tourist-receiving communities (Andalusia, the Balearic Islands, the Canary Islands, Catalonia, the Valencian Community and Madrid) account for 56% of the hotel establishments, but in number of beds they account for 81.5% of the total Spanish and in employment , 85.1%.
Distribution by communities

The only community that currently registers figures higher than those of 2019 in all parameters is
Canary Islands, where the number of open hotels is 5.6% higher (up to 564); that of vacancies offered, 3% (255,835), and that of employees, 1.2% (48,481).
Businessmen, for their part, point out that the increase in costs due to inflation must be taken into account, which lowers the
cost effectiveness of the business.
In
Balearicsboth vacancies (366,061 in total, 1.5% more) and the number of workers (63,323, 1.1% increase) are above then, but not the number of establishments, which falls by 4, 7% (up to 1,278 hotels open now).
Madrid is, among the six communities with the most tourism, the one with the worst records: the number of open hotels fell by 9.1% in July of this year compared to that month of the previous year, to a total of 1,041 open establishments.
The fall in employment in Madrid is also the highest of the six autonomies, with a decrease of 8.6%, to 13,543 people and is less pronounced in the number of places offered by Madrid hotels (a decrease of 1.7% up to 112,214).
In
Catalonia, the cut in the number of open establishments reaches 6.2%, up to 2,579, and in employees it stands at 6.6% (43,275 active people at the end of last July). In volume of places, the decrease is also more moderate (1.2%). Andalusia computed at the end of July 2,633 open hotels (2.6% less than three years earlier), with 306,802 beds, only 2,000 less than then, and practically the same volume of workers (48,000).
The
Valencian Community It had 1,127 establishments operating last month (2.1% less than before the pandemic), with 145,085 beds (1.1% more) and 19,917 employees (1.6% less). In July, 12.3 million travelers who made a total of 42.35 million nights were recorded in hotels. International travelers were just over half (6.23 million compared to 6.06 million nationals) but their stays are longer, because they added 26.7 million overnight stays (15.6 million residents).