The horizon is the Canary Islands | Canary Islands7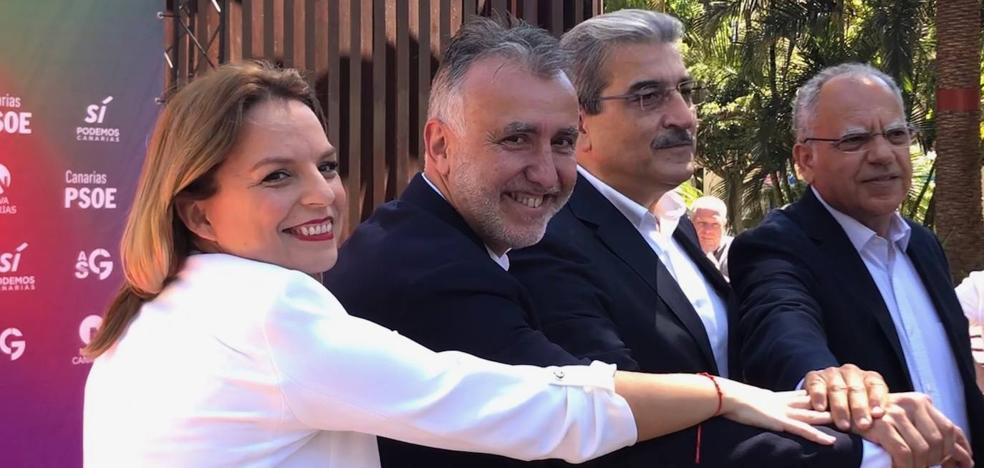 In 2019, a cycle of renewal of the institutions began at all levels of the archipelago. A wave of progressive mobilization made it possible to dislodge a self-described 'nationalist' formation from city councils, councils and the Government of the Canary Islands, which left
a heritage of destruction, precariousness and corruption which our people put an end to through the noble mechanism of democracy.
The people voted and parliamentary arithmetic laid the foundations for consensus between 4 political forces that accessed various management areas with the aim of complying with the citizenship mandate:
offer the archipelago new recipesrethink it, reimagine it and turn that illusion into changes.
Three years later, the transformation that operates in our institutions and in the consciousness of our people is undeniable. As true as it is
transformation It is evidence that, coexisting with commitment and institutional loyalty, there are legitimate differences between the forces that govern the islands today, and that day by day we take
decisions guided by criteria and interests that drink from different sources.
As is known,
in 2019 Podemos Canarias obtained from the citizens the mandate to enter the Government of the Canary Islandswhere today it manages the Ministry of Social Rights, Equality, Diversity and Youth, as well as the Vice-Ministry of Culture and Cultural Heritage, areas in which our councilor Noemí Santana, our vice-counselor Juan Márquez and their respective teams give their all on a daily basis.
However, the public debate on the islands goes far beyond what can be framed within a government area. Many times, it transcends even what can be framed within an entire regional cabinet, this being an indicator that
the islands are alive, that they vibrate and demand that their institutions continually adjust to what is lived, said and heard outside official buildings. Civil society fulfills a
fundamental role in daily political life which, more than necessary, is essential.
Any formation that aspires to offer people an archipelago project adjusted to their needs, their desires, their dreams must be attentive to the voices of the citizens, which have recently been very strongly felt. This was the intuition that gave rise to Podemos Canarias and
is the fuel that allows a formation like ours to continue imagining islands on a daily basis in which the
life be happy and more dignified for everyone. It's not just about living or surviving. It's about living well. To have a good life and that is why we continue to work daily. To build a better Canary Islands.
This implies that there is not a single aspect of life in the archipelago whose debate we are going to give up. Not even a single one.
Some, absurdly, believe that a Podemos Canarias is possible that only talks about its management areas.
A Podemos that does not point out the deficiencies of the current tourism model, that does not propose alternatives to a citizenry that demands them daily (and rightly so) from those of us who occupy positions of public representation. Some find reason for anger in the obvious fact that we do not stay in a corner, talking about equality and feminism, about beautiful things.
Some believe that a Podemos Canarias is possible that does not reflect in deep economic terms, after getting used to seeing us busy with care policies, youth or diversity policies (without realizing that both issues go hand in hand!).
Some refuse to listen that it is necessary to overcome the model of destruction, diversify the production model, end forever the precariousness that makes progress so difficult. They don't get used to hearing us say, calling us government, that we can't, we don't want to, and we're not going to conform.
That the 2030 Agenda and Sustainable Development are first-order commitments, and not removable pins. That it is not possible
political coherence without the courage. That it is possible to do politics in another way and rid our land of the inheritance of those who sold it.
That our future does not go through more macroprojects. That
our heritage natural, cultural and historical is protected,
it does not get destroyed. That we are going to continue taking steps forward so that our land has an eco-tax and that this will serve to alleviate the impact of tourism that we must urgently rethink. That the progress of the archipelago is not measured in millions of tourists, but in public health places, in schools, in resources for mental health, in protecting our natural environments. That it is time to put an end to a 'low cost' that harms a destination that is of enormous quality and that it is time to bet on sustainability seriously. That
It's time to take care of our environment, of our people, of the salaries that are charged in our land. Because if not, the rest, to most of us, is useless and only enriches the usual.
That we are going to continue improving the Canarian Insertion Benefit, yes, but we are also going to ask that the carrying capacity of the islands be reviewed, and
that the vacation home be regulated. That we are going to continue remembering that the road does not pass through more cement, but through the rehabilitation of our hotel plant and those accommodations that have become obsolete.
What
we want a public electricity company for the Canary Islands that reduces our people's bill and contributes to reducing polluting emissions.
That no progressive government can afford not to make progress on
social housingbecause the citizens themselves are the ones who expect and need quick, forceful, visible actions to believe in politics, in their representatives and in a progress pact that must live up to the illusion of those who, by voting, made it possible.
And that, despite having had everything against it (pandemic, volcanic eruption, war), commitment and love for our land prevails.
The belief in a future for Canaria prevailss, in one of improving the living conditions of the people, their material situation and their rights.
And, above all, that we want to do all of this in the only possible way: sitting down to talk to everyone. Unions, business, third sector, political parties, governments, island and municipal institutions. Dialogue, dialogue and dialogue, to be able to start doing
policies in line with what is heard on the streetwith what the experts say, with what is talked about at the university, with the studies that the governments prepare with so much effort, with what is requested
youth to have a futurein bars and also in demonstrations.
Remember that better ask for forgiveness than permission? Sometimes politics has these contradictions. Sometimes it touches
remove consciences to continue advancing.
Some have become accustomed to a Podemos Canarias circumscribed to the area of ​​Social Rights.
They would do well to remember that our project is as broad as the reality of the
archipelago and as are its people. So
complex, comprehensive and ambitious is our proposal for the islands as are their problems, opportunities and challenges, and we are going to work hard to offer a horizon for the Canary Islands that lives up to our commitment to those who inhabit it.
Our horizon is the Canary Islands. Do not forget. We do not forget it.