The hole: Levels of life | Culture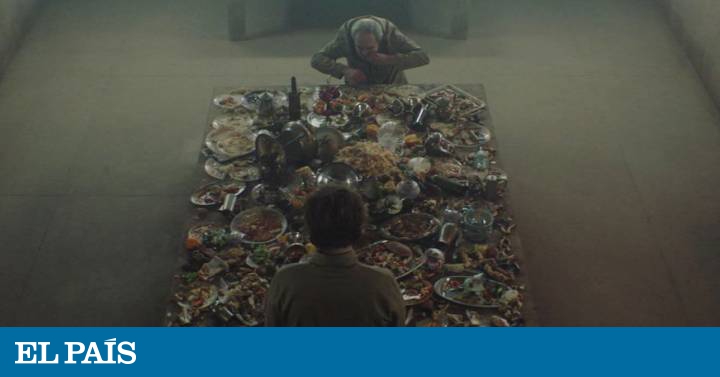 There are those above, those below and those who fall. All the shit comes to them, sometimes literally. But above there may arise some drowning, excessive ambition, altitude sickness, the inability to improve. Intermediate levels may be the most desirable. Maybe as in life itself.
THE HOLE
Direction: Galder Gaztelu-Urrutia.
Interpreters: Iván Massagué, Zorion Eguileor, Antonia San Juan, Emilio Buale.
Gender: Science fiction. Spain, 2019.
Duration: 94 minutes
It is the structural paraphernalia of The hole, striking, meritorious debut in the Galban Gaztelu-Urrutia Bilbao, set in a unique space: a kind of prison in a futuristic dystopia with hundreds of levels, in each of which only two people live, and that are changing with the time, at the mercy of an entity that little is known and sends everything, and with a diet that always depends on what they leave the upper floors to the lower. The essence, although it cannot boast subtlety, is suggestive. The allegory is served. We are facing a political and social reflection on greed, tolerance, order, justice, cooperation, assistance, violence, craving and conformity. In short, the class struggle.
The film begins very well, its development, however, is somewhat uneven and ends much worse than it begins. The first third, attractive concept, is the most round. It is here that the foundations of the space, naturally very restricted, are established, and Gaztelu-Urrutia's work with the camera and the assembly is excellent, and that of the production design team commanded by Azegiñe Urigoitia, of absolute efficiency, especially because the artistic ensemble converts the need into virtue of being a low-budget production that is never lacking. In addition, in that first half hour the interpretive duel between Iván Massagué and the superb Zorion Eguileor is the deepest, for his performances and for the quality of the texts of David Besola and Pedro Rivero, the scriptwriters.
It is on that initial journey that the dialogues seem to connect with the theater of the absurd, with Beckett and Ionesco, with their symbolic situations, with the mutual dependence of End of game, with the isolation of The chairs. On the other hand, at the following physical and narrative levels, as violence and the survival instinct appear, the film becomes more conventional, less deep within its obvious originality, in a more visited, more viewed generic line of marked parallels. with Cube and with Snowpiercer Until an outcome is perhaps more confusing than open.
Great winner in Sitges, where she won the awards for best film, novel direction, special effects and the public, The hole She is witty and commendable, but she is committed to a political reading that may be great for her. And their desires end up being greater than their real transcendence.