The history of Spain seen from the throne | Babelia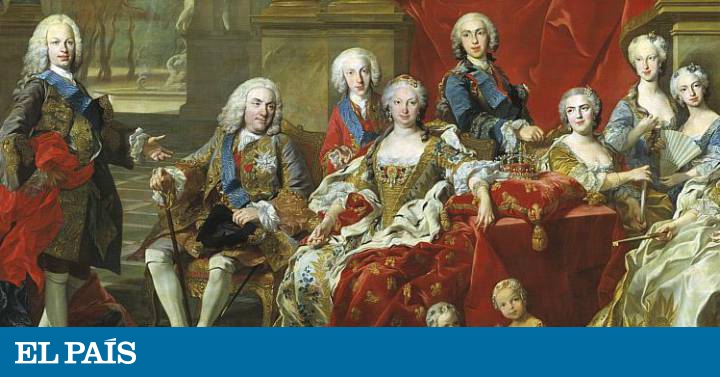 In the end, César Cervera (Candeleda, 32 years old) maintains that the Bourbon in Spain is very similar to a melon tasting. You try one and the result is excellent, full, tasty, sweet … So you dare to open the next one and do not give credit: tasteless, bitter or directly rotten. And they all come from the same field. Even so, you continue with the tasting in decades or later centuries and the results are similar: you do not find two good ones in a row. The Bourbons and their follies (The Sphere of Books) is not a story of hopelessness, but a photograph full of anecdotes of the reigns of this family – that of the invasion of England by 307 Spanish infants in 1719 falls short of the reader – that they have happened in Spain since Austria Carlos II Before he died on November 1, 1700, he said to himself "everything hurts".
Philip V — grandson of the French king Louis XIV and who won the throne after defeating the Habsburgs in the War of Succession — he was the first to start a dynasty in Spain that traces its origins to 10th-century France under the Capeto family and who was related in 1272 to Beatriz, Madame de Bourbon , a territory right in the geographic heart of the neighboring country. A family that filled kings and queens all over Europe for centuries, and that ended up in Spain as it could have done in any other nation on the continent. Of course, then they became deeply Spanish and even prohibited anyone who had not been born in homeland from ever reigning.
Cervera shows a certain admiration for some of these monarchs —including the brave Felipe V, who appeared in person in the battles to defend his kingdom, although he ended his days insane, believing himself a frog—, and an enormous contempt for others, not for his wrong and disastrous decisions, but for his indolence or for allowing the keys of the Government to be in the hands of wives, lovers, friends or directly enemies of the Crown. Fernando VII is the target of the contempt of this writer-journalist (he exercises the trade in Abc), which he describes as "suspicious, gluttonous, vulgar, pesetera, selfish, authoritarian, cowardly, hypocritical, lying, evil and dangerous creature." In case this monarch lacks something, he also describes him as bald that "from a young age he carried a toupee" and with "obesity out of control". It seems personal against the founder of the Prado Museum.
"Distrustful, gluttonous, vulgar, pesetera, selfish, authoritarian, cowardly, hypocritical, lying, evil and dangerous creature." This was Fernando VII according to the author
Anyway, there is a lot of "what if" in this book. And if the infant Gabriel had not died of smallpox, the only one of the offspring of Carlos III who managed to get the king to "raise his head quickly, as if he were a dog who suspects that they are going to take him for a walk"; and if Carlos IV had not dismissed the effective count of Aranda for the incompetent and beautiful Manuel GodoyAnd if Ferdinand VII had not bought five rotten ships from Russia to go to war in America and had dedicated that huge amount of money to reform the Andalusian shipyards …
The book does not discover anything, but it puts online and recovers tasty anecdotes that marked the course of the family and, therefore, of the nation. The author analyzes the whys of his initiatives, tries to understand them, despairs and, as he cannot, he ends up joking about the decisions made by kings and queens. Sort of like if I can't win the war, I'm going to phone "the enemy" and laugh. In a country on the verge of bursting on all four sides, pressured by foreign powers, with savage strikes that were settled by shots or attacks, Alfonso XIII produced while films with pornographic content with the Count of Romanones or left to meet the lowest capital funds. For example.
But not only monarchs are the target of Cervera's book, but also her closest relatives, as was the case of Josefa de Borbón, sister of the thirteenth Alfonso, married to the journalist José Güell, but deeply in love with another woman. Güell decided to put surveillance on him to be informed. When the Bourbon discovered him, he thrust a thrust down her back, only an inch from her heart. Güell filed for divorce and she continued her love affairs.
He treats Elizabeth II as an ignorant woman full of good intentions, but without sufficient training to distinguish good from political evil
With queens, in general, the author seems more benevolent and, for example, he describes Isabel de Farnesio, wife of Felipe V, as a person of "awake, intelligent, independent, cultured and with great will power", who formed with her husband "a political duality unknown since the times of the Catholic Monarchs. She rides so much, she rides so much ". Of course, then Luis I arrived, married to a "capricious, rude teenager who forgot to forget his underwear in the corners of the palace" and who addressed foreign ambassadors through belching, which were answered in the same way by the envoys. . "We have made a terrible acquisition," Farnesio admitted regarding her daughter-in-law, the Frenchwoman Luisa Isabel de Orleans; so when Luis I left this world of palaces, they packed it for his country of origin.
TO Isabel II he treats her as ignorant, full of good intentions, but without sufficient training to distinguish good from political evil. "A disoriented and immature human being who spent the rest of his life looking for the Neverland, although in its most spicy version, who looked at his ministers bewildered when they spoke to him about complex issues and who did not receive the adequate instruction to face the challenges of the liberal era ", writes Cervera, and ends with a quote from the queen herself:" Put yourselves in my case. Tucked into a maze, through which I had to walk feeling the walls, because there was no light to guide me. If someone turned on a light for me, another would come and turn it off for me. "
The book, which dissects the main members of the family since 1700, ends with a puzzling epilogue, in addition to refusing to analyze the reigns of Juan Carlos I and Felipe VI. Something as if after these last two good monarchs — Corina through — the author dropped the streak of bitterness on the palate of the Spanish people after so much tasting has been broken forever. He prefers not to dig or simply considers that they cannot yet be put under the historical microscope. An enjoyable book to learn about the history of Spain from the thrones, even if it lacks at least one chapter. "Or almost", which are the last two words that Cervera writes in this entertaining and documented essay.

SEARCH ONLINE 'LOS BORBONES Y SUS MADURAS'
Author: César Cervera Moreno.
Editorial: The Sphere of Books, 2020.
Format: softcover (440 pages, 20.90 euros).