The health crisis brings the explosion of the luxury rural house | Fortune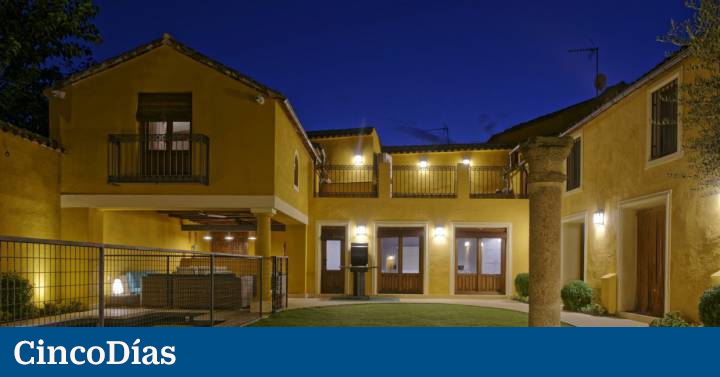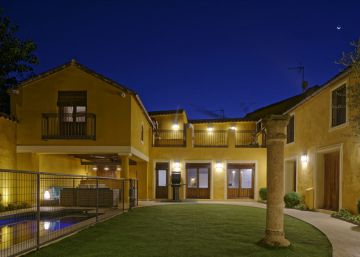 As much as she reviews her accounts and her reservations, María Alacuart, manager of Villa Cornelius, an exclusive Tuscan-style rural house located in Las Herencias (Toledo) and built in 1799, does not leave her astonished. "This has never happened to us. We have already reserved the house for the entire month of August. And for a single family. People usually come on loose weekends, but they had never thought of us as a place to spend all their vacations, "explains Alacuart, who, like the rest of hoteliers in Spain, you have to leave at the beginning of March to indicate the dates of stay of your last guests.
Later, the coronavirus destroyed a promising spring season and threatened to do the same in the summer. As long as there is no regrowth, however, more and more luxury rural houses are giving their owners the pleasant surprise of running out of available reserves much earlier than they anticipated. This is the case of Villa Cornelius, an establishment with six rooms, a swimming pool and large gardens, which has been rented for just over 300 euros a night, about 9,000 euros for the entire month of August. The price of its most expensive rooms in shorter stays exceeds 600 euros.
The reason is pointed out by Rubén Pérez, head of distribution for Rusticae, a portal specialized in selecting more or less exclusive places in the middle of rural enclaves and which right now works with some 200 businesses: "The rural premises that are going to get stronger from this crises are those of a certain level. In a low cost hotel people may wonder how it is possible that the establishment offers more security in exchange for the same price. The most exclusive ones only have to do what they already did ". In this race, he explains, for the first time, luxury rural houses, more used to accommodating members of the same family, start with an advantage with respect to the best rural hotels.
"We have always felt a bit like little brothers in rural hotels, but now we can offer customers exactly what they want, which is exclusivity along with the assurance that they will not come into contact with strangers," explains Alacuart. This growing interest is already reflected in figures. In Rusticae, for example, they claim to receive between 25 and 30 calls a day asking about rural houses when, precisely, on the portal they have only thirty of them. The reason is that the high-quality rural house is a type of accommodation that they incorporated just three years ago, when, after more than two decades working the rural hotel, they saw that certain trends were changing among their clients. "In early 2020 we predicted that this would be the year of the rural house because we realized that the same couples who went to rural hotels later wanted to rent a house with friends. But no one expected this. It was an explosion, "says Pérez. Agrees Rafael Ausejo, CEO of Ruralka, another expert portal on rural tourism: "Many local owners are now more interested in giving the key to families or groups of friends and forgetting about it." Their website, which usually manages between 400 and 500 weekly bookings, noticed a peak of activity in queries above 50% earlier this week, and they have received 30% more calls. Clients are already moving to plan their stays for the summer.
This fact is leading some high-end rural hotels to change their approach. This is the case of Finca El Pao, an exclusive rural hotel located in the municipality of Jijona, in Alicante, which has six rooms with its own terrace, four hectares of land, a pool 14 meters long by seven wide, a spa, Jacuzzi and sauna. Its price per room ranges between 200 and 300 euros per night, and this without counting the bubble room, its jewel in the crown, a suite with transparent walls and ceiling that allows you to sleep looking at the stars: its price for three nights it goes above 600 euros. His first decision was to multiply the cost of cleaning. If they used to spend an hour and a half and about 18 euros in a room, now they use three hours, which translates into an investment in each room of about 40 euros a day only in disinfection and hygiene.
The next step was to bring the hotel closer to the concept of a rural house. "We have asked that customers be offered the possibility of renting all of our spaces for a single family or group of friends. It is an option that before we only allowed on special dates such as Christmas, "says Joris Hennecart, who runs the hotel and has good feelings about this summer:" I have faith that it will be a special year for us. The people who come here do so without fear of possible contagion ".
But for rural luxury to achieve its goal of relaunching before anyone else, highlights Blanca Moreno, director and owner of the Molino de Alcuneza, in Sigüenza (Guadalajara), all establishments of this type will have to face the challenge of maintaining a service of the highest high level while maintaining all hygienic measures, that is, maintaining both closeness and distance. Its hotel, which sits on a mill with 500 years of history and has 17 rooms and its own restaurant with a Michelin star, will not open until next July 4th. "We are expecting somewhat longer stays and we are already seeing something of interest, people are rethinking about leisure. But this year we will reduce the clientele to less than half of our capacity. We believe that this summer luxury tourism will have to be more personal than ever"Summarizes Moreno.