The harvest of medals of the Gran Canaria Skoda Team marks the way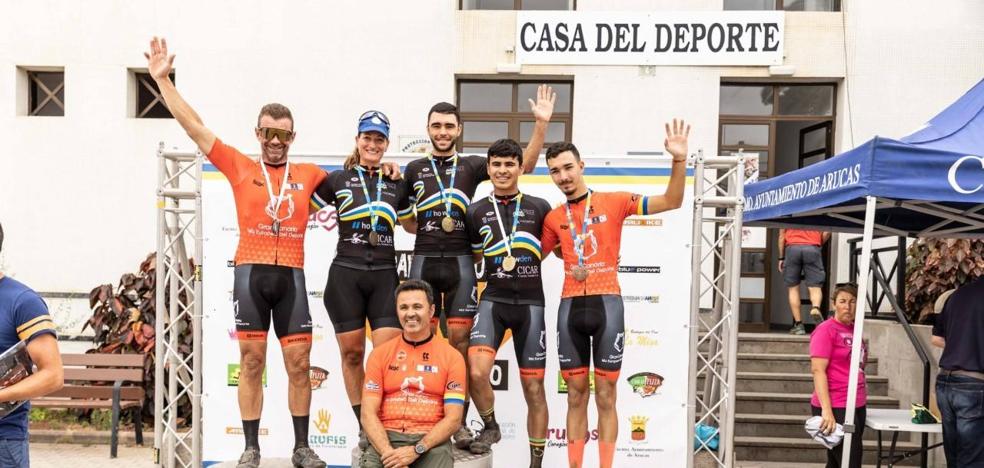 cycling
Enormous his baggage days ago in Arucas
Two teams demonstrated their qualities and successes in the Canarian Championships, of different modalities and categories. Arucas witnessed his achievements last Sunday in the VX XCO mode with an excellent participation.
All the clubs fought for victory as wild boars, however, two of them capped almost all the jerseys with several Canary Islands champion medals, in their different categories:
the Gran Canaria Skoda Team and the Loro Parque Tenerife Los Silos.
The group from Gran Canaria, directed by Ezequiel Moralesbegins to reap its rewards with the guarantee of having a compensated, serious, hard-working and well-managed workforce.
In Arucas he won three Canary Islands champion titles: Óliver Medina in the sub-23 category, Daniel Morales in the junior category and Elisabet Breval.
also had
one runner-up and silver medal with Manuel Guzmán Travieso Naranjo, in Master 40 B, two thirds and a bronze medal with Gonzalo Ancor Cámara, in sub-23 and the cadet Telmo González-Sotoca.
The other dominating team was
Loro Parque Tenerife Los Silos, directed by Humberto Velázquez, who together with the president and rider Adriano Cordovés, did not disappoint in said championship
achieving six champions of the Canary Islands in this contest.