The handball team concedes their first defeat against France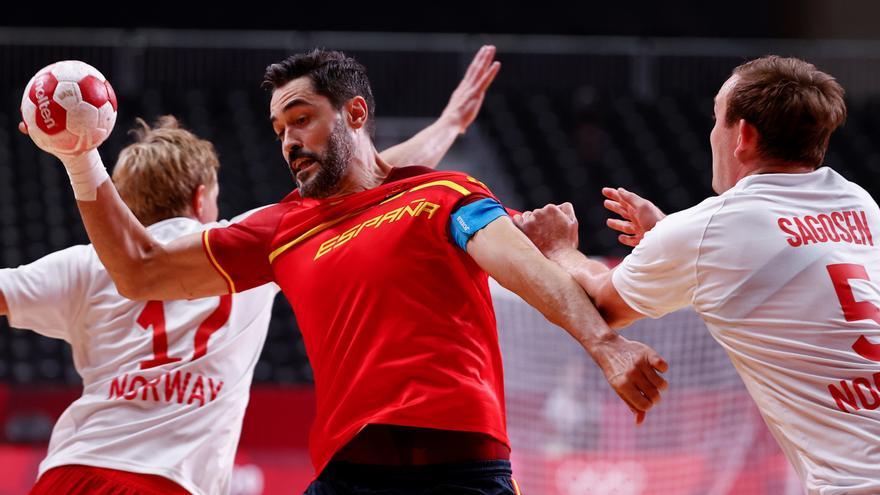 The Spanish handball team he conceded his first loss in the Tokyo Games, this friday for a clear 37-31 against France, in a meeting in which the spanish set was not able to overcome at any time absence of defender Viran Morros.
Indispensable to explain the successes of the Spanish team in the last decade, the absence of Morros, who the remainder of the Olympic tournament will be lost due to injury, placed the 'Hispanics' before a more difficult challenge than facing France, showing that they can continue to aspire to everything without the "boss" of their defense.
Something that seems, apparently this Friday against France, tremendously complicated, since without the presence of Viran Morros the Spanish team failed to achieve the defensive excellence on which it based its recent successes.
And it is that Spain no replacement for new Fuchse Berlin player, which forced the coach Jordi Ribera to look for the most diverse formulas to try to alleviate the absence of Viran Morros in the defense axis.
[Consulta el calendario de los Juegos]
Neither the pivot Julen Aginagalde, who played his first game in the Japanese capital, nor the full back Antonio García showed the same consistency as Morros as Gideon Guardiola's teammates in the central block.
The 5-1 defense that the Spanish team alternated without the help of the Catalan defender was not as effective either, given the greater difficulties that Gideon Guardiola has to defend in the open field.
The defensive doubts did not take long to move both to the goal and, above all, to attack, where players lacking the tranquility that their usual defensive security gives them quickly fell into the emergency room.
France wasted no time in punishing those haste by the hand of a successful Vincent Gerard with his saves and a Nadim Remili who, without losing his gunboat skills, is becoming a better center-back every day.
[Consulta el medallero de Tokio 2020]
And that the "Hispanics", with the change to the 5-1 defense, which allowed Jordi Ribera's men to play (6-6) the three goals difference with which the French team had quickly placed themselves, seemed to have found the way.
A mere mirage, since Spain did not take long to fall back into its defensive problems, making possible the definitive escape of the French team that went to rest with an income of six goals (18-12) on the scoreboard.
Difference that turned the second period into a mere procedure in which Spain, unable to really fight for victory, focused on ensuring that France's income did not skyrocket in a scandalous way on the scoreboard.
Objective, that at least in this case, Spain did achieve as demonstrated the final 37-31, since the other, alleviate the absence of Viran Morro, at least against France could not achieve.