The Guinness record achieved by a young man from Vigo: 50 hours playing FIFA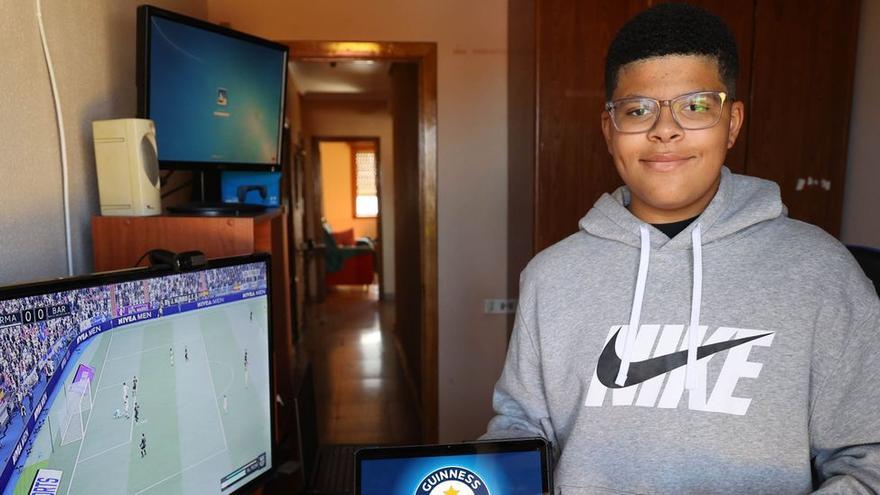 After resting for about 13 hours, with the excitement of having overcome the challenge and already "like new", he assures this media that he could not be happier. "When I finished, I didn't believe it. I experienced a rush, a moment full of adrenaline, but the fatigue was there… It was like a roller coaster ", he admits.. He completed his journey in a room gamer from the house of his uncle Guillermo, who accompanied him and helped him overcome the challenge. Together they celebrated the achievement of the goal with a "mini-party" to which his parents joined, who called him on the phone from time to time. "When I finished celebrating, I took a shower, played one more game of FIFA and then fell asleep," he sums up.
The worst moment of the challenge was early Sunday morning for Monday, his second night in front of the screen: "I started to feel very tired, my eyes closed, I saw white spots and my head hurt, in part, from wearing my helmets for so long. During the breaks –he enjoyed 10 free minutes per hour–, I took the opportunity to walk, run around the house, drink cold water, wash my face, take the air and eat, I even had time to shower during one of the breaks ".
"I would be very excited if Abel Caballero received me. I identify with him"
Christian Ayegun stresses that, despite the setbacks, "it was worth it." "Apart from the difficulties of the second morning, I thought it was going to be more complicated for me. Many people have contacted me to congratulate me, both family and friends; my grandfather went crazy. I thank the colleagues who supported me live by commenting on the chat, that helped me entertain myself"Explains the young man, who already has between his eyebrows" to beat again "a mark. "There are records for two games, Minecraft and Overwatch, that I can't do until I turn 16 in December. I'll go get them as soon as they allow me. Meanwhile, I will look for other challenges ", he notes.
In order for the Guinness organization to validate the achievement, the teenager will send the videos stored on Twitch by email. You don't expect the entity to respond quickly. "I think it will take a while for the plaque to arrive. If they don't tell me anything, I'll call them on the phone "He adds before highlighting that he will take advantage of the holidays to disconnect from his studies, meet friends, play the console and be with his family.
Before concluding the talk with this medium, he confesses that He would be "very excited" if the mayor of Vigo, Abel Caballero, received him: "Live and breathe in the city. I feel very identified with him ".