The Guaguas receives the affection of the Cabildo in the Casa Palacio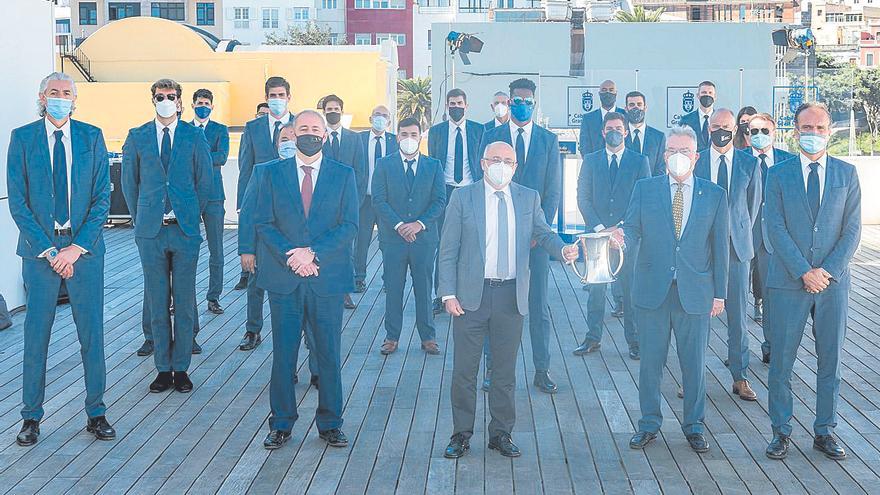 A delegation of the Copa del Rey champion was received yesterday at the Cabildo by Antonio Morales, president of the Cabildo de Gran Canaria, and Francisco Castellano, sports minister, to honor this new success for the island's sport.
The terrace of the Casa Palacio was the setting chosen by the Cabildo de Gran Canaria to honor the conquest of the seventh Copa del Rey by CV Guaguas. There, the chief executive of the Cabildo stressed that on Sunday he enjoyed "a lot with the game." I think they have brought joy, in these times that we live, to the citizens of our island ", added Morales.
For his part, the Sports Minister wanted to thank Guaguas for the effort made to win this trophy and, in addition, he wanted to stay at the individual level with the figure of Sergio Miguel Camarero, of whom he pointed out that "it is a spectacle to see how he works, as is delivered and how it is in the band.
Likewise, Juan Ruiz, president Guaguas, explained that "everything was perfect" last weekend, highlighting that when he started the project he thought of "not disappointing the island of Gran Canaria and all those people who have supported us on our return" . On the other hand, Moisés Cezar, the yellow captain stressed that he expects this Cup to be "the first title of many." The act ended with the delivery by the Cabildo de Gran Canaria of a detail to the players and the board of the Guaguas with a piece of island crafts.