The Guaguas presented the International Tournament on the island of Gran Canaria Villa de Ingenio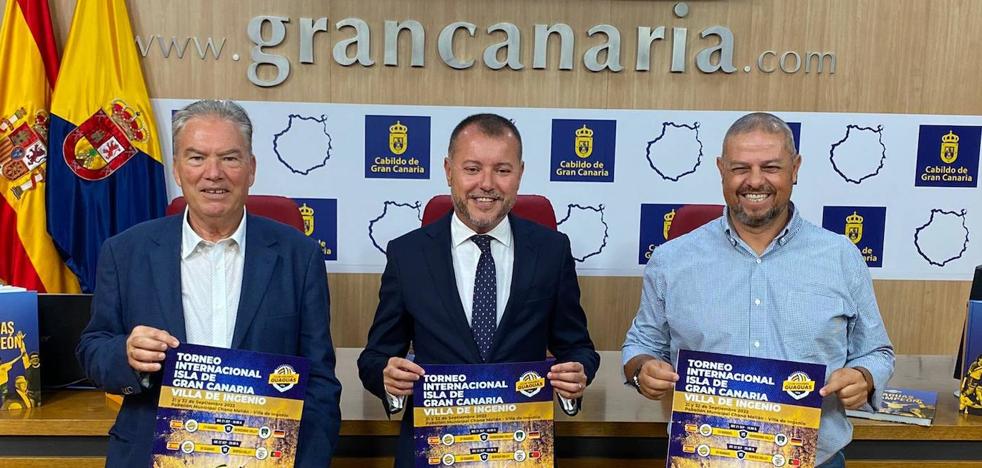 volleyball
The friendly event starts next Wednesday and has as guests the Portuguese Benfica and the German Volleys Herrsching
The yellow club kicked off the
first friendly event that they will celebrate during this preseason on the island pointing out the quality of the participating teams and highlighting the intention of the entity to bring the sport of volleyball to all the municipalities of Gran Canaria.
The Insular Building I was the setting in which the CV Guaguas presented today the Gran Canaria Villa de Ingenio International Tournament. Present at the event were Juan Ruiz, president of the yellow box, Teodoro Sosa, councilor for the presidency of the Cabildo de Gran Canaria, and Mario Ramírez, councilor for sports and citizen participation in Villa de Ingenio. The three speakers valued sport as the engine of society, as well as the importance of a club like Guaguas worrying about reaching all the citizens of the island. Also,
They invited the fans to go to a Chano Melián Municipal Pavilion that will have capacity for more than 500 spectators.
CV Guaguas will be the host of an appointment with the best volleyball of the continent, since this tournament has the
participation of the Portuguese Benfica, a team that will play in the CEV Champions League this season, and the WWK Volleys Herrsching German, a squad that will also compete this season in Europe by playing the CEV Cup.
Juan Ruiz: «It will be a beautiful event». «We have always taken the team to many places such as Gáldar, San Bartolomé de Tirajana and this year we have Ingenio. Next year we will go to another place on the island. The teams that come are very important. Sometimes people don't realize the level of volleyball on our island.
We are going to give all the people of Ingenio and the surrounding area the opportunity to go and see good volleyball. We have almost the entire squad in the absence of Lucas Conde. We have changed the team a lot, we have players with sporting and economic hunger«.